'Won't even let us kill ourselves': Ordeal of enslaved Yazidi women
Hundreds of women and girls belonging to the Yazidi religious minority have been enslaved by Islamic State militants, who are selling them, forcing them to marry and convert to Islam, ruining not only their lives, but also the lives of their families.
On the Iraqi-Syrian border, RT's Paula Slier contacted Amira, a woman whose life turned into a nightmare after her sister was captured by Islamic State (IS, formerly ISIS) jihadists about a month ago.

The 27-year-old managed to call her and revealed that the jihadists "are hurting us, exploiting us, many of us are being sold". Women can't do anything to save themselves. What's more, the militants even "won't let us kill ourselves."

The family fears that that it would be impossible to find the woman even if the jihadists are suppressed: "We are not sure if she is alive."

"My life is ruined, my mother's, my family's. I don't think we can ever go back to a normal life, not after losing our sister," Amira said.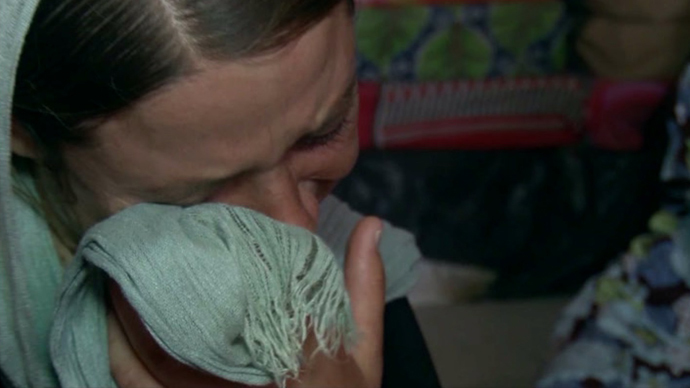 Human Rights Watch (HRW) has recently released a report, confirming abuses against people belonging to Yazidi community, a minority Kurdish religious group, by the IS militants. HRW said it successfully tracked down 16 Yazidis who escaped slavery, and also interviewed two detained women via phone.
The women shared stories of multiple rapes and forced religious conversions, with some of the victims just children – militants just picked up "those they desired, sometimes with force." They revealed that it was a common practice for IS to separate its captives into categories, depending on their age and sex.
READ MORE: Islamic State admits, justifies enslaving Yazidi women and children
The IS militants recently published online justifications to all sorts of crimes its fighters may do in the name of Allah: "We will … enslave your women, by the permission of Allah, the Exalted."
A special attention of the IS militants went to Yazidi, whom they regard as devil worshippers.
"After capture, the Yazidi women and children were then divided according to the Sharia amongst the fighters of the Islamic State who participated in the Sinjar operations."

A religious sect with around 1 million followers, Yazidi has roots in Zoroastrianism, an ancient Mesopotamian religion, and some influences of Christianity and Islam. Hundreds of thousands of people had to leave their homes in a town of Sinjar in western Iraq to save themselves from IS militants.
You can share this story on social media: