Israeli group sets fire to, vandalize Palestinian mosque in northern West Bank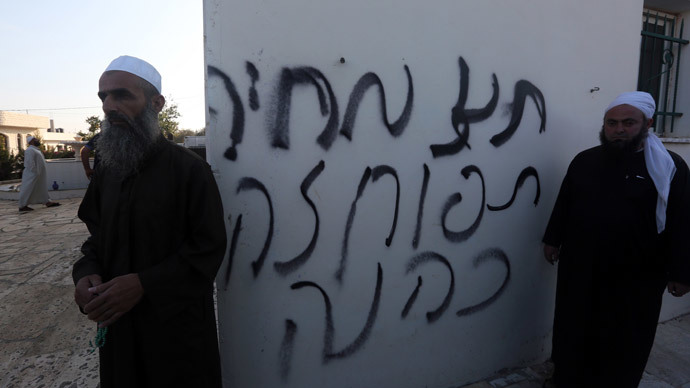 A Palestinian mosque has been severely damaged in a suspected arson attack by Jewish settlers, who also vandalized the walls with racist slogans. The perpetrators, believed to be residents of an Israeli settlement in the West Bank, managed to escape.
Worshipers of Abu Bakr Mosque in the town of Aqraba, Nablus, in the northern West Bank, noticed smoke billowing over the building. When they arrived at the scene, they found the women's room in the basement on fire.
"They broke a window and threw a firebomb into the mosque which burned the carpet," the Palestinian Authority official Ghassan Douglas said.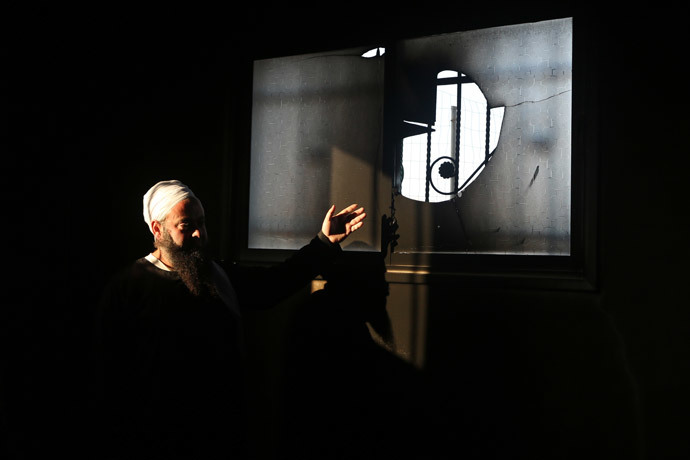 Copies of the Quran were also damaged, according to reports.
This reportedly happened on Sunday, but news of the attack only appeared on Tuesday.
Douglas told Haaretz news that some eyewitnesses chased after the settlers, who managed to run away and escape.
Residents of Aqraba helped to extinguish the fire before it spread to the entire mosque.
"If we hadn't rushed to put out the fire the entire building could have gone up in flames," a villager, Maher Fares, said.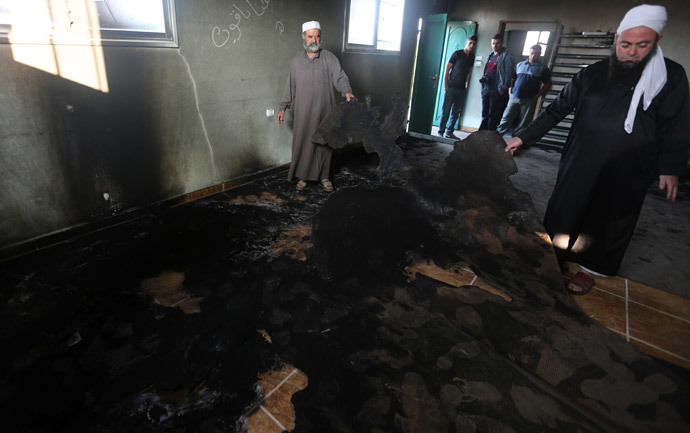 Some of the mosque's walls were daubed with slogans in Hebrew, which read "price tag" – a reference to nationalist-motivated "price tag attacks" (from vandalism to arsons) by Jewish extremists on Palestinian and Arab property. Another piece of graffiti read: "Kahane", alluding to the late Meir Kahane, founder of the virulently anti-Arab Kach movement and the nearby settlement of Bracha.
Douglas called the fire in Abu Bakr mosque "part of a long line of settler attacks, driven by racism and hatred," Haaretz quotes.
He linked the attack to the fact that Aqraba is situated not far from the Israeli settlement of Tapuah.
Israeli President Reuven Rivlin has added his condemnation to the "price tag" attack referring to it as "terror".
"Burning holy places of worship is terror and it needs to be taken care of like terror, regardless of whether it was perpetrated for nationalistic, racial or religious motives. In order to deal with this problem – we must first acknowledge the seriousness of the problem," Ynetnews.com news cited Rivlin. "We must remember that, if we do not act decisively, we will all pay the 'price tag'," the president said.
The mosque in Aqraba was attacked shortly after another suspected "price attack", when dozens of mature olive trees were felled.
Last Saturday, two Israelis were arrested on suspicion of attack on a Palestinian family in Yasuf village.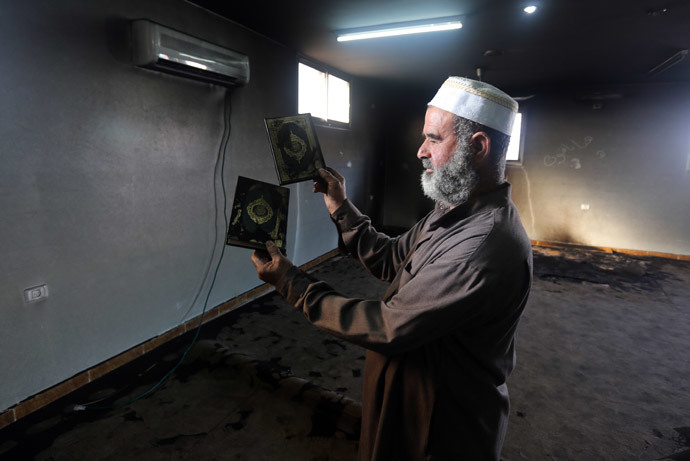 You can share this story on social media: