Israeli attacks on West Bank Palestinians increased 4-fold in less than a decade – UN
An ongoing monitoring mission by the UN's Humanitarian Affairs office shows that attacks by Israeli settlers on Palestinians and Palestinian property in the West Bank has gone up four fold in the last eight years.
There have been 2,100 attacks on Palestinians by Israeli settlers in the occupied West Bank since 2006, and annual attacks have shot up from 115 in 2006 to almost 400 in 2013, according to the reports, published every two weeks, which have been relayed by AP.
In contrast damage to Israeli property or casualties to settlers stood at 98 in 2013.
In the past eight years, 10 Palestinians were killed by settlers, and 29 settlers were killed by Palestinians, according to OCHA figures. More than 1,700 Palestinians were injured by settlers or by troops in clashes, while 324 settlers and 37 soldiers were hurt by Palestinians in confrontations.
The number of Palestinian structures demolished by the Israeli authorities and the number of Palestinians subsequently displaced doubled from 192 buildings in 2012 to 393 in 2013 and 279 people displaced in 2012 to 575 in 2013.
Although the IDF (the Israeli Army) says its policy is to intercept every incident of violence it can, Palestinians say their efforts are often ineffectual.
In a series of events last week, which rapidly spiraled out of control, Israeli troops uprooted olive trees planted on private Palestinian land by settlers from the Esh Kodesh settlement.
Settlers then went and damaged olive trees belonging to the Palestinian village of Qusra, there was then a stone throwing clash between the two sides and the Palestinians caught the settlers and held them for more than two hours until the army arrived.
In what was apparently an act of revenge, a mosque was defaced in the area last Wednesday with the words "Arabs out" and "Revenge for blood spilled in Qusra", written in Hebrew on the walls.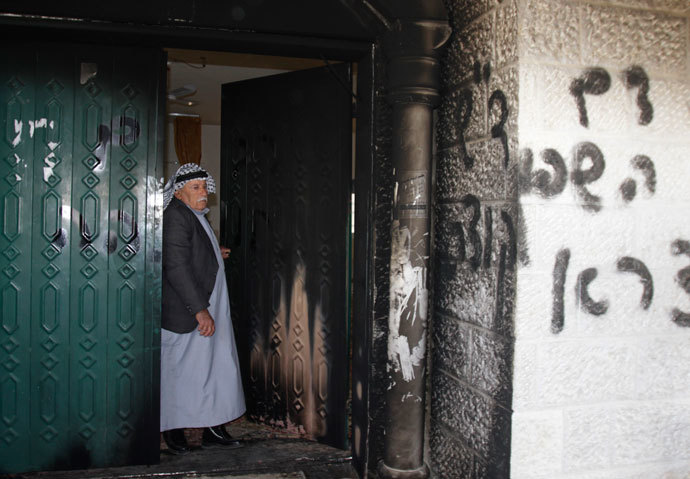 According to the mayor of Qusra, Abdel Azim Wadi, Israeli settlers have severely damaged the area in dozens of attacks. He says the village has lost half of its lands to Israeli settlements, with hundreds of trees damaged, 18 sheep killed and six cars set ablaze.
The Israeli Defense Minister, Moshe Yaalon, has said he will show zero tolerance to such actions and seven Israelis have been questioned and placed under house arrest but Palestinians are sceptical further action will be taken.
The Palestinians say there is a campaign among the settlers known as 'price tag', which involves committing acts of violence as part of Israel's policy of slowly seizing control of the West Bank, and that the Israeli soldiers do very little to stop it. It began in 2008, 3 years after Israel dismantled settlements in Gaza and four in the West Bank, AP reports.
Although Israeli settlements in the West Bank are illegal under international law, there are approximately 500,000 Jewish settlers living there.
Colonel Eran Makov, the deputy commander of an Israeli division in the West Bank, insisted that he had clear orders to stop all violence between civilians in the occupied territories.
"The policy of the IDF is to interrupt and stop every incident when a person attacks another person," he said.
But Amos Harel, Israeli military correspondent for the Haaretz newspaper said that many young soldiers believe that their mission is to protect Jewish settlers.
"When extreme fringes among the settlers commit violence against the Palestinians, few soldiers can internalize this and change their behavior," he wrote.
Police spokesman Micky Rosenfeld said that the police have formed special units to deal with the 'price tag' attacks focusing on surveillance, intelligence gathering and undercover operations but despite this the UN figures show a steady rise in the number of attacks on Palestinians by settlers.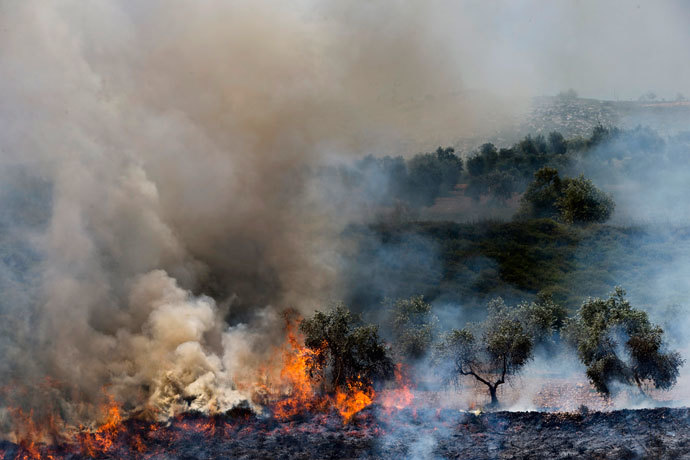 You can share this story on social media: