7.4 quake off El Salvador kills one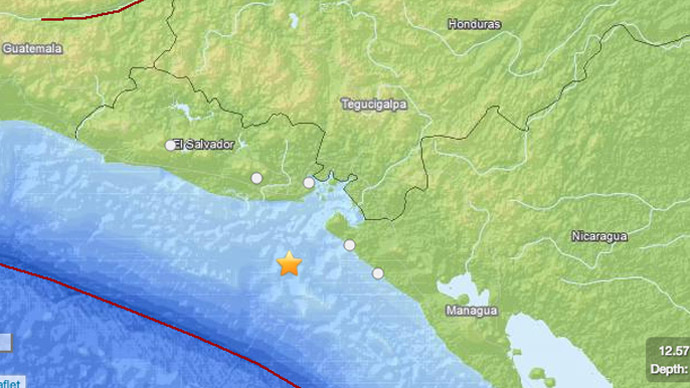 A 7.4 earthquake has struck about 106km (66 miles) off the coast of El Salvador, south-east of the city of Usulutan. One person was killed, the quake could be felt across Central America.
The mayor of the city of San Miguel in El Salvador posted on Twitter that the one death took place when a man was struck by a falling electricity post.
"It felt really powerful, suddenly the whole house started to move," Xiomara Amaya, 30, from Usulutan, has said.
Although initial reports put the event at a shallow depth of just 9km (5.6 miles), revised estimates by the USGS now say it struck 25 miles (40km) deep.
A warning of "hazardous tsunami waves" was given by the Pacific Tsunami Warning Center on Monday, after first saying that a widespread tsunami wasn't a possibility. Coasts of Honduras and Nicaragua were given a tsunami warning as well, both within 300km (180 miles) of the epicenter, the warning center said.
El Salvador's emergency services advised all coastal residents to move inland, but the tsunami estimates were later revised and the waters appeared calm.
The last great earthquake at this location took place two years ago, when a 7.3 magnitude event struck off the coast of El Salvador, also causing a brief tsunami warning and no major damages.