3 Ukrainian atrocities lacking 'transparent' investigation
Ukraine has been flooded with violence this year: snipers in Kiev, the Odessa massacre, the discovery of mass graves in E. Ukraine - and all this on top of the MH17 crash. However, proper investigation even into these cases have been stumbling.
Ukraine's civil war has descended into bloodshed and atrocities after Kiev began pursuing its so-called anti-terror operation in April 2014. Over 3,800 civilians have died, often victims of random shelling and rocket fire from warring militias.
But current efforts to examine even the three most prominent cases of the crisis - Maidan shooting, Odessa Trade Unions House deadly fire and discovery of at least four mass graves in Donetsk region - seem to be not enough, RT's Maria Finoshina reports.
I thought "enough dead bodies!" when we came across another burial site outside #Donetsk. Reality of war. E.#Ukrainepic.twitter.com/3kTEZPkUN0

— Maria Finoshina (@MFinoshina_RT) September 27, 2014
Mass graves

On September 23, three unmarked graves with at least nine bodies were discovered, near the Eastern Ukraine city of Donetsk. The finding of self-defense forces was later confirmed by the OSCE Special Monitoring Mission (SMM).
Donetsk chief medical examiner Konstantin Gerasimenko told RT that "All of them [the victims] had multiple gunshots and their hands bound."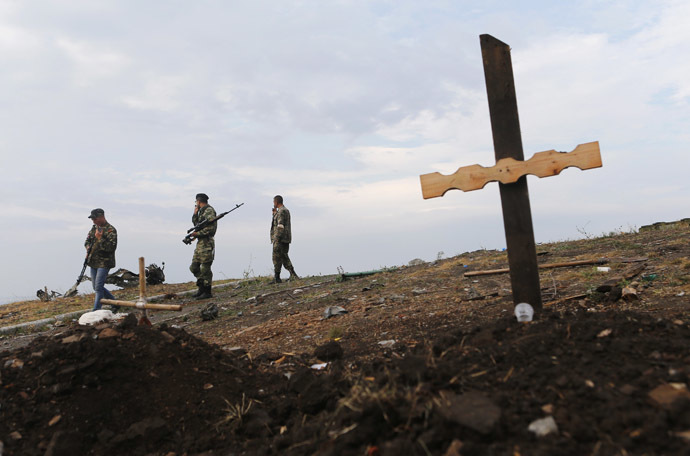 Russian Foreign Minister Sergey Lavrov called on the international organizations to give a "clear, unbiased and responsible response." It was followed by Washington's words of support for a "full and thorough" investigation destined "to get to the bottom of the facts."
However, little progress has been achieved in the investigation of the killings by the OSCE, whose monitors are currently working on the scene, as well as by the monitoring mission of the Office of the UN High Commissioner for Human Rights who promised to take part in the investigation of the matter.
Spokesperson for EU Foreign Affairs and Security Policy told RT via e-mail that "As underlined by the OSCE SMM and as far as we're aware there has been no forensic analysis of the bodies so far."
The answer of the Human Rights Watch organization is hard to call positive, as well. "At this moment we don't have any factual information about the progress of these investigations, so it's better not to comment."
READ MORE: 'Taped hands, gun wounds': RT witnesses exhumation of mass graves in E. Ukraine
Odessa tragedy
On May 2 in the southern city of Odessa nearly 40 people died in flames that burst out in a building where anti-Maidan protesters tried to take refuge.
READ MORE: Odessa slaughter: How vicious mob burnt anti-govt activists alive (GRAPHIC IMAGES)
The Ukrainian authorities carried out an investigation, but the resulting report called it "impossible" to arrive at an objective conclusion about the causes of the deaths "due to the lack of modern equipment".
The probe was however slammed by the local media as "fabricated" and "lacking evidence".
Svetlana Fabrikant, a member of the Ukrainian parliament and secretary of the parliamentary commission probing into the massacre in Odessa on May 2, even withdrew her signature from the published version, calling it "different" from what she had signed.
Reportedly, the redacted final version did not contain witnesses' accounts about the involvement of about 500 radicals who were allegedly transferred to Odessa with the help of the region's governor, Vladimir Nemirovsky.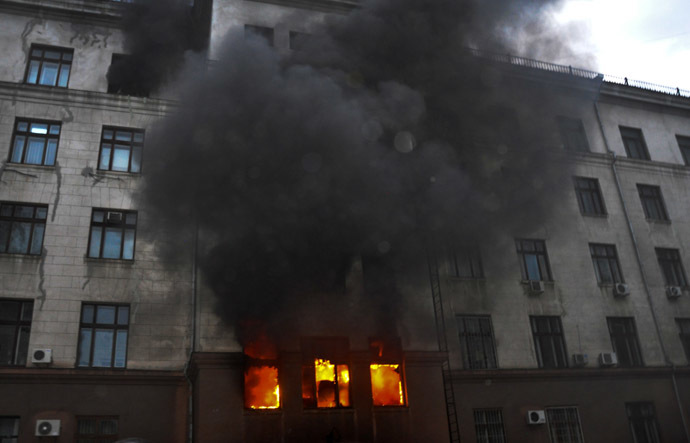 The international community was quick to condemn the massacre, but so far this has been all of the reaction. RT has contacted the EU Council, whose spokesperson for EU Foreign Affairs and Security Policy said:
"The investigation must be swift and transparent, free of political influence, clarifying the facts and looking at the role of all parties involved, protesters as well as law enforcement services."
Maidan shooting
In February, over a hundred people were killed on Maidan by sniper fire. There have been complaints from human rights advocates that the investigation is going on slowly, and some important evidence has been destroyed.
The preliminary investigation blamed ousted president Viktor Yanukovich and the Berkut special division, who denied any connection to the snipers.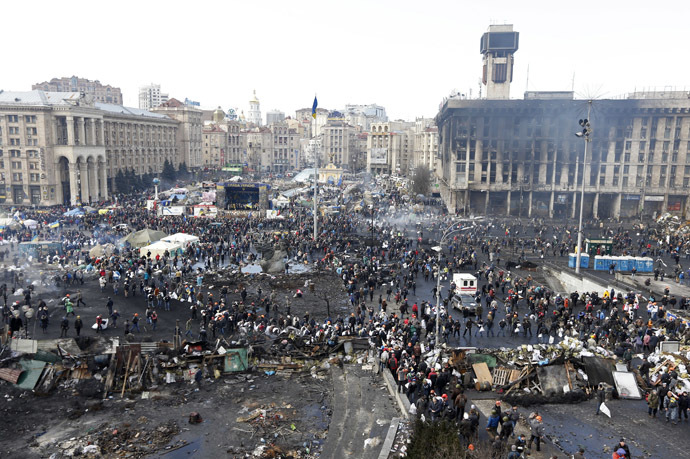 In a leaked tape that emerged in March Estonia's Foreign Minister told EU's Foreign Policy Chief Catherine Ashton about the bloody events that "It is really disturbing that the new coalition, they don't want to investigate what exactly happened." He added that there was "A stronger and stronger understanding that behind the snipers it was not Yanukovich, but it was somebody from the new coalition".
UPDATE: Reuters investigation exposes 'serious flaws' in Maidan massacre probe
A number of Berkut special unit members have been arrested on charges of Maidan killings, and they are currently facing trial. Dmitry Sadovnik, one of chief suspects accused of of ordering his men to fire at the crowd of protesters in Kiev, went missing in September after he was released from pre-trial detainment by the court and put under house arrest. He was placed on wanted list.
There has been no international investigation into any of those crimes.
You can share this story on social media: