​Record haul: German police confiscate 330 kg heroin shipment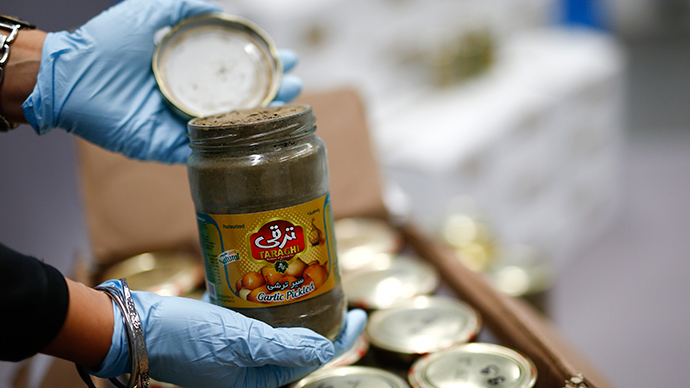 Pickled garlic and cucumbers couldn't hide a 330 kg stash of heroin from the eyes of German police. Officers in North Rhine-Westphalia intercepted enough drugs to make 1.3 million doses with an estimated €50 million street value.
Months of investigation finally resulted in obtaining information about the "largest heroin shipment Germany has seen in the last decades", Federal Criminal Police Office (BKA) reported on Thursday. Hidden among vegetables, it was transported to Germany from Iran.
The drugs were found on September 22 in the western city of Essen on a truck carrying a 23-ton shipment of vegetables, which police regard as the typical way for an Iraqi-Syrian criminal group that has been smuggling large quantities of drugs to Eastern Europe for years.
Two brothers of Syrian origin, aged 30 and 35, were arrested, they are believed to be organizers of the drug ring. Both of them were directors of companies that were allegedly responsible for heroin trafficking. At the end of the month, a Dutch citizen living in Belgium was detained and extradited to Germany in connection with the case.
According to the police, the brothers and their sidekick are now in custody.
The BKA chief said "Taking into consideration the total seizure of 270 kg of heroin in 2013, the confiscation of 330 kg of drugs is an exceptional investigative success".
He added that the case presents Germany as a destination country for large quantities of drugs and called for "consecutive international cooperation" in the investigation process.
"As before, the drugs trade remains one of the main origins of international organized crime. Our investigations reveal the international network of organized drug trafficking and its extraordinary profit margins", the President of BKA Jörg Ziercke said in a press release.
You can share this story on social media: