Underfunding behind Spanish hospital failure to isolate Ebola vicitim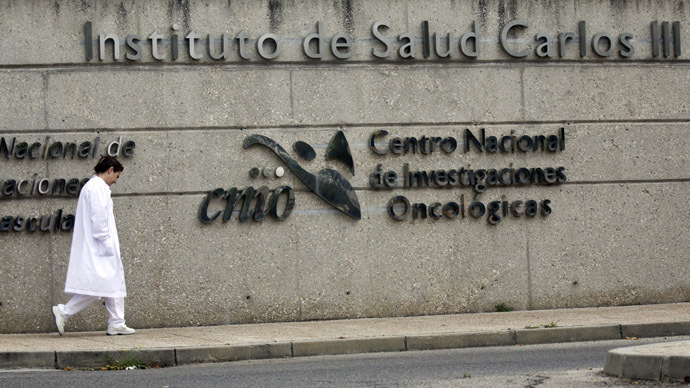 Spanish nurse Teresa Ramos was reportedly separated only by curtains from other patients at a Madrid hospital where she was tested for the Ebola virus. The country's underfunded health service is under fire for its "inadequate" response.
Ebola spread 'unavoidable' in Europe due to extensive travel – WHO
Ramos, 44, who tested positive for Ebola, was not immediately accepted to the central Carlos III hospital, where she came to report possible symptoms of the deadly virus, and where Ebola patients have previously received treatment, Diario Enfermero (Nurse Journal) has reported. She was instead sent to her local medical facility – the Alcorcón hospital, also in the Spanish capital.
There, the woman was reportedly "for hours" only separated by curtains from the rest of the patients while waiting for her Ebola test results, according to the hospital staff. The nurses allegedly attended her without any protective clothing on.

The report has been issued at a time when the country's healthcare officials have increasingly come under fire from trade unions over "inadequate" efforts in tackling the Ebola virus.

Bringing the infected missionaries from Africa to Spain was a "completely improvised hospital campaign," said Elena Moral, a spokesperson for the Independent Trade Union of Employees (CSI-F), El Pais reported.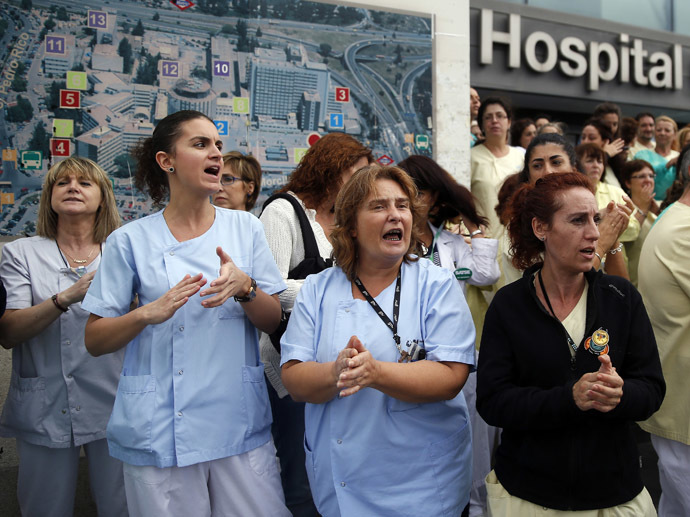 "We did not have the infrastructure to deal with a virus of this magnitude," she said.

Healthcare activists report that Madrid's authorities decided to "dismantle" the infectious diseases center at the Carlos III hospital just months before the Ebola patients were brought there.

The "dismantling" has led to Ebola being "treated in a place that did not meet adequate security conditions," according to a spokesman for the Public Health Service Defense Federation, Dr Marciano Sánchez Bayle.

"The whole section devoted to infectious illnesses has been closed," he explained in an interview with Euronews. "The professionals who worked there have been moved to other positions. The laboratory was closed, and so was the intensive care unit. It's just to say that, one way or another, its capacity to take care of illnesses with these characteristics has been most remarkably reduced."

Trade unions have called for the resignations of health officials of various levels from the hospital management to Health Minister Ana Mato. There have also been calls for President of the Community of Madrid, Ignacio Gonzalez, to step down over the decision to "dismantle" the infectious disease section of Carlos III hospital.
Ebola: Evolution of an epidemic (INTERACTIVE MAP)
Ramos treated two Ebola-infected missionaries who were brought from Sierra Leone and Liberia to Spain and eventually died in hospital.

On Tuesday, four more people were hospitalized in Spain on suspicion they could have contracted the disease. Two of them have since tested negative for Ebola.

Unions have complained of poor training and inadequate protective clothing the medical staff received before having to take care of Ebola patients.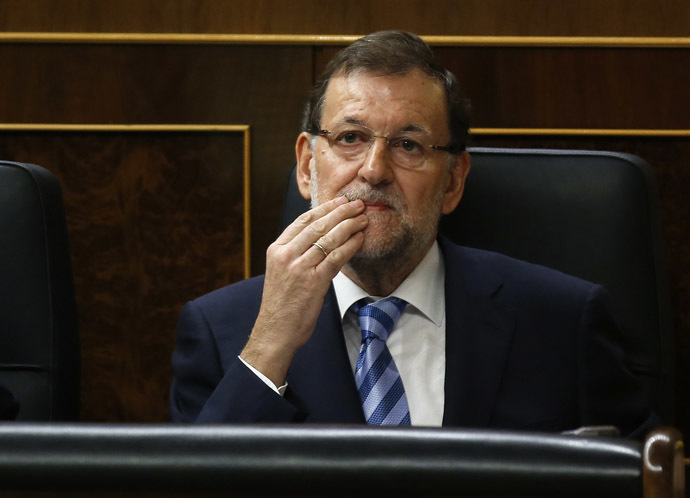 There have also been reports that waste from the rooms of the infected patients was carried out in the same elevator used by all personnel.

Spanish Prime Minister Mariano Rajoy was grilled by Congress on Wednesday on whether the government could guarantee the Ebola virus was under control in the country.

"We are facing an issue of concern and rightly so," Rajoy said as cited by El Mundo. He added that "a monitoring committee has been created" to "investigate what happened and explain the whole to the public."

The PM asked Spnaiards to be "be vigilant, while keeping calm" concerning the Ebola virus, following reports that the country has been unprepared to tackle the virus.

One of the discoverers of Ebola, Peter Piot, a professor at the London School of Tropical Medicine, has warned that treating those infected by the virus demands draconian discipline.

"It should be a lesson for everybody that you can't overreact. You can't overprotect," he told a WHO science group teleconference, Reuters reported.
You can share this story on social media: