Chained protest: Police clear out refugees resisting eviction in Berlin (VIDEO)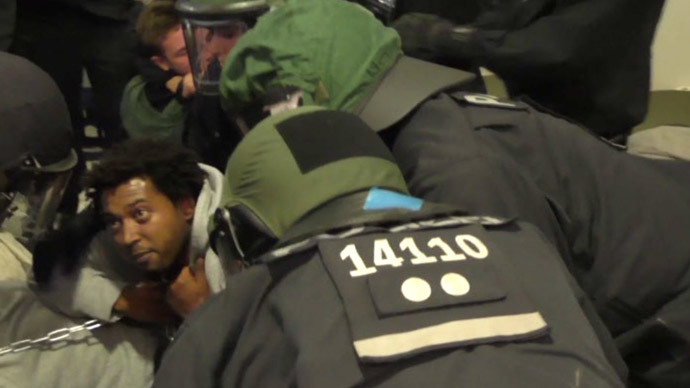 More than 200 policemen were deployed to a trade unions building in Berlin on Thursday, to clear it from about 20 refugees who had been occupying it for a week. Officers had to use bolt cutters, as the intruders had chained themselves to railings.
Spirits were low among the refugees from Africa and Pakistan, who had stayed in the building of the Federation of German Trade Unions (DGB) for seven days, voicing no particular demands except for DGB membership.

They failed to leave the premises on their own, despite being issued a Thursday morning ultimatum. One of them women was heavily sobbing, and some of the refugees had even chained themselves to the railings, Berlin-Brandenburg Broadcasting (RBB) reported. There was also a small protest outside the building.
Hartwig Paulsen, a DGB employee, met with the refugees at 10 a.m. on Thursday. Having asked them to leave the building on their own, he said: "We have regarded you as friends as yet, but now we see you as occupants," according to Der Tagesspiegel newspaper.
Half an hour later, police arrived at the scene to evict 16 chained refugees who occupied the stairs in the building and had attached themselves to railings. Five other refugees were present and supporting the chained protesters.

At least two people were taken to the police station for "identification procedures," police spokesman Stefan Redlich told Berliner Zeitung newspaper. Another 11 refugees were released after an enquiry.
Where is politicians ? Where is democracy ? Who is responsible for refugee ? pic.twitter.com/M6GFL8jUAZ

— Refugee_DGB (@Refugee_dgb) October 2, 2014
We are here we will fight # dgb refugee straggler for freedom # pic.twitter.com/fWjhmUPWRQ

— Refugee_DGB (@Refugee_dgb) October 2, 2014
According to the police statement, two people were injured. One person had a bloody nose, and the other complained of heart problems and was taken to hospital.
No border no nationa stop deportion # pic.twitter.com/1aBzZEnlwG

— Refugee_DGB (@Refugee_dgb) October 2, 2014
Räumung der #Refugees im #DGB Haus ist im Gang.Refugees haben sich angekettet. pic.twitter.com/USg7e7w4KD

— PetShop (@Petmobbb) October 2, 2014
"The refugees apparently have a completely wrong or just unclear understanding of the Federation of German Trade Unions," Dieter Pienkny, a spokesman for DGB Berlin-Brandenburg told RBB on Wednesday. He added that the squatters might believe DGB to be "a junction of the UN and the federal government."
Pienkny explained that the demands of the refugees had no legal grounds, as they were not "regular employees" – they simply got a "wrong address" and wanted "to get in through the back door." He added that the federation could not tolerate the guests any longer and only turned to the police after a series of warnings.
Nach polizeilicher Räumung #DGB Haus werden jetzt die verletzten #Refugees in Krankenhäuser gebracht pic.twitter.com/D4ZPby723l

— PetShop (@Petmobbb) October 2, 2014