'Lack of intelligence': US airstrikes in Syria, Iraq could lead to high civilian casualties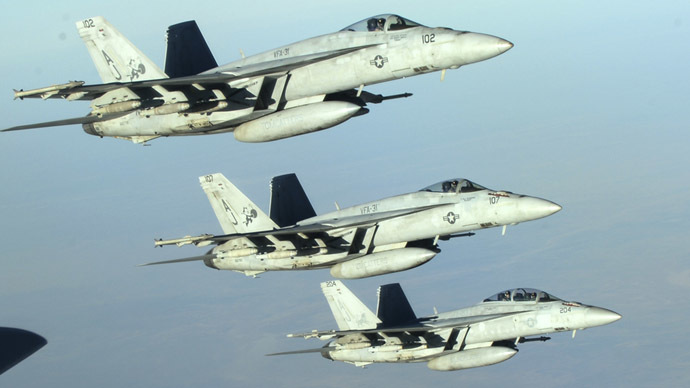 The risk of civilian deaths from bombs dropped in Syria and Iraq could be much higher than drone strikes in Pakistan and Yemen, according to US officials. This is due to a lack of intelligence on the ground and a change in bombing policy.
The US military has admitted that it is reliant on satellite images, drones and surveillance flights to try and get a better picture of what is happening on the ground. It has very few reliable sources on the ground which it can use to get up to date and precise information. The data gained from the air is also used to pinpoint possible targets where airstrikes can be carried out.
"I think it is likely that airstrikes will inevitably result in some civilian casualties," said Jennifer Cafarella, who is a top Syrian analyst with the Institute for the Study of War in Washington, according to AP.
In Iraq, the US coalition does have some reports from the Iraqi military; however they have little idea about what is happening in areas controlled by Islamic State (IS). In Syria, there is no cooperation with Bashar Assad's government or moderate rebel forces, which the US is backing against the Syrian president.
"We do take extreme caution and care in the conduct of these missions," Rear Admiral John Kirby, the Pentagon's press secretary, told reporters on Tuesday. "But there's risk in any military operation. There's a special kind of risk when you do air operations."
However, the information obtained by the US is not always accurate. Locals have stated that US airstrikes have often hit empty buildings which the IS has abandoned. The militant group's tactics since the bombardment started have been to blend in with the local populations and move away from large-scale buildings and camps, which would be easy targets for air campaigns.
"It's much harder for us to be able to know for sure what it is we're hitting, what it is we're killing and what it is collateral damage," said Tom Lynch, a retired colonel and former adviser to the Joint Chiefs of Staff, which was reported by AP.
Human rights groups have already stated that as many as two dozen civilians have been killed so far by airstrikes from the US-led coalition. At least 19 were killed in late September, when US airstrikes hit grain silos in Syria, according to the Syrian Observatory for Human Rights, an organization which Cafarella regards as reliable.
The coalition's reliance on air power does not seem as though it will stop any time soon, says Major General Jeff Harrigian, the Air Force's assistant deputy of chief of staff for operations, plans and requirements. He maintains the current airstrikes are part of a "persistent and sustained" campaign against the militant group, even though he does admit IS are, "a smart adversary."
"Air power's targeted actions are disrupting ISIL's command and control, their logistics and infrastructure, and their freedom of movement," Harrigian was quoted as saying on the US Department of Defense's website. "We see air power as one of the fundamental components of the comprehensive strategy."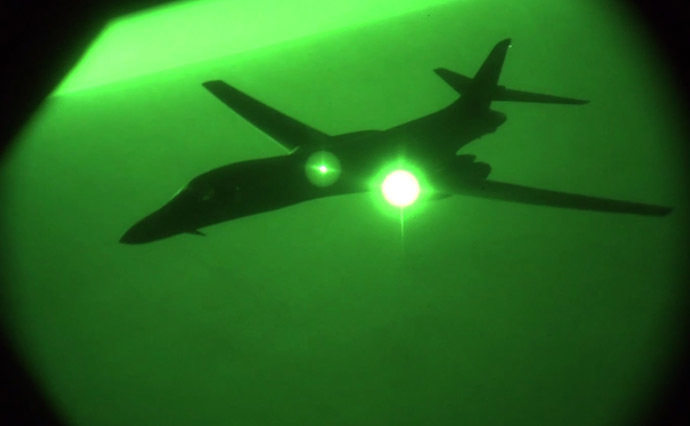 Change in policy
The US-led coalition's campaign in Syria and Iraq has seen a shift away from targeting rules which were imposed for drone strikes in Pakistan in Yemen.
In May 2013, at a speech at the National Defense University in Washington, President Barack Obama acknowledged that his administration was responsible for killing no fewer than four US citizens with these attacks, and potentially thousands of civilians, through the use of drones. This led to a drastic re-think governing how future drone attacks would be carried out.
The new rules stated that no drone strike would occur without a "near certainty" that civilians would not be harmed.
Before the legislation was introduced, according to the Bureau of Investigative Journalism website, 339 drone strikes have taken place in Pakistan since Obama came to power, which led to almost 4,000 deaths, of which around one-quarter have been civilians.
However the group said they have found no evidence of civilian casualties in the country since the new policy was adopted. The Long War Journal also reported that there have been only nine strikes this year, in comparison to 110 in 2010.
However, according to White House spokeswoman Caitlin Hayden, this rule is intended to be applied "only when we take direct action outside of active hostilities."
The picture has changed significantly in Syria and Iraq, with Hayden saying this is an armed conflict. She mentioned that targeting is undertaken under the rules of law, which although it does require military's to take cautions to avoid civilian casualties, it does not hold them to the 'near certainty' standard that was imposed by Obama.
You can share this story on social media: