Putin: Russia won't limit access to internet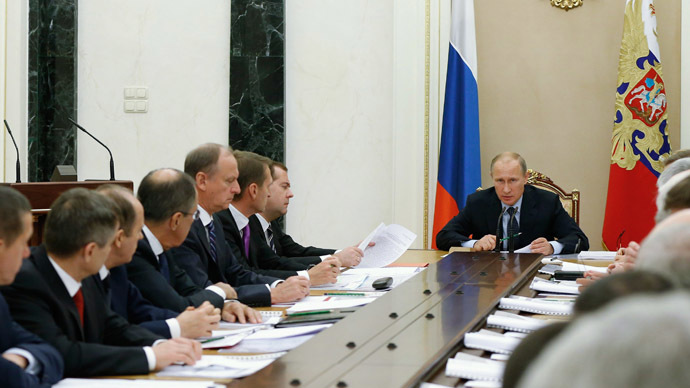 At a meeting with Russia's Security Council, President Vladimir Putin has said the problem of the country's 'informational space' security is of top priority, but assured the state has no intentions of limiting access to the web.
"We do not intend to limit access to the web, put it under total control, make the internet more governmentalized. We will not limit legal interests and possibilities of people, non-governmental organizations and businesses in the informational sphere," Putin said at the meeting on Wednesday.
He added that such "unreasonable" and "total" restrictions contradict the basic principles of democracy, including the freedom of press and civil rights of access to and distribution of information. He said the state was "not even considering" such measures.
Discussing the issues of security of Russia's "informational space" under "contemporary threats," Putin mentioned that the global web contains sources that promote terrorism, xenophobia and religious hatred, as well as child pornography, drugs and suicide.
Such websites will not be tolerated, and will be consistently closed down, according to laws, that exist towards illegal content around the world, Putin said.
Addressing the issue of international cooperation in providing global informational security, Putin said that Russia, together with its BRICS (Brazil, Russia, India, China, and South Africa) partners had strongly condemned mass electronic surveillance and collection of personal information, conducted by "certain state intelligence services."
"We can see that some countries try to use their dominant position in the global informational space to reach not only economic, but also military and political goals," the president told the Security Council.
Putin also mentioned that Russian segment of the worldwide web is often being attacked, with the scale of such cyber-attacks depending on current political situation in the world.
Russia will protect its sovereignty in the sphere, Putin added, saying that Russian products and technology to provide security in the field are being developed.
You can share this story on social media: