United Russia MP seeks probe into 'openly cheeky' Twitter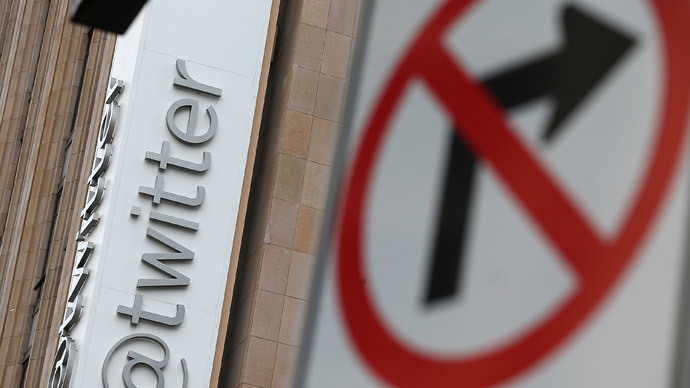 A ruling party lawmaker has asked Russia's top prosecutor to check if Twitter's refusal to delete the accounts of Ukrainian extremists is a violation of law. If it is, the messaging service should be blocked in Russia, the MP maintains.
"I have heard Twitter's official statements that they are not going to obey Russian law. But according to international law, everyone who works in Russia must obey its laws and Twitter is not an exception here," Yevgeniy Fyodorov told the ITAR-TASS news agency.
The lawmaker explained that current Russian legislation forbids all internet sites to publish calls for mass unrest or extremist activities, and those who still permit such materials on their web pages must be closed. He said that the letter to the prosecutor general contained at least 10 examples of such violations.
The scandal developed on Monday, after the head of the Russian state watchdog, Roskomnadzor, met with Twitter's vice president for global public policy and asked him to block about a dozen accounts spreading extremist information, in particular those maintained by the members of the Ukrainian nationalist group, Right Sector. The Russian official told the press after the meeting that Twitter agreed to delete the accounts within days, but a few hours later the company's spokesman, Nu Wexler, dismissed this information as inaccurate and said that no agreement was reached about any account removal.
MP Fyodorov told reporters that the Russian law on extremism on the internet had been working for over six months and it was fine, but if Twitter continued to insist on its "openly cheeky" position the rules could be made harsher.
The Russian lawmaker added that Twitter was a favorite tool among organizers of the so-called "colored revolutions" and other mass public unrest, similar to the one that recently took place in Turkey. "In essence, the messenger becomes a communicational and organizational network for an invasion in a foreign country. May be this was the real reason why Twitter was developed there, in San Francisco?" Fyodorov suggested.
In mid-May this year, Deputy head of Roskomnadzor Maksim Ksendzov said in a newspaper interview that Twitter could be blocked in Russia if it refuses to observe the fresh "Law on Bloggers" that will come into force on August 1. "By gradually refusing to comply with our demands they are deliberately creating the conditions in which the blocking of this resource on our country's territory becomes practically inevitable," the official said.
However, soon after the interview was released Russian Prime Minister Dmitry Medvedev – known for his fondness of technology and gadgets – slammed Ksendzov's statement in a Facebook post, writing that "certain civil servants responsible for the development of the industry must sometimes turn their brains on and give no interviews that announce the shutdown of social networks."
Shortly afterwards, Ksendzov's was officially reprimanded by the Ministry of Communications and Mass Media for the improper discharge of his duties.