'Blatant manipulation of facts': PLO responds to Israeli PM's UN speech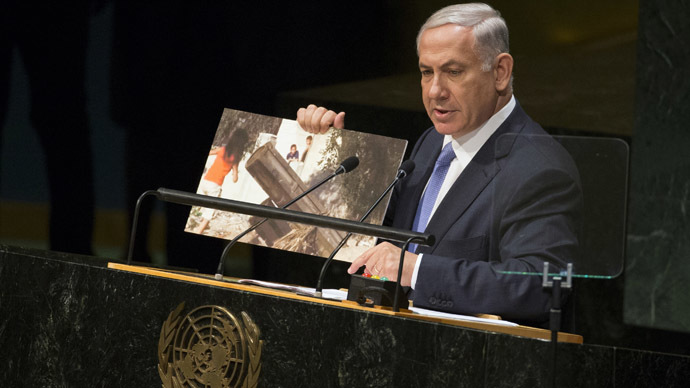 The Palestine Liberation Organization has stated that the Israeli Prime Minister Benjamin Netanyahu's UN speech was about blatantly manipulating facts and misleading the audience.
"Obviously Netanyahu has lost touch with reality, particularly in refusing to acknowledge the fact of the occupation itself or the actions of the Israeli army of occupation in committing massacres and war crimes," PLO executive member Hanan Ashrawi said in a statement.
"Netanyahu's speech at the UN was a blatant manipulation of facts and attempted at misleading the audience through a combination of hate language, slander and argument of obfuscation," she added, as quoted by AFP.
On Monday, Israeli premier addressed the UN General Assembly, denying accusations that Israel committed war crimes in July and August, when over 2,000 Palestinians were killed – the majority of them civilians.
On the contrary Netanyahu accused Palestinian President Mahmud Abbas and Hamas of the deaths.
"Hamas embedded its missile batteries in residential areas and told Palestinians to ignore Israel's warnings to leave. I say to President Abbas, these are the war crimes committed by your Hamas partners in the national unity government which you head and you are responsible for," the Israeli leader said.
One of the principal points of the speech that caused a wave of outrage was Netanyahu's allegation that the Islamic State militants and Hamas "share a fanatical creed, which they both seek to impose well beyond the territory under their control."
In his address to the UN General Assembly, Netanyahu described Iran, Islamic State and Hamas as part of single team drawing a comparison with the Nazis.
"The Nazis believed in a master race; the militant Islamists believe in a master faith," he said.
Hamas spokesman blasted the Israeli PM for "portraying Hamas and IS as two faces of the same coin," despite Hamas being "a national liberation movement, while the [Israeli] occupier is the source of evil and terrorism in the world."
On Friday, Abbas pledged to achieve war crimes prosecutions against Israel, calling the summer offensive a "war of genocide."
The latest round of Israeli-Palestinian peace talks, brokered by US Secretary of State John Kerry, failed in April.