US rejects Iran's offer to cooperate against Islamic State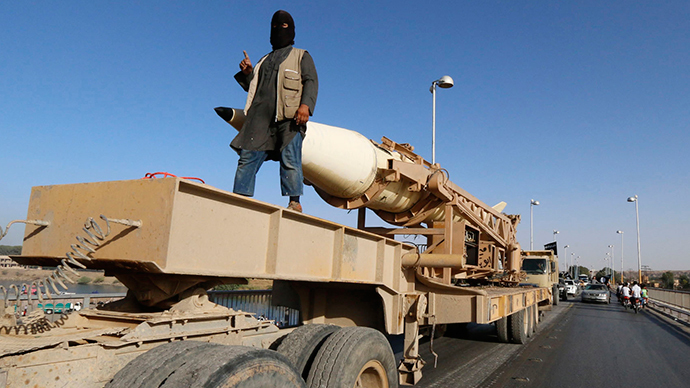 The US has rejected a proposal from Iranian officials regarding cooperation between the two nations in fighting against the Islamic State (IS). Tehran was reportedly ready to join forces in exchange for Washington's flexibility on its nuclear program.
Reports of Iran's readiness for joint efforts with the US and its allies came from senior Iranian officials. The parties, who asked not to be named, told Reuters that Tehran is willing to cooperate in the fight against IS, but only if the United States responds with a more favorable stance on its uranium enrichment program.

"Iran is a very influential country in the region and can help in the fight against the ISIL (IS/ISIS) terrorists...but it is a two-way street. You give something, you take something," a senior Iranian official said on condition of anonymity, adding that the country's nuclear program is "peaceful."

When asked about Iran's proposal, a US official said it could not be accepted.

"The United States will not be in the position of trading aspects of Iran's nuclear program to secure commitments to take on ISIL," White House spokesman Josh Earnest said.

Last week, Tehran refused Washington's offer to join a global alliance preparing to combat Islamic State militants. According to Iran's supreme leader, Ayatollah Ali Khamenei, the US offered to discuss a coordinated effort against IS, which was rejected by Iran due to America's "murky intentions."
Fight with ISIS spreads across globe: How are roles distributed in that battle?

Iran's nuclear program is currently being discussed on the sidelines of the United Nations General Assembly in New York. The US, UK, France, Germany, China, and Russia are taking part in the talks.

Other countries have also commented on Iran's willingness to join the Western fight against IS, which it expressed during nuclear negotiations.

Ofir Gendelman, spokesman for Israeli Prime Minister Benjamin Netanyahu, called the terms for such cooperation "absurd."
Iran is fighting ISIS for its own interests. Going easy on Iran's nuclear program so Iran will fight ISIS is absurd. pic.twitter.com/YzlHrWsAMX

— Ofir Gendelman (@ofirgendelman) September 22, 2014

French Foreign Minister Laurent Fabius said the current talks should focus on Iran's nuclear activities and not shift to any other international issues.

"You must not establish confusion between this question (the role of Iran in fighting IS) and the question of nuclear weapons that we are discussing now with the Iranians," Fabius said on Monday.

The current talks in New York are aimed at helping Iran and the six nations reach terms of a final nuclear agreement by November 24. Tehran partly froze its uranium enrichment program under a November 2013 interim deal. In exchange for that, limited Western sanctions against Iran have been lifted.