Iran displays Israeli drone downed near nuclear facility (VIDEO)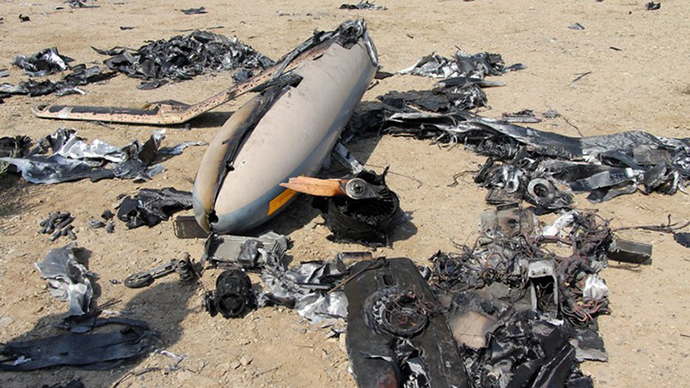 Iran has strongly condemned Israel for deploying a spy drone over its nuclear research facility and threatened retaliation after airing footage of a destroyed UAV was shot down by the Revolutionary Guard over the weekend.
Iran's State TV showed footage of wreckage of an alleged Hermes 450 drone, an Israeli-designed spy reconnaissance aircraft that was downed by the country's Revolutionary Guard near Iranian nuclear site Natanz on Saturday.
Israel has yet to comment on the allegations, after the claim initially surfaced on Sunday. The short video shows no visible Israeli markings on the drone. However, the Islamic Revolution Guards Corps (IRGC) claims the drone belongs to Israel but could have been flown outside Israeli territory.
"The operational range of the drone shows that it hadn't been sent from the occupied territories [Israel]; rather it had started its flight from a regional country. We have received clues and we are investigating them," Commander of IRGC Aerospace Force Brigadier General Amir Ali Hajizadeh said, cited by Fars.
Tehran is currently analyzing the information from several parts that remained intact, according to Hajizadeh, who said the drone was equipped with two high-quality cameras.
The unmanned aerial vehicle which was shot down by ground-to-air missiles was a "Hermes-type drone and made in Israel," Hajizadeh claimed, elaborating that the aircraft has a range of 800 kilometers but is capable of flying 1,600 kilometers by refueling once.
"There was no prior information available about the aircraft and the only one of this type had been downed in Syria, but this one is more advanced," General Hajizadeh added.
The Elbit Systems Hermes 450 is a medium size multi-payload unmanned aerial vehicle (UAV) designed by Israel for tactical surveillance long endurance missions of over 20 hours. Besides Israel, Hermes 450 drones are also operated by Britain and the United States.
On Sunday, the IRGC Public Relations Department said that the downed UAV was an Israeli stealth drone deployed to spy on Iran's enrichment activities in Natanz nuclear enrichment plant. The incident prompted some harsh words from Tehran, including threats of retaliation and arming Hamas militants.
"The Armed Forces, including the IRGC and the Army, are fully prepared to trace and intercept [hostile flying objects] and if such moves are repeated, the aggressors will receive our crushing response," Hajizadeh warned. "We will accelerate arming the West Bank and we think that we are entitled to give any response [to the recent aggression] which we deem appropriate," Hajizadeh said.
The country's Foreign Ministry issued a statement condemning the Israeli violation of its airspace.
"In response to the flagrant violation of our territorial integrity, we reserve the right to [undertake] an appropriate defensive action and to follow up on the issue at the level of legal and international bodies based on the results of necessary investigations and within the framework of international regulations," Foreign Ministry Spokeswoman Marzieh Afkham said.
Since 2011 the Islamic Republic has managed to detect, bring down and even copy several types of US drones in its airspace. They are known to include RQ type UAVs and the ScanEagle drones.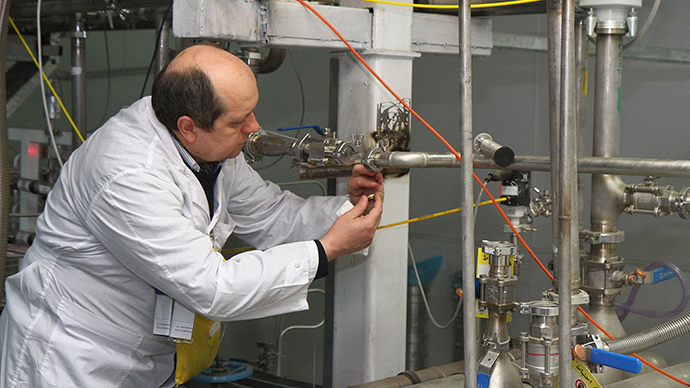 The escalation of tensions is happening as Iran failed to officially respond to Monday deadline set by International Atomic Energy Agency (IAEA) calling to shed more light on its nuclear program.
Under November's accord with the nuclear watchdog, Tehran agreed to implement five transparency steps into alleged explosives experimentation.
As of Tuesday, Iran is "in the process" of completing measures on transparency, atomic energy chief Ali Akbar Salehi told IRNA news agency, without elaborating further. "They [IAEA] have five questions and demands... some are completed and others are in the process of being completed," Salehi said.
In the meantime, Salehi accused the EU and the US with its allies of collaborating with Israel to "sabotage" Iran's nuclear industry, adding that even some eastern states had joined the program.
"The Islamic Republic of Iran inevitably purchases certain parts from certain developing countries in the east, but unfortunately they are also after sabotaging Iran's nuclear industry," he said. "We might not be surprised by the West's sabotage operations against Iran given its opposition to the Islamic Republic of Iran, but we are certainly stunned when such moves are made by the eastern countries."
Salehi's deputy Asqar Zare'an also accused Western countries of conducting spy activities against Iran's nuclear facilities. "It is evident to us that certain countries, including Germany, France and Britain headed by the US, are involved in this trend and they seek to impair our peaceful nuclear activities," Zare'an said. Besides planning sabotage operations in Iran's nuclear industries, espionage also includes "defense, telecommunication and other sensitive and vital infrastructures," he added.
Tehran has long accused Israel's Mossad of running a campaign to assassinate Iran's nuclear scientists and thus slow down the nuclear program. At least five Iranian scientists have been murdered, mostly by bombs planted in their cars, but no Israeli agents have been caught.
In 2010 the so-called Stuxnet virus temporally disrupted the operation of hundreds of centrifuges at the Natanz uranium enrichment facility. Iran said it was a concerted effort by Israel and the US to undermine its nuclear program.
You can share this story on social media: