Captor parades his 'bomb-vest' wearing hostage in Brazil hotel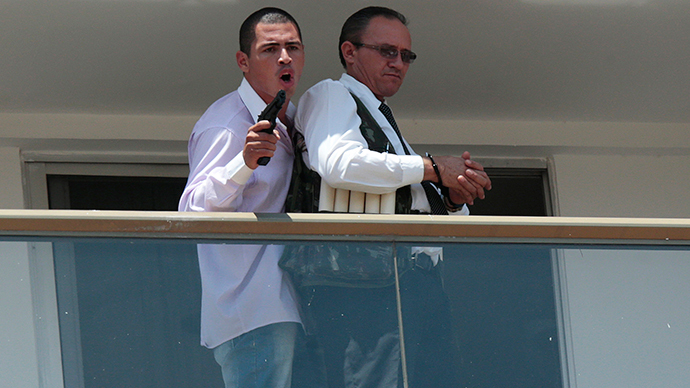 A gunman paraded a hostage wearing a suicide vest on the 13th floor balcony of a luxury Brazilian hotel, prompting a seven-hour standoff with the police and evacuation of all of the hotel guests.
The hostage, who had been kept handcuffed for hours by his captor, appeared to have had a bomb vest strapped on, apparently packed with white cylinders.
While the gun turned out to be fake, the authorities are still trying to figure out whether the explosives were real.
"It has not been confirmed if the explosives are real -- we have taken all security measures" a police spokesman told AFP.
Following the standoff with the police, the captor released the hostage and turned himself in to the authorities, according to Globo News channel.
The man was identified as Jac Souza de Santos, from the northern state of Tocantins, who has been staying at the hotel since Saturday.
The hotel has evacuated and emergency services arrived at the scene to help dispel the situation.
"Security evacuated the hotel and three negotiators are trying to resolve the situation peacefully. A bomb disposal unit is on the scene," the spokesman said.
Some 300 people were in the hotel when the incident kicked off at the Hotel Saint Peter in Brasilia.
The hostage taker apparently knocked on the doors of other rooms on the same floor and told residents that he was about to perform a "terrorist act".
He has been making political statements according to police and has been demanding the removal of Brazilian president Dilma Rousseff.
"The hostage-taker appearing intermittently on hotel balcony. Reports say he is calling for 'the fall of Dilma' among other things," freelance journalist Ben Tavener told the UK's Daily Mirror.
While the taking of hostages is a frequent occurrence in prisons, taking place in a central hotel is extremely unusual.