5 Caspian Sea nations hammer out resources-sharing deal in Russia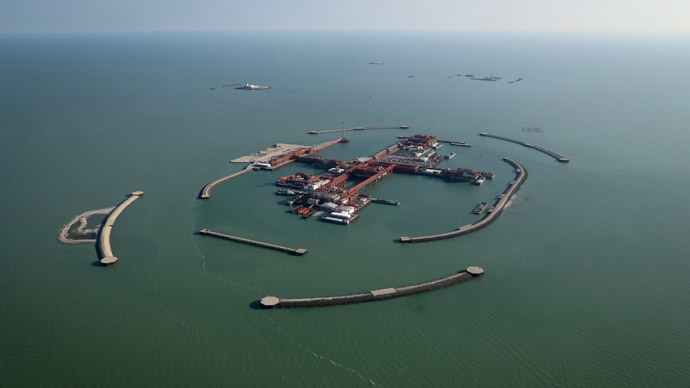 The five nations with access to the Caspian Sea have agreed on how they would share its resources at a meeting in Russia. All the details of the agreement are to be settled by next year, when a treaty is planned to be signed.
Russia, Armenia, Turkmenistan, Kazakhstan and Iran will retain sovereignty over waters up to 15 nautical miles from their coastlines, they announced in a joint statement following the meeting in Astrakhan, Russia's largest city in the Caspian region. They will also have exclusive fishing rights over 10 more nautical miles.

The rest of the inland sea will be developed jointly by the five littoral states, the statement said.

The countries are yet to settle on the exact borders separating their respective sectors. The work is expected to be finished by the time of the next Caspian Five summit.

President Vladimir Putin has called the summit a "breakthrough" because its participants managed to agree "on the principles of cooperation and solving of key issues of interaction in the Caspian Sea" and formulate them on paper.

After meeting with his counterparts, the Russian president said that the talks had produced a concrete wording on the demarcation of waters, seabed and subterranean resources, as well as on fishing and navigation rights.

"The provision that most of the Caspian Sea remains for our joint use has great importance. It eliminates future misunderstandings or tensions in international relations, which could previously arise from the difference in national approaches toward the Caspian waters," Putin said.

In a joint statement, the five leaders also spoke out against the presence of the military forces from non-Caspian states in the region.

Regarding their own armed forces, the sides agreed to ensure "a stable balance of arms in the Caspian Sea, to implement military construction within reasonable sufficiency, taking into account the interests of all parties without harming the security of each other."

Among the issues discussed were plans to hold a joint naval exercise between the armed forces of the five countries in 2016.

Iranian President Hassan Rouhani noted that the Caspian Sea is a closed sea, which makes it vital for the states in the region to respect each other's interests and act on the basis of consensus.

Kazakhstan's leader, Nursultan Nazarbayev, said that he doesn't exclude the possibility of the Caspian states creating their own international organization to promote even more effective cooperation in the region.

There is an idea for the five countries to synchronize their hydrocarbon trade policies, which would help stabilize prices and ensure better energy security both for the countries involved and their customers.

The leaders also discussed joint rescue operations, taxation and a customs regime, among other issues.