​US condemns Yemen violence after rocket attack near its embassy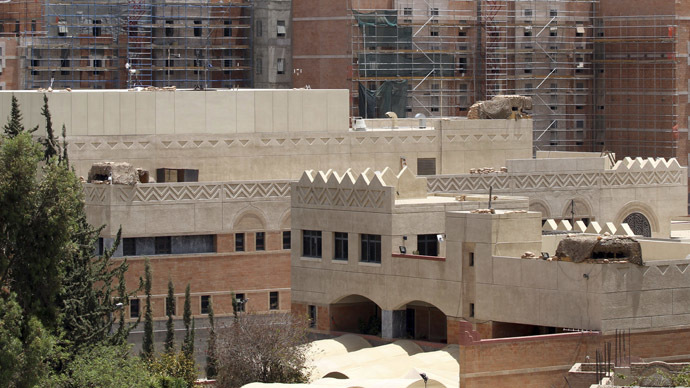 Five Yemeni soldiers have been injured in a rocket attack which, a militant group claims, targeted the US embassy in retaliation for the US drone strikes. Washington has condemned the violence and threatened sanctions against those undermining stability.
Al-Qaeda in the Arabian Peninsula (AQAP) claimed responsibility for a rocket attack west of the US embassy on Saturday evening, when a rocket hit a vehicle, wounding five security guards, Xinhua reports. The attacker fired the rocket from a car using a M72 light anti-tank weapon, a police source told Reuters.
The attack AQAP says was in retaliation for US drone strikes on al-Jawf province that reportedly killed two militants but seriously wounded three children.
The US embassy, however said it had "no reason to let them think that the attack was exactly targeting their embassy." The Yemeni government is now investigating the incident while extra security has been deployed to the US compound.
In the meantime Yemeni Shiite rebels have once again clashed with presidential guards in the capital, which they overrun last week and refuse to leave, violating a UN-brokered peace accord.
The US for its part "condemns ongoing hostile and aggressive actions against the Yemeni government and political targets and calls for all parties to implement all aspects of the Peace and National Partnership agreement," US Department Spokesperson Jen Psaki said in a statement.
Washington also said it will pursue more sanctions against those who threaten stability in their allied country. Clashes between the government and Shiite Houthi group last week left more than 400 people killed. On Saturday rebels attacked the home of Yemen's intelligence chief in Sanaa.
"The United States is stepping up efforts to work with the international community to pursue sanctions against individuals who are threatening Yemen's peace, stability, and security, consistent with UN Security Council Resolution 2140 and U.S. Executive Order 13611, should they not cease such activities immediately."
The rebels swept down from their stronghold in the mountains last month demanding economic and political reforms. Last week, they seized key state installations without resistance, most of them in northern Sanaa.