Denmark to send F-16 jets to aid anti-ISIS strikes in Iraq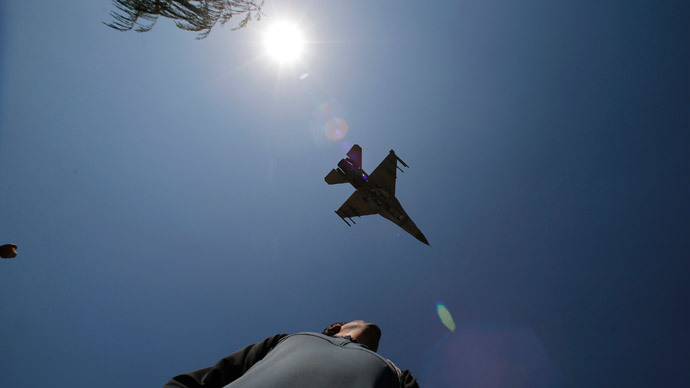 Denmark is to dispatch seven F-16 fighter jets to Iraq to aid in the struggle against Islamic State militants, Danish PM Helle Thorning-Schmidt announced Friday.
The US filed a request with Denmark on Thursday to contribute to the international air campaign against Islamic State (formerly known as ISIS, or ISIL) in Iraq. Thorning-Schmidt said that the F-16s would be limited to flying in Iraq and would not be targeting any areas in neighboring Syria.

"I am very pleased that there now is a broad coalition, including countries in the region who want to... contribute," she told a press conference. "The terror organization ISIS cannot be defeated with military means alone."

She added that Denmark had also received a "concrete request" from the Iraqi government. "IS is a terrible organization that Denmark will take part in fighting," she said.

Denmark has already provided a Hercules transport aircraft – which has been involved in the transportation of weapons, aid and munitions to those fighting IS.

As well as Denmark, jets from the US, France and Arabic countries have been joining the struggle. On Friday, British Prime Minister David Cameron also urged UK legislators to vote in favor of airstrikes on Iraqi militants in a vote he is expected to win.

The Netherlands and Belgium have also contributed six fighter jets apiece.

While Denmark has said that it will not be sending jets to Syria, US jets have been carrying out airstrikes inside the country's borders. On Friday, the US launched a new round of airstrikes, obliterating four tanks in the hands of Syrian militants, in addition to several other IS vehicles in Iraq, the Pentagon reported.

Speaking at the UN General Assembly in New York this week, US President Barack Obama called Islamic State a "network of death."

At the beginning of September, a mosque in Denmark openly declared its support for IS, days after a Dane who fought with the terrorist organization in Syria stated that Denmark was "high upon [IS's] list of targets."

Fadi Abdallah, a spokesman for the mosque, located in Denmark's second-biggest city, the port of Aarhus, told the online news source Den Korte Avis: "An Islamic state will always be what Muslims long for. Therefore we cannot help but to support the Islamic State. Even if it makes mistakes, we will just have to wait and see."

The news came less than a week after a Danish-Turkish jihadist, who was born and raised in Denmark and only referred to himself as OA, told Danish broadsheet newspaper Politiken that IS "has become very international and Denmark is high up on the list, believe me."

The Danish Security and Intelligence Service, PET, has said that 15 Danes, out of the 100 or so who have gone to the Middle East to fight as jihadists, have been killed in Syria fighting for IS in the country's civil war.
You can share this story on social media: