14 militants, at least 5 civilians killed in latest US-led strikes on ISIS in Syria - monitor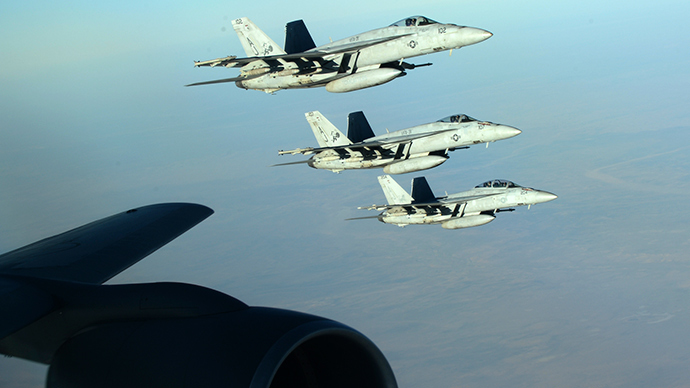 At least 14 Islamic State militants and five civilians have been killed in airstrikes carried out by the US-led forces overnight in northeast Syria, according to a monitoring group.
A third night of attacks targeted IS-controlled oil refineries in the east of the country, the location being the major source of income for the radical group, Rami Abdulrahman, the head of the UK-based Syrian Observatory for Human Rights.
The facilities around al Mayadin, al Hasakah, and Abu Kamal were hit, according to the US military, as quoted by Reuters.
Dozens of fighters and over ten civilians – including children – have been killed since Tuesday, when strikes on Syrian territory began.
Over 40 Tomahawk missiles hit various targets, and a second wave of attacks were delivered by F-22 Raptors, used for the first time in combat. They were supported by F-15 Strike Eagles, F-16s, B-1 bombers and drones.
Syrian authorities were notified about the strikes, and support any international anti-terrorism effort, Damascus stated on Tuesday.
Smoke rising over #Kobanepic.twitter.com/flxf8JKU1f

— Lizzie Phelan (@LizziePhelan) September 25, 2014