Raptors, bombers & drones: How US-led ISIS strikes caused carnage in Syria (VIDEO)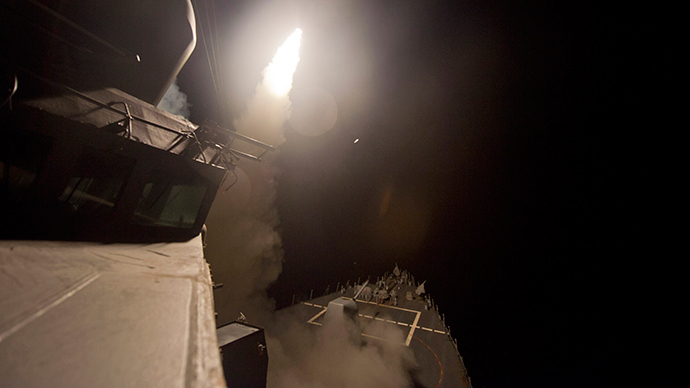 The US and five Arab states launched airstrikes in eastern Syria for the first time, targeting Islamic State militants. Around two dozen sites were targeted, with more than 200 airstrikes conducted. Reuters say 70 IS fighters were killed in the attacks.
Washington was aided by Bahrain, Jordan, Saudi Arabia and United Arab Emirates in carrying out the airstrikes, with Qatar in a supporting role. The US-led coalition used a wide array of methods of attack, which included launching guided missiles from cruisers and destroyers in the Red Sea and the Persian Gulf.
The US and its allies had previously conducted airstrikes in Iraq to try and halt the gains made by IS, as well as providing support to Kurdish and Iraqi government forces. However, Tuesday's attacks in Syria were the first time the US-led forces had bombed Syria. Washington went ahead with the plan despite not consulting with Syrian President Bashar Assad beforehand.
An EA-18G Growler takes off from the flight deck of the aircraft carrier USS George Washington. #ValiantShieldpic.twitter.com/jwveNNGWd2

— U.S. Dept of Defense (@DeptofDefense) September 23, 2014
The US Central Command has declassified and released a series of videos showing some of the targets hit in the first round of US-led airstrikes against Islamic State targets in Syria.
More than 40 Tomahawk missiles were launched at various targets, while a second wave of military action consisted of F-22 Raptors, which were used for the first time in combat. They were supported by F-15 Strike Eagles, F-16s, B-1 bombers and drones.
The final wave saw F-18s carry out strikes, along with F-16s, which were used mainly in the east of Syria to hit IS training camps and combat vehicles, the US Defense Department website reported.
IS training camps, as well as headquarters, command and control facilities and storage facilities were targeted by the US and their Arab allies airstrikes. The city of Raqqa, which has become an IS stronghold since the militant group seized it in the summer, was one of the targets.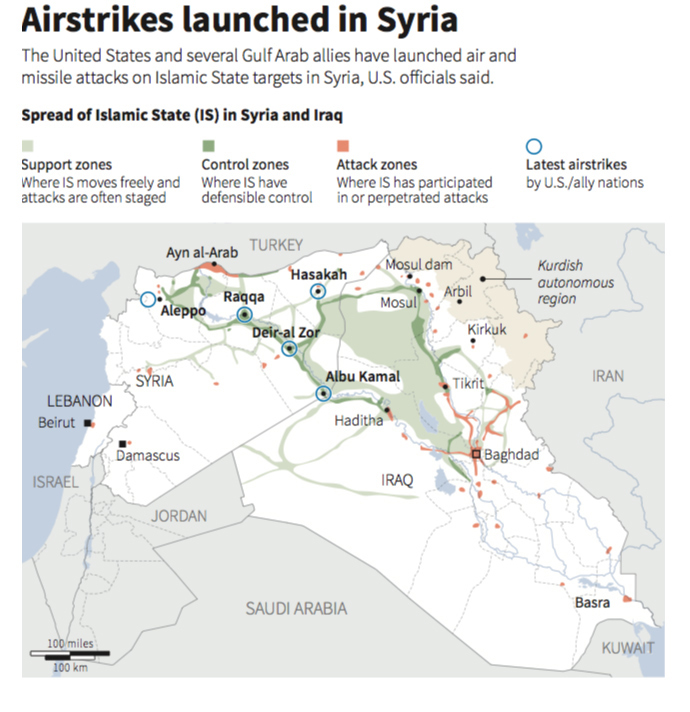 Human rights monitors in Syria reported that some of the sites hit during the strikes were empty. This was especially the case in Raqqa, because militants had fled to try and blend in with the civilian population, knowing that airstrikes were imminent. Reuters reports that 70 IS fighters were killed during the bombing raids.
UN Secretary General Ban Ki-moon made a statement following the US-led strikes in Syria, saying that protecting the people of Syria required immediate attention.
"I regret the loss of any civilian lives as a result of strikes against targets in Syria," Ban said at a climate summit press conference in New York. "The parties involved in this campaign must abide by international humanitarian law and take all necessary precautions to avoid and minimize civilian casualties."
The UN chief said he was aware that the US-led bombing raids were not carried out "at the direct request of the Syrian Government, but I note that the government was informed beforehand."
However, with a lack of security forces on the ground, it is unknown how effective the airstrikes by the US and its Arab allies will prove to be.
"When you're in a city, the population can be a screen for you — you can hide behind it," said Michael Knights, an Iraq expert with the Washington Institute for Near East Studies said, AP reported.
"The problem comes if residents move away from the group or lose their fear of it," he added. "Then a highly populated city becomes a dangerous place; there are a million eyes, a million informants, a million people who can pick up an AK-47."
You can share this story on social media: