Algerian jihadists kidnap Frenchman following ISIS calls to attack Westerners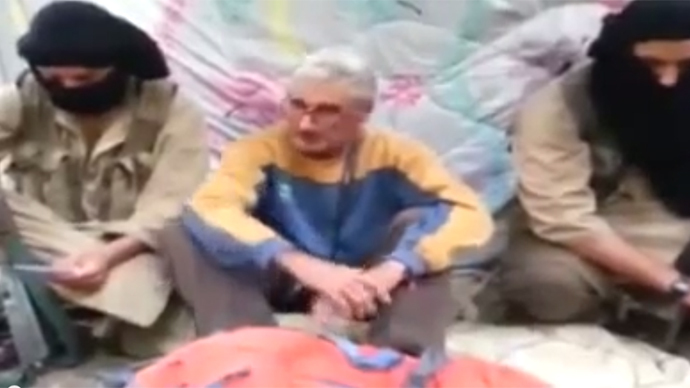 An Al-Qaeda splinter group has kidnapped a French citizen and announced it will execute him if Paris doesn't stop its military action against the Islamic State in Iraq. France has confirmed the incident, but says it will not change the nation's position.
In a video that appeared on social media, a masked member of a group calling itself Jund al-Khilafah, or Soldiers of the Caliphate, warns French President Francois Hollande that the hostage will be executed unless France ends its airstrikes and other military actions against ISIS.

Flanked by two masked men, the Frenchman reiterates the group's demands and asks for help: "I am in the hands of Jund al-Khilifa, an Algerian armed group."

"This armed group is asking me to ask you (President Francois Hollande) not to intervene in Iraq. They are holding me as a hostage and I ask you, Mr. President, to do everything to get me out of this bad situation, and I thank you."

The 55-year-old man, a mountain guide from the French city of Nice, was hiking with two friends when he was abducted on Sunday, said an Algerian security official in the mountainous city of Tizi Ouzou, in the region where the kidnapping happened. The three had spent the night at a ski lodge near the town of Tikdjda, 65 miles from the capital Algiers. The official spoke on condition of anonymity, as he is not authorized to speak to the media.

The Jund al-Khilafah group broke away from Al-Qaeda's North African branch in recent weeks and has pledged allegiance to the Islamic State.
French officials have confirmed the authenticity of the video with the Foreign Ministry, saying that the "threats made by this terrorist group shows once again the extreme cruelty of Daech (Islamic State) and those who say are affiliated to it."

"We will do everything we can to liberate hostages," French Foreign Minister Laurent Fabius told reporters. "But a terrorist group cannot change France's position."

The French military joined the US on September 19, carrying out airstrikes against Islamic State militants, who have overrun large swathes of Iraq and neighboring Syria.
READ MORE:ISIS urges Muslims to launch attacks on civilians from US-led coalition member-states
A spokesman for the Islamic State, Abu Muhammad al-Adnani, urged followers on Sunday to kill Europeans and Americans – "especially the spiteful and filthy French." The terrorist group has already beheaded two American journalists and a British aid worker.

Responding to the statement at the time, French Interior Minister Bernard Cazeneuve said he was confident of the country's security.

"This threat to kill civilians, added to the execution of hostages and to the massacres, is yet another demonstration of the barbarism of these terrorists, justifying our fight without truce or pause," Cazeneuve said on Monday. "France is not afraid because it is prepared to respond to their threats."
You can share this story on social media: