ISIS Fight Club: France is in while Germany not so willing
France may take part in the US bombing campaign in Iraq aimed at crippling the Islamic State militants if it is asked to do so. The US is now calling for an international coalition to defeat IS, but the UK and Germany are reluctant to join in the strikes.
"In Iraq... we support the formation of an inclusive government. We will participate if necessary in an aerial military action," French Foreign Minister Laurent Fabius said Wednesday in a speech in Paris.
He added that several hundred French jihadists have joined the IS, formerly known as ISIS, and pose a domestic threat that the French government regards as serious.
The minister added that while Paris is working close with the government in Baghdad, a similar cooperation cannot happened with President Bashar Assad of Syria, "because he has an established link" with IS.
"That is why we will continue to help the moderate Syrian opposition, which is fighting both" the Islamic State and the Assad regime, he said.
It's not clear what Fabius' allegation is based on, considering that the Assad government has been battling for months against IS militants, who grew to become the strongest of the armed groups opposing Damascus as they capitalized on the weakness of the Syrian authorities amid the ongoing civil war there.
The statements came hours before US President Barack Obama delivered a much-anticipated security speech pledging to ramp up military action against the extremists, who took over large swaths of Syrian and Iraqi territories with the goal to build a fundamentalist Sunni Islamist state there.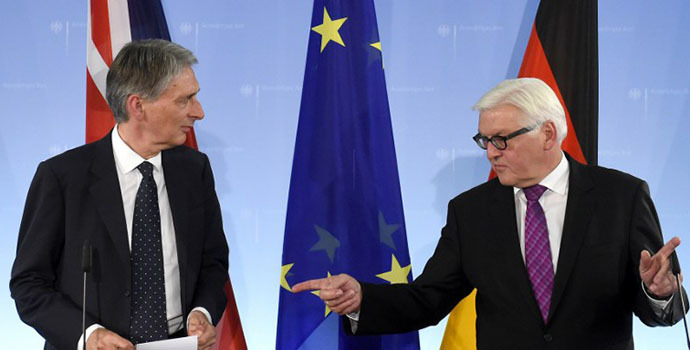 In the meantime, the foreign minister of Germany and Britain said Thursday that their countries would not take part in airstrikes against the Islamic State.
"To quite clear, we have not been asked to do so and neither will we do so," German Foreign Minister Frank-Walter Steinmeier told a news conference in Berlin.
But Germany is taking part in this operation in another way. Germany-based analyst and foreign policy expert Ahmed Badawi believes that "the Germans are already contributing to the campaign against the Islamic State… Germans believe that they are contributing enough and their contribution mainly is in the form of equipment and arming Kurdish fighters," he told RT.
Steinmeier's British counterpart, Philip Hammond, said the UK "supports entirely the US approach of developing an international coalition" and it has "ruled nothing out."
However, when asked by Reuters, he clarified his remarks: "Let me be clear: Britain will not be taking part in any airstrikes in Syria. We have already had that discussion in our parliament last year and we won't be revisiting that position."
Russia: Striking Syria without UNSC mandate would be 'an act of aggression'
If the US goes ahead with airstrikes in Syria without a UN Security Council mandate, this would be an act of aggression, Russia's Foreign Ministry has warned.
"The US president has spoken directly about the possibility of strikes by the US armed forces against ISIL positions in Syria without the consent of the legitimate government," ministry spokesman Aleksandr Lukashevich said. "This step, in the absence of a UN Security Council decision, would be an act of aggression, a gross violation of international law."
The same stance was shared by Syria, which said that any foreign intervention would be an act of aggression unless it is approved by Damascus.
"Any action of any type without the approval of Syrian government is an aggression against Syria," Ali Haidar, Minister for National Reconciliation, told reporters in Damascus.
"There must be cooperation with Syria and coordination with Syria and there must be a Syrian approval of any action whether it is military or not," he said.
Washington is building an international coalition, which would give a fight to the Islamic State in Iraq and possibly Syria.
France is already taking part in the Western anti-IS action by sending arms to Kurdish militias in Northern Iraq, who have been playing a key role in halting the advancement of the militants.
Fabius will be among the French delegation headed by President Francois Hollande, which is to arrive in Baghdad on Friday. Next week France will host an international conference on the Iraq situation.
You can share this story on social media: