10 million views: Elusive biker throws trash back into litterbugs' cars (VIRAL VIDEO)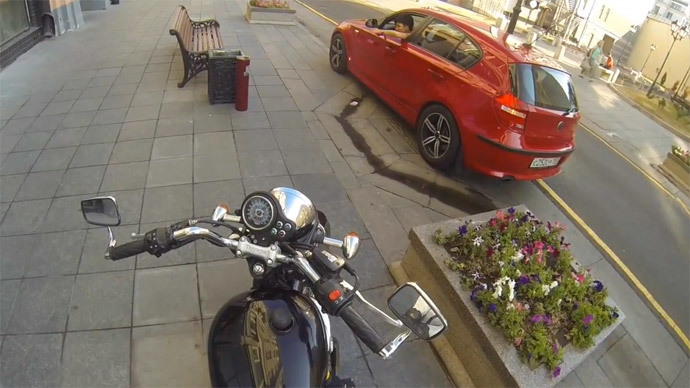 A mysterious female motorcyclist is taking care of keeping Russian streets clean. Angered by littering drivers, she teaches them a lesson by tossing trash back in their cars. The YouTube video of the litter avenger hit 10 million views in just 3 days.
Wearing a GoPro camera on her helmet, she rides her motorcycle on the streets of Moscow, keeping an eye on litterbugs. She chases them down and catches them red-handed. Those who throw junk, get it back - right through their open car windows. She scarpers before the drivers can react.
The elusive litter avenger's video begins with the words: "I want to live in a clean city."
Lasting for two minutes, it shows several drivers who have been taught a litter lesson.
One woman throws out an empty carton of cigarettes. In a few seconds, an ashtray full of cigarette butts gets dumped in her car. Another man gets his fast foot bag thrown right back into his posh G-class Mercedes.
"You haven't finished it," says a voice, as the motorcyclist zooms off.
A man, who threw a plastic bottle while driving, got it taped back to his side mirror at the nearest stop light.
The video was uploaded on Monday and has been viewed nearly 10 million times. However, some of the viewers, while appreciating the single-handed campaign, have suspected that the video was staged and may be promoting one of
Russia's latest sitcoms - the leading actor there drives a similar make of car.
"Everyone who doesn't care will be punished," the litter vigilante threatens in the end.