Beware of whales: Plane's near-miss with giant mammal goes viral (VIDEO)
Published time: 17 Jul, 2014 15:36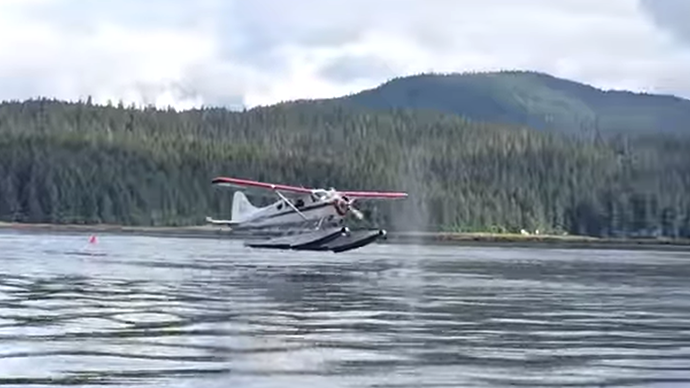 A seaplane nearly landed on a humpback whale, miraculously avoiding collision at the last moment. The near-miss that took place in Alaska was caught on camera and the video has gone viral.
The footage shows a float plane approaching a seemingly calm bay in Alaska, on the remote island of Angoon. As the aircraft is just about to land, a "fountain" sprays up over the plane's windshield from beneath the surface. The pilot suddenly pulls up in an attempt to avoid collision. The plane landed safely seconds later, while the whale breaches, clearing its blowhole.
Thomas Hamm, who caught the video with his iPhone, then spoke to the pilot and even showed him this footage. It appears that the pilot simply did not notice the mammal, according to CNN. He only advanced the throttle and pulled up because people were pointing and yelling on shore.
"The guy I was with on the dock looked at me and said, 'Tell me you got that?'," Hamm, a San Diego businessman, said as cited by Reuters. "I played it back and there was the plane and the whale ... These guys who fly in Alaska, let me tell you, they are good."
The video Hamm posted on his YouTube account a week ago has received nearly 280,000 views and the number keeps growing.