Finnish govt okays Russia-backed nuclear power plant, Greens quit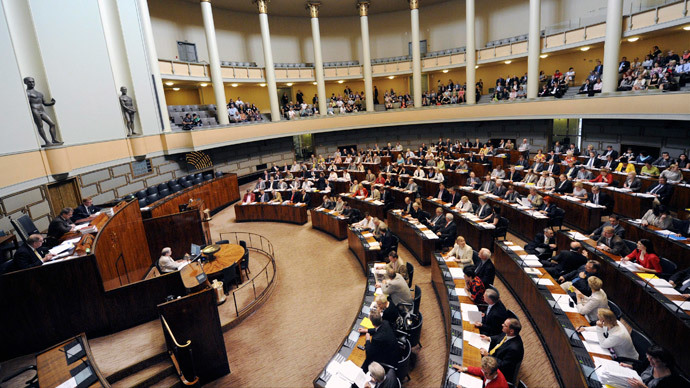 The Finnish government has given conditional approval for the construction of a nuclear power plant by Finnish-Russian group Fennovoima, prompting the country's Green Party to quit the cabinet as threatened if the plant was given the go-ahead.
The permit for a 1,200 megawatt plant is yet to pass a parliamentary vote. However, it is likely to be successful given that the country's four main parties will probably back the project.
Finland's Minister of the Environment Ville Niinisto said on Monday that he would remove the Greens of Finland from the government if the preliminary permit was granted.
"The Greens cannot accept it," Niinisto told a news conference on Thursday.
"It is clear that the situation becomes more challenging in terms of decision-making ... This is a rare situation in Finnish politics, but I wouldn't over-dramatize it. We just have to be careful and work as a team," center-right Prime Minister Alexander Stubb told a press conference on Thursday.
The Greens are a junior party with 10 MPs. Their departure means that the ruling coalition would only have a slight majority – 102 MPs to 98 in the opposition bloc.
Fennovoima was granted permission to build the plant in 2010. However, subsequent planned changes to the size of the reactor and its supplier demanded fresh approval. The Fennovoima plant itself is owned by Russia's national nuclear corporation, Rosatom (34 percent of shares), and a consortium of some 40 further Finnish companies under the name Voimaosakeyhtio (66 percent of shares).
Finland's government has stated that Finnish ownership must be as high as 60 percent – up from the current 52 percent of Voimaosakeyhtio's share. The project's costs are currently between 4 billion and 6 billion euros, with several investors having pulled out.
The tense international atmosphere over Ukraine has made securing additional investment difficult.
Rosatom is to supply the reactor. Niinisto expressed opposition to Rosatom's involvement, citing Rosatom's close ties with the Russian government as one of the reasons for wanting to halt cooperation.
Stubb said on Monday: "I hope that Rosatom's participation won't threaten the existence of this project which is a very long-term endeavor. We hope that the Ukraine crisis will be resolved in the nearer term," reported the Wall Street Journal.