Revealed: Norway spies on Russia for NSA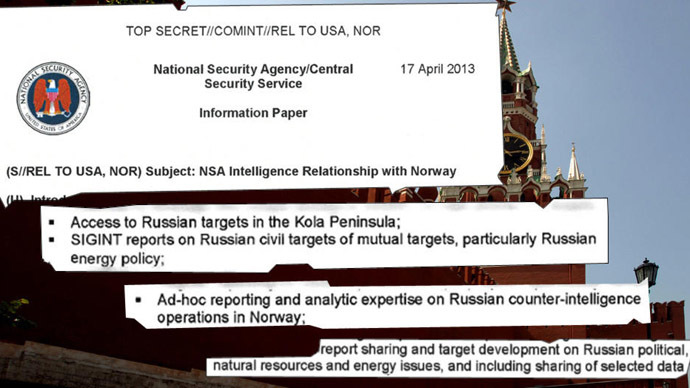 Norwegian intelligence cooperated extensively with the US National Security Agency (NSA) to spy on Russian politicians, the country's energy sector and other 'civilian targets' in the country.
A top secret document obtained by the tabloid Dagbladet contained lists demonstrating how the Norwegian Intelligence Service (NIS) had cooperated with the NSA and vice versa to spy on Russia, noting several instances in which the collaboration resulted in "success stories."
One portion of the memo titled "what the partner provides to NSA" includes several itemized points. The first point is entitled "Access to Russian targets in the Kola Peninsula," not far from Russia's border with Norway and Finland.
Although no specific targets are mentioned on the peninsula, which lies almost completely north of the Arctic Circle, it contains the highest concentration of nuclear weapons, reactors and facilities in Russia.The following point mentions mutual civilian targets, particularly those relating to Russian "energy policy."
Under the heading "success stories," the NSA says it is working in partnership with the NIS "to expand and deepen the intelligence exchange, focusing on report sharing and target development on Russian political, natural resources and energy issues," the daily reports. The document also mentions that Russian politicians have been the targets of intelligence gathering operations, although no specific names are mentioned.
Below the ice and cold waters of the Arctic Ocean are hidden vast natural reserves, including approximately 20 percent of oil reserves worldwide and around 30 percent of the planet's natural gas. There are also believed to be deposits of platinum, gold and tin.
The Arctic's oil reserves are estimated at 90 million tons, or 13 percent of the world's supply, with natural gas reserves standing at 1.67 trillion cubic meters, or 30 percent of the world reserves, and liquefied natural gas weighing in at 44 billion barrels, or 20 percent of potential reserves.
These precious natural resources are eagerly sought by five nations bordering the Arctic: Canada, Denmark, Norway, Russia and the US.
Last week, Russian President Vladimir Putin announced that new military units and infrastructure would be build in the Arctic to protect Russia's "security and national interests."
The document, classified "Top Secret," is dated April 17, 2003, and is signed by a leading official at the NSA's Norway Desk. It was apparently written shortly after an annual planning conference between the two intelligence agencies, which concluded March 7. The story was written in collaboration with former Guardian journalist Glen Greenwald, who was instrumental in releasing documents from NSA whistleblower Edward Snowden.
The Norwegian government confirmed the authenticity of the document, but stressed the information presented within was a reflection of the "American point of view."
Last week, it was revealed that Norway's Scandinavian neighbor Sweden was also collaborating with US intelligence to spy on Russian leaders and engage in industrial espionage against business targets such as Russia's energy companies.
You can share this story on social media: