'Toxic' yellow cloud from rocket fuel plant spooks neighbors (VIDEO)
Published time: 17 Sep, 2014 12:32
Edited time: 17 Sep, 2014 12:48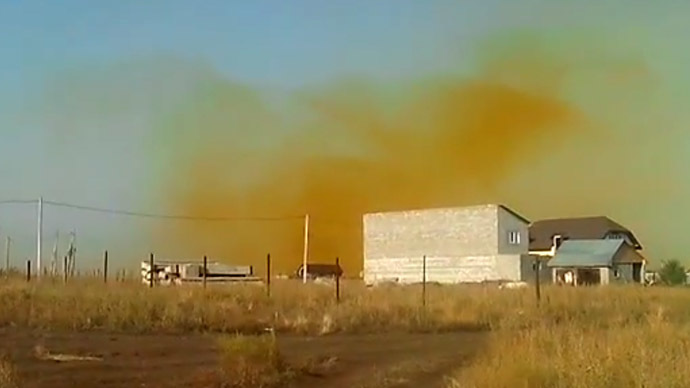 A chemical leak at a military fuel-oil depot in Russia's Volga Region spewed a toxic-looking yellow cloud into the air that only just failed to reach a neighboring settlement.
Nobody was poisoned or suffered any health problems in the Nizhnesakmarsky settlement near the city of Orenburg, but a sinister yellow cloud created by the leak frightened a number of people, who called the local Emergency Ministry situations center to ask if the cloud was dangerous.
A spokesperson for the Central Military District, Colonel Yaroslav Roschupkin, told the Interfax news agency that the accident occurred due to an unexpected pressure discharge in a tank containing a rocket fuel component being recycled at the depot.
"The air near the depot turned yellow for several minutes before the wind dispersed the cloud," the Colonel said.
Roschupkin stressed that no one was hurt and the emission posed no health threat to either citizens in the neighborhood or the servicemen at the military facility.
"It's been established the situation poses no threat, maintenance on the site continues," the spokesman said.
Andrey Derevyankin, director of the State Ecology Service of the Orenburg region, told RT that after the 24-hour ecological service in Orenburg received calls from citizens about a cloud coming from a military installation, a mobile laboratory was sent to the area to do tests. The experts found no excessive pollution of the area near the depot and passed the data to the local authorities.
The Ecology Service questioned local citizens and so far has no record of any health complaints after the incident.
Derevyankin confirmed that potentially the chemical cloud could have posed a threat to locals, but it dissolved before it reached a nearby settlement. The ecologist said that actually there had been two leaks, but on the first occasion on Sunday, September 15, the cloud remained within depot's perimeter.
"According to preliminary data this could have been a leak of an oxidation agent for rocket fuel or another as yet unidentified component of the fuel. In case it was an oxidant, its degradation products would be nitrogen oxide and dioxide. We checked those two – the figures did not exceed a normal level," Derevyankin said, adding he has no information about any citizens seeking medical attention after the incidents.