High alert in Uganda after terror plot foiled, US issues warning
Published time: 13 Sep, 2014 17:49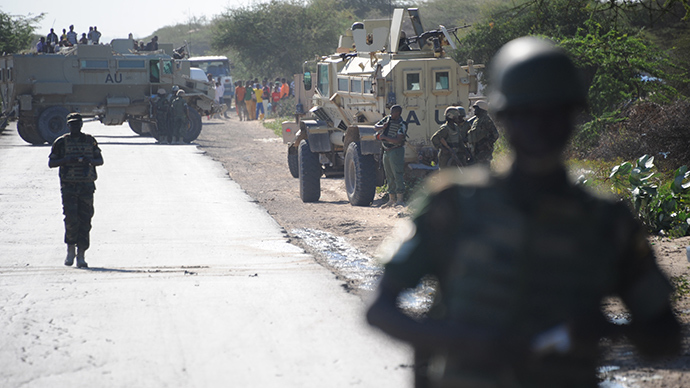 Hotels and public places have been closed in Kampala, Uganda, after local authorities said that they had uncovered a terrorist plot by a Somali militant group. The US embassy warned its nationals to stay indoors as the counter-terrorist action continues.
Ugandan authorities discovered a "terrorist cell" run by Somali militant group Al-Shabaab, a terrorist organization closely connected with Al-Qaeda, in the country's capital Kampala. The group is believed to have been planning an imminent attack.
The US embassy in Kampala, a city home to 1.2 million people, has stated that it is keeping in touch with Ugandan authorities as it attempts to define the final target of the terrorists.
Back in July, the Ugandan police warned the US of a "specific threat" of an attack on Entebbe International Airport, 35 km from Kampala.
"We're increasing patrols in the city, major towns and other vulnerable places," Fred Enanga, a spokesman for Uganda Police, told journalists on Saturday.
"At this point we are not aware of specific targets, and the Ugandan authorities have increased security at key sites, including Entebbe International Airport," the US embassy also said in a statement on its website.
UPDATE: Investigation continues into what appears to have been planned attack. Urge all possible caution. No specific target known.

— U.S. Mission Uganda (@usmissionuganda) September 13, 2014
Al-Shabaab, or The Harakat Shabaab al-Mujahidin, is a terrorist organization which has been taking part in the Somali Civil War and is now also active in Uganda. It was defeated in 2007 by Ethiopian and Somali forces but it subsequently regrouped and survived. The organization temporarily took control over strategic locations in Somalia and uses terrorist tactics against the country's government and African Union missions.
The militants do not have a definitive agenda, but are not presumed interested in global jihad. However, in 2012 Mukhtar Abu al-Zubair 'Godane', leader of the organization, announced in a video message that Al-Shabaab would be joining Al-Qaeda. Washington designated Al-Shabaab as a terrorist organization in 2008.
Further update: As a cautionary measure we urge U.S. citizens to continue to stay at home through this evening. http://t.co/hZTi4sey0i

— U.S. Mission Uganda (@usmissionuganda) September 13, 2014
The US embassy asked the citizens in Kampala to exercise all possible caution and remain at home.
"We seek to assess the scope of the disrupted Al-Shabaab terrorist plot and whether there are members of the cell still at large," the embassy said on its Facebook page. "As a cautionary measure, and to give authorities time to put their heightened security measures in place, we urge all US citizens to continue to remain home through this evening."
US embassies throughout Africa have had a troublesome summer. In July, the service in Libya had to be evacuated because of violence in the region. Later, it was revealed the empty headquarters were occupied by militias who said they were securing the place.
In August the State Department ordered family members of US embassy employees in Sierra Leone and Liberia to evacuate from the countries because of ongoing Ebola epidemics.