Russian woman jumps from 13th floor over unhappy love affair... and survives
Published time: 12 Sep, 2014 13:16
Edited time: 12 Sep, 2014 13:21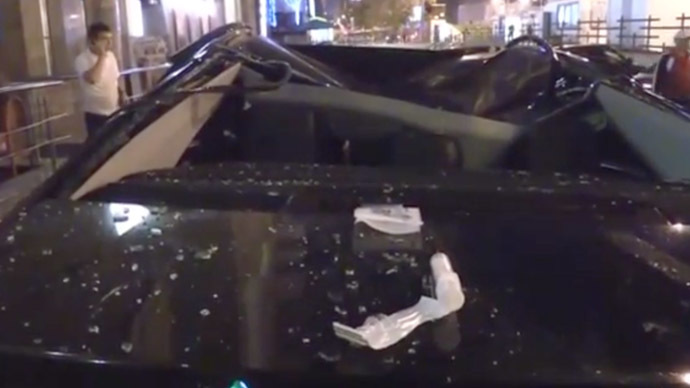 A desperately-in-love woman leapt from the 13th floor of a building, severely smashing the roof of a posh Mercedes…and lived. After the impossible plunge she didn't even lose consciousness and asked only for a glass of water.
Svetlana, 31, jumped from the window in central Moscow on Thursday.
"I was going to the shop when I heard a crazy sound behind my back, like the building collapsed… I turn around and see a woman lying on a car. I immediately called an ambulance," Valerian, a local witness, told LifeNews TV channel.
He says the woman fell out by herself - nobody pushed her, although it was not clear how he could be sure of that. Apparently, it was "unrequited love" which prompted her to take a suicidal dive.
Another witness added that Svetlana "was shouting something as she fell."

Medics who arrived at the scene said they were quite surprised that the woman remained conscious after the fall.
Svetlana sustained several non-life-threatening traumas. She broke both thighs, damaged her skull and received a traumatic brain injury. She was admitted to the emergency unit at the local hospital.
The medics, in the meantime, noted that the woman smelled of alcohol.
Later, local news reported that the woman had gone to her 53-year-old lover and demanded he abandon his family and be with her. However, he was in no hurry to do this. So she decided to threaten him and jumped out of the window.
Apparently, this is not the first time Svetlana has jumped out of a window due to unrequited love.