Houston construction worker escapes five-alarm fire with dramatic last minute jump (VIDEO)
Published time: 26 Mar, 2014 16:40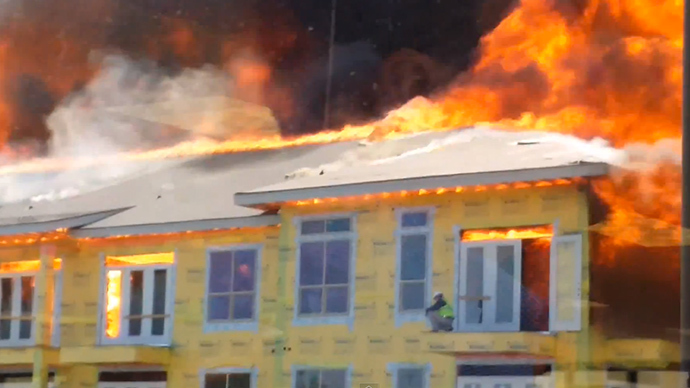 As a massive five-alarm fire ravaged an entire apartment complex in Houston, Texas, a lone construction worker was trapped on a ledge outside, waiting for firefighters to rescue him – a dramatic event caught on tape by neighbors.
Stuck on the fifth floor, the unidentified construction worker had moved out to the balcony after the fire made its way through the complex. While waiting for firefighters to bring their ladder truck near by, it became clear that they wouldn't be able to get close enough with the flames advancing so rapidly.
That's when the construction worker knew he had to leap to the floor below him. Grabbing hold of the ledge, he hung himself over the balcony and dropped down to the one underneath, slipping and falling on his way, but surviving nonetheless.
"When we saw his foot slip, it was just like uhhh, oh God he's going to fall. We thought he was going to be gone," said Karen Jones, who captured the video of the scene, to local ABC affiliate KTRK.
Soon afterwards, the ladder truck gets close enough for the worker to latch on and get onboard, but even that was just in the nick of time. Moments after successfully getting on the ladder, the wall and the roof of the apartment building start to collapse above.
"You just try and get to him," Houston Fire Department Senior Captain Hawthorn told KTRK. "And then, you don't want him to jump too soon. He waited until we got the ladder truck close enough."
The construction worker was rescued safely, with his reaction expectedly joyous.
"He just said, 'Thank you Jesus.' He was ecstatic," Hawthorn said.
As for the fire itself, local news outlet KHOU reported the flames spread across the entirety of the apartment complex in only 20 minutes, aiding by gusting winds. The building was not occupied as it was under construction, and all other workers have been identified as safe. More than 200 firefighters were needed to douse the flames, an operation that took more than two hours.
"There was a report of a couple of guys working on the roof doing welding," Houston Fire Department Deputy Chief Greg Lewis told Fox News. "When our units arrived, there was a small fire and construction workers were attempting to put it out. There was sustained wind of 15 to 20 miles an hour, and it was a wind driven fire."