1.8mn people, 11km line: Catalonians stage their biggest independence rally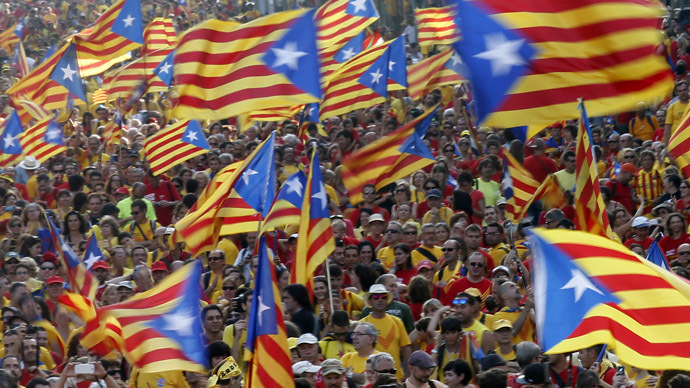 Europe saw one of the largest demonstrations in recent years: at least 1.8 million people formed an 11km red-yellow line to show their support for the upcoming independence referendum. A mosaic was made in the form of a 'V' for 'vote'.
V for vote
At least 1.8 million Catalans, dressed in red and yellow, the colors of the Catalan flag, gathered on Gran Via and Avenida Diagonal, two of the main streets in Barcelona. Seen from the air, the rally formed a 'V' 11km long. According to the organizers, 'V' represented 'vote', 'victory' and 'will' (voluntat in Catalan).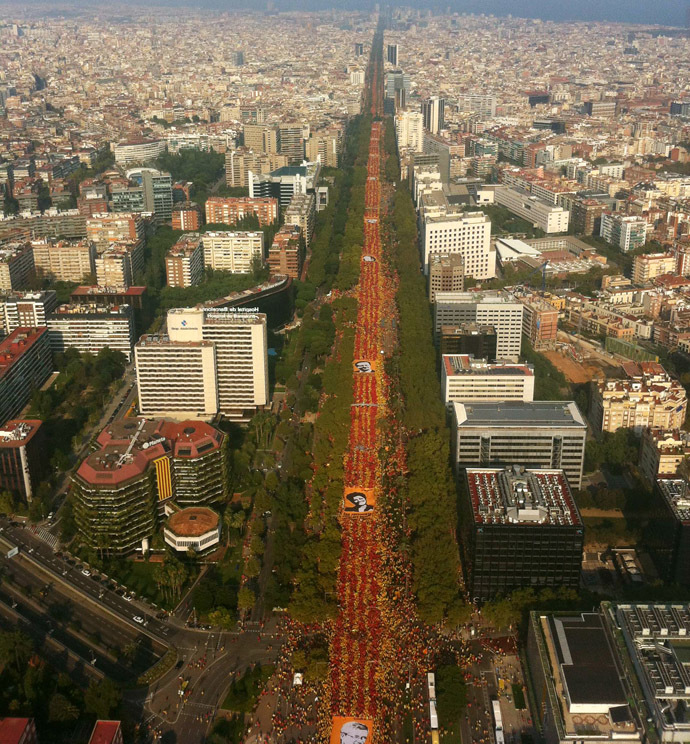 The number of people participated in the rally – 1.8 million - even surpassed the number of population in Barcelona, which is about 1.6 million. There were more people than the whole population in Luxemburg, Lichtenstein, Monaco or Vatican.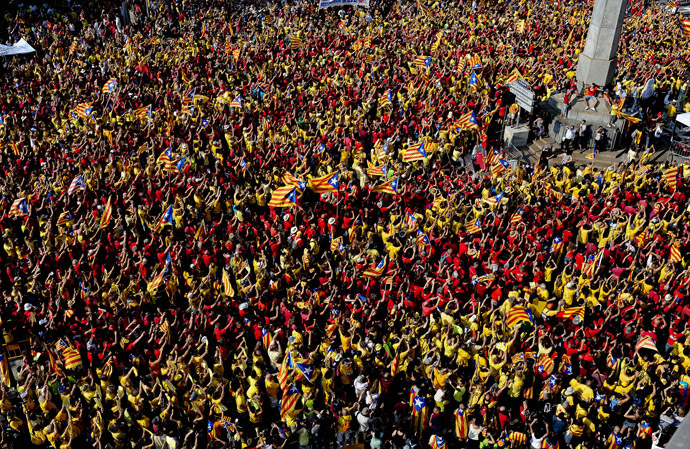 A Vic ja tenen les motos a punt per baixar cap a Barcelona. Som-hi, tots a la V! Fem història! #UnitsPel9Npic.twitter.com/NEpbdA0muO

— Ara és l'hora! (@Araeslhora) September 11, 2014
"Catalunya [Catalonia] is not Spain," read some for the banners, "Whatever it happens, we want to vote" said others.
Whatever it happens, we want to vote #11S2014pic.twitter.com/fXYSbv8KBO

— Help Catalonia (@HelpCatalonia) September 11, 2014
"Our culture, our language and our traditions must be respected and we have seen that in this state that is impossible," Bernat Pi, a 24-year-old doctoral student waving a Catalan flag told the Local.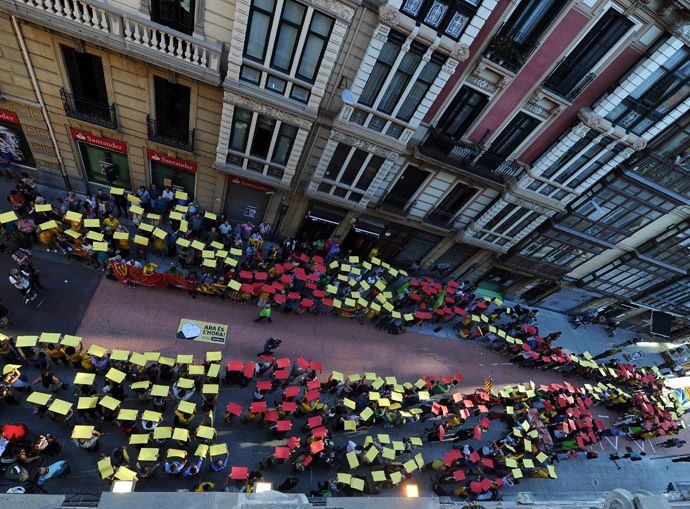 Bon dia! Ens arriba la V més tropical des de Miami! Units també a Florida per l'#11s2014! http://t.co/YCBa6EArjgpic.twitter.com/IpiEEaylwP

— Ara és l'hora! (@Araeslhora) September 7, 2014
Dubai també es mou per l'#11s2014, la Diada més multitudinària de la nostra història. We're ready! #araéslhorapic.twitter.com/Th6VYWkhpQ

— Ara és l'hora! (@Araeslhora) September 8, 2014
94 V in the world for independence of Catalonia, still 35 to go! http://t.co/xHRTPCrN7v#YesYes#SíSí#votecataloniapic.twitter.com/MUMWwfAeiP

— Catalan Assem V ly (@catalanassembly) September 2, 2014
An impressive show of public support for a Refrendum in Catalonia. Huge number. One woman 'jealous' of #Scotlandpic.twitter.com/CZwNOxXXWP

— Tom Burridge (@TomBurridgebbc) September 11, 2014
Geolocated tweets drew a message today in Barcelona. #V for vote on a potential split from Spain. #CatalansVote9Npic.twitter.com/azuqjGuq9u

— Alba Mora Roca (@albamoraroca) September 11, 2014
Mireu en aquest vídeo com els vostres tuits també han format la V #VTV3#Vcatràdiohttps://t.co/t6IHTMTtjm

— 324.cat (@324cat) September 11, 2014
'Ara És l'Hora'('it's time')
"Now is the time," said the slogan seen on the T-shirts of some participants.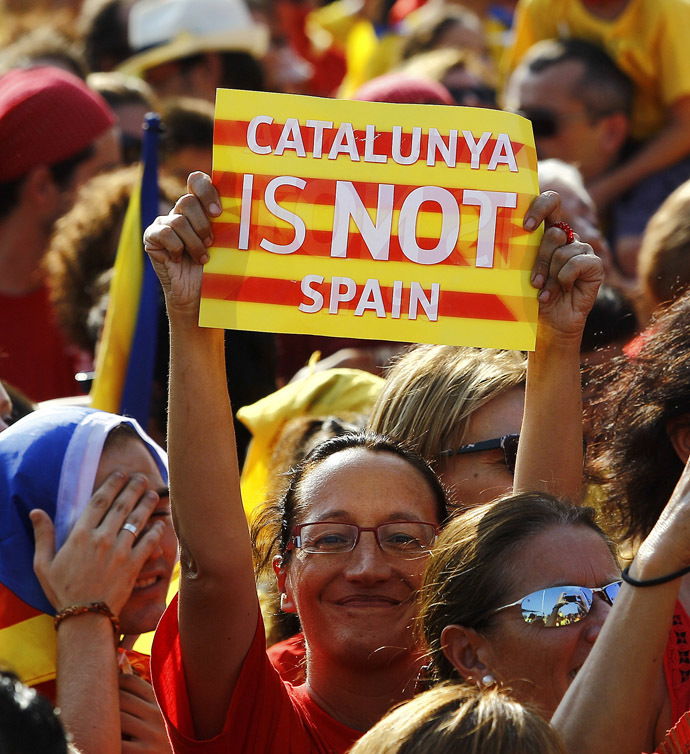 "We want a say in politics and our future. We've won back our sovereignty and realized the strength we have, if we mobilize, to change things," Carme Forcadell, head of the National Catalan Assembly (ANC), one of the organizers of the event, told Reuters.
La V continua ben viva a Twitter! Ara a les 20.14h farem arribar-la a tot el món fent-la TT mundial. Estigues atent! pic.twitter.com/DfyimmpUka

— Ara és l'hora! (@Araeslhora) September 11, 2014
'On November 9 we will vote'
The referendum is scheduled November 9 in Catalonia. "On November 9 we will vote. On November 9 we will win" read the demonstration's main banner.
'V' rehearsals spreading throughout Catalonia @cnni@WSJ@sfchronicle@ChinaDailyUSA@FT#CatalansWillVote#9n2014pic.twitter.com/iuw6BvBPSQ

— JaVme Josa Tram4 (@jaumejosa) July 13, 2014
Artur Mas, first minister of the relatively prosperous region in Spain's northeast, said that it was "practically impossible" to stop Catalonia from voting. He also asked the Spanish authorities not to see the rally as "a provocation or a challenge," but as "a demand to vote."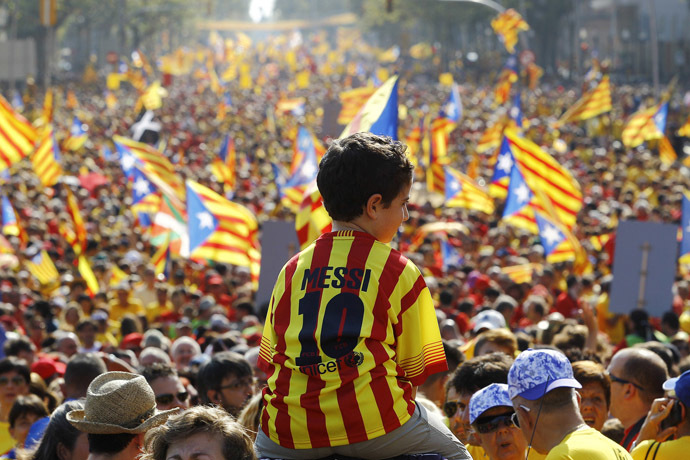 Spanish authorities, however, are opposing the independence referendum, saying that the referendum is illegal since the Constitution does not provide such an option initiated by a region, and needs to be blocked.
"I think it's absurd to pretend that could be so and I think the Spanish government will have to realize that," Mas said.
Organizers claim up to 2 million attend Europe's largest peaceful gathering on Catalonian independence day. pic.twitter.com/zkG8xFjB5Z

— Matt (@MattT_RT) September 11, 2014
5:14 pm sharp
At 17:14 pm local time (15:14 GMT) a girl who will turn 16 on the voting day and thus will be allowed to vote, symbolically put a ballot into a box, reported Catalan News Agency.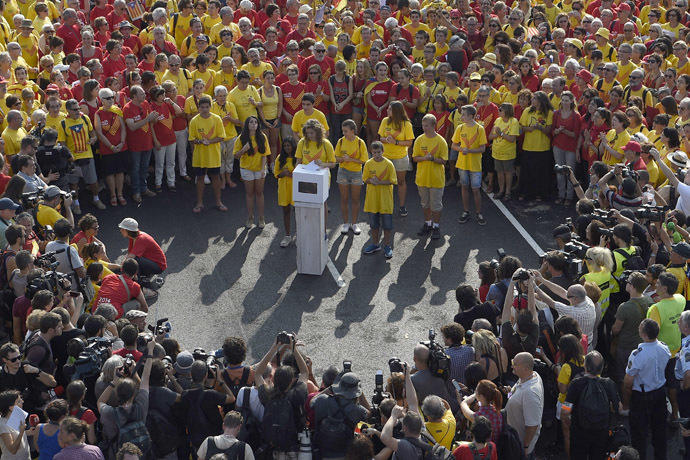 The time was not chosen at random. Three hundred years ago, September 11, 1714, the Catalans lost their independence and sovereignty to Spanish and French forces in the War of the Spanish Succession. Since 1886 it is celebrated as the National Day of Catalonia, Diada.
"Three hundred years ago, they took away our freedom by force. Now we will get it back by votes," Ramon Puig, 66, a retired banker, told AFP.
Human towers formed 'Victory', 'Will' and 'Vote'
About 54 groups of people from across Catalonia formed the traditional Catalan human towers. Also there were three stages named "Will","Vote" and "Victory", showing the participants' hope to become independent from Spain.
#11S2014#Diada2014 balmes amb gran via #VCatRadiopic.twitter.com/CasIYNXAbG

— Ricard Isidro (@ricardisidro) September 11, 2014
'Independent' Catalonian cakes
The bakers have prepared surprise cakes for Diada, which were painted in Catalan colors of red and yellow. "1714 – 2014" was seen on each cake.
Catalonian independence cakes. pic.twitter.com/DYyr2rUbg1

— Matt (@MattT_RT) September 11, 2014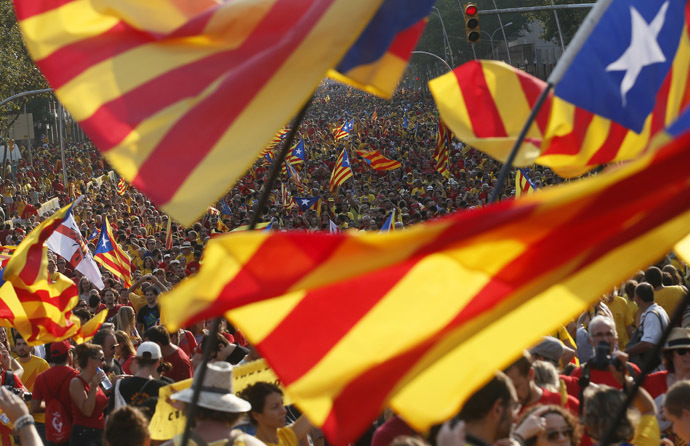 That big Barcelona march. #9N2014pic.twitter.com/q6LnAzOlxf See tomorrow's Herald for more info & analysis from @davidtorrance

— David Leask (@Leasky) September 11, 2014
Historic sites 'put on' red and yellow
Famous architectural attractions in Barcelona also took part in the national holiday. Sagrada Família, a large Roman Catholic church in Barcelona, and Arc de Triomf "put on" Catalan flags.
We could do better on our own' – Catalonian leaders
Local leaders believe that the region will be politically, economically and socially better on its own.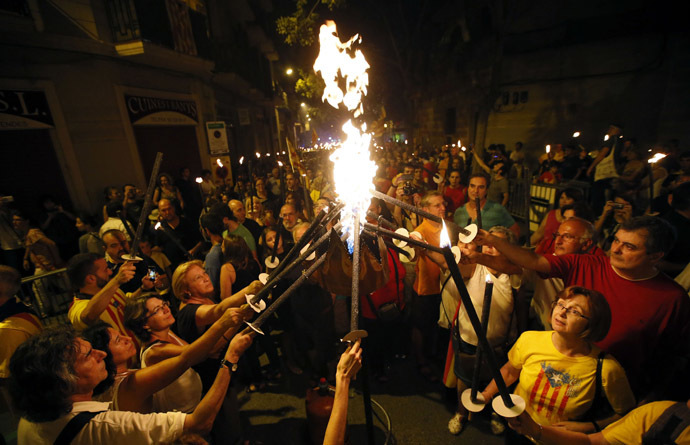 "We think that we could administer our own resources. We could do it better with much more proximity to the people and also we would have a better chance of meeting our needs," Alfred Bosch, a Spanish MP from the Catalonia Republican left party told RT.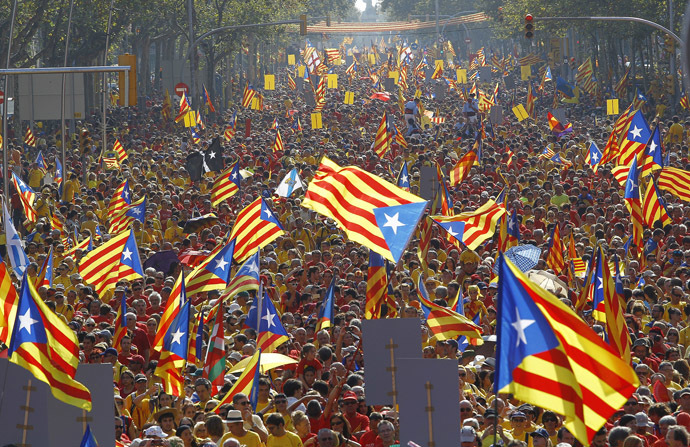 "So especially in times of crisis when we feel the pinch of the economy and people are really feeling a pinch of this crisis," he added.
#11S2014#9N2014#araeslhora@marianorajoy tienes un problema muy gordo pic.twitter.com/1OWbIaWOBr

— Ferran Martin #SíSí (@mrnfma) September 11, 2014
#Barcelona absolutely collapsed with citizens requesting independence of #Catalonia & Democracy from Spain pic.twitter.com/vTwxlJDHlc

— Catalan Assem V ly (@catalanassembly) September 11, 2014
Uau! Que circuli! "@osuanya: Fantàstica foto! Via @marta_rojals "@funkyover: Panorama 360 #Diada2014#CatalansVote9Npic.twitter.com/l4h6zvh3EK"

— LaVra Borràs (@LauraBorras) September 11, 2014
Scottish flag seen as Catalans support Caledonians in their desire to split from UK
Catalans are not the only one who want independence. Scotland is also holding an independence referendum on September 18. During the demonstration in Barcelona, people laid lanterns in the shapes of the Scottish and Catalan flags.
The UK government in London opposes independence, calling on Scots to stay in the UK. However, it has said that it will respect the decision of the voters.
Thanks @HelpCatalonia for pic of event for independence of #Scotland and #Catalonia via @MatthiasHofer3#11S2014pic.twitter.com/xxPXmYLNkq

— Catalan Assembly ANC (@assemblea_int) September 11, 2014
Amazing day at BCN #diada2014! Catalans are nice people asking TO VOTE on their own future. How is it illegal? pic.twitter.com/A87tyV4wmF

— Julia Hartmann (@hartmann_ju) September 11, 2014
The Catalan independence movement has grown from strength to strength over the last few years, gathering momentum against the backdrop of the EU financial crisis. The autonomous region of Catalonia has a population of 7.5 million and accounts for almost one-quarter of Spain's GDP.
Tw Pique: "I've never lived anything like this! Simply unforgettable! #Diada2014pic.twitter.com/doi2RrX7yv" [@3gerardpique]

— barcastuff (@barcastuff) September 11, 2014
Catalonia's bid for independence supported worldwide
People from all over the world supported Calalonia's rally for the independence referendum. Twitter users shared photos comparing the planned size of the march to their cities.
THIS IS HOW BIG CATALONIA'S "V FOR VOTE" MARCH WOULD BE IF WE DID IT IN NEW YORK #9N2014pic.twitter.com/ekpOx0SwiU#CatalansVote9N@nytimes

— LaVsmí V ||★|| (@Laksmiz) September 11, 2014
THIS IS HOW BIG CATALONIA'S "V FOR VOTE" MARCH WOULD BE IF WE DID IT IN BERLIN pic.twitter.com/hzSqZVxeLP#CatalansVote9N@nytimes@guardian

— LaVsmí V ||★|| (@Laksmiz) September 11, 2014
THIS IS HOW BIG CATALONIA'S "V FOR VOTE" MARCH WOULD BE IF WE DID IT IN #CAIROpic.twitter.com/hYfG3Rphsv#CatalansVote9N

— LaVsmí V ||★|| (@Laksmiz) September 11, 2014
THIS IS HOW BIG CATALONIA'S "V FOR VOTE" MARCH WOULD BE IF WE DID IT IN ROME pic.twitter.com/doChirPH88#CatalansVote9N@repubblicait

— LaVsmí V ||★|| (@Laksmiz) September 11, 2014
THIS IS HOW BIG CATALONIA'S "V FOR VOTE" MARCH WOULD BE IF WE DID IT IN ISTANBUL #CatalansVote9Npic.twitter.com/QixahQpskF#CatalansVote9N

— LaVsmí V ||★|| (@Laksmiz) September 11, 2014
THIS IS HOW BIG CATALONIA'S "V FOR VOTE" MARCH WOULD BE IF WE DID IT IN CHICAGO pic.twitter.com/xOps0qmGyg#CatalansVote9N@washingtonpost

— LaVsmí V ||★|| (@Laksmiz) September 11, 2014
THIS IS HOW BIG CATALONIA'S V FOR VOTE MARCH WOULD BE IF WE DID IT IN MOSCOW pic.twitter.com/PeFJBrOyFw#CatalansVote9N@guardian@Independent

— LaVsmí V ||★|| (@Laksmiz) September 11, 2014
THIS IS HOW BIG CATALONIA'S "V FOR VOTE" MARCH WOULD BE IF WE DID IT IN RIO DE JANEIRO pic.twitter.com/9YQGugfbMF#CatalansVote9N@OGlobo_Rio

— LaVsmí V ||★|| (@Laksmiz) September 11, 2014
THIS IS HOW BIG CATALONIA'S "V FOR VOTE" MARCH WOULD BE IF WE DID IT IN SYDNEY pic.twitter.com/VWvr6oVFcO#CatalansVote9N@australian

— LaVsmí V ||★|| (@Laksmiz) September 11, 2014
THIS IS HOW BIG CATALONIA'S "V FOR VOTE" MARCH WOULD BE IF WE DID IT IN SHANGHAI pic.twitter.com/lKkFwUyGV9#CatalansVote9N@SCS_news

— LaVsmí V ||★|| (@Laksmiz) September 11, 2014
THIS IS HOW BIG CATALONIA'S "V FOR VOTE" MARCH WOULD BE IF WE DID IT IN LONDON #11s2014#9N2014@Araeslhorapic.twitter.com/xGsHMebNmV

— LaVsmí V ||★|| (@Laksmiz) September 10, 2014
En esta fotogalería tienes las mejores imágenes de la histórica #Diada2014http://t.co/KgQD2afuEE#CatalansVote9Npic.twitter.com/monlPofk0W

— LaVanguardia.com (@LaVanguardia) September 12, 2014
You can share this story on social media: