Europe's biggest rally ever? Up to 2 million Catalans march for independence
Hundreds of thousands of Catalans have flooded the streets of Barcelona in the region's national day to demand the right to vote on independence from Spain. The demonstrators have formed a big V in red and yellow, symbolizing "vote."
People who wanted to make their voices heard, were wearing red and yellow, the traditional Catalonian colors during La Diada, the Catalan National Day. Almost half a million Catalans have signed up to form a "V for vote," a show of support for the right to decide on their independence from Spain.
Organizers claim up to 2 million attend Europe's largest peaceful gathering on Catalonian independence day. pic.twitter.com/zkG8xFjB5Z

— Matt (@MattT_RT) September 11, 2014
"It would be the people's triumph if we were allowed to vote. If we live in a democracy we should be allowed to vote," Montserrat, a 58-year-old homemaker, told Reuters.
The biggest demonstration ever in Europe, 11 km, 1,800,000 people #CatalansVote9N What does BBC explain to #Scotland? pic.twitter.com/zSfL3lQpFI

— IndyBarcelona (@IndySants) September 11, 2014
Local leaders believe that the region is politically, economically and socially better on its own.
"We think that we could administer our own resources. We could do it better with much more proximity to the people and also we would have a better chance of meeting our needs," Alfred Bosch, a Spanish MP from the Catalonia Republican left party told RT.
"So especially in times of crisis when we feel the pinch of the economy and people are really feeling a pinch of this crisis," he added.
READ MORE:Catalan leader defies Spanish PM to his face, pledges to press ahead with independence vote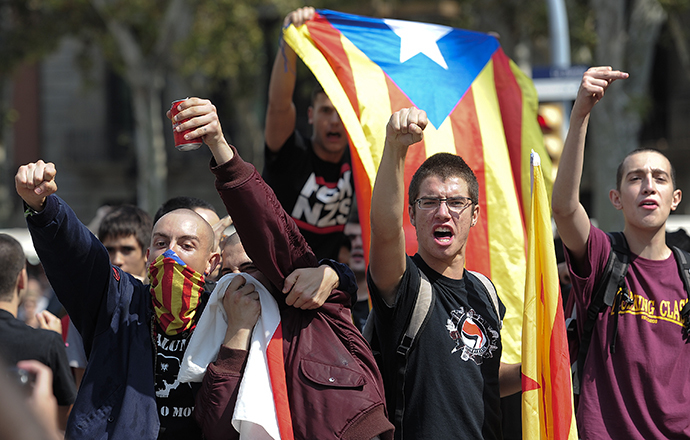 On Wednesday, Artur Mas, first minister of the relatively prosperous region in Spain's northeast, said that it was "practically impossible" to stop Catalonia from voting.
"If the Catalan population wants to vote on its future, it's practically impossible to stop that forever," Mas told AFP.
Spanish authorities, however, are opposing the independence referendum, saying that the referendum is illegal since the Constitution does not provide such an option initiated by a region, and needs to be blocked.
"I think it's absurd to pretend that could be so and I think the Spanish government will have to realize that," Mas said.
The vote is expected to be held November 9.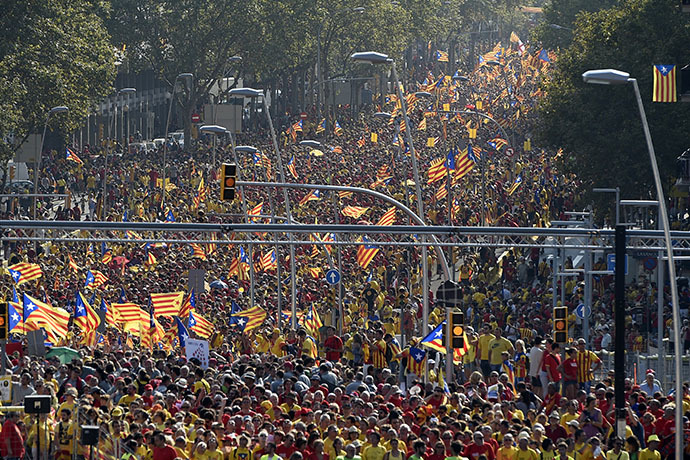 Catalans are not the only one who want independence. Scotland is also holding an independence referendum on September 18. The UK government in London opposes independence, calling on Scots to stay in the UK. However, it has said that it will respect the decision of the voters.
Spain's right-wing government in Madrid, however, has insisted that Catalonia's planned referendum in invalid.
READ MORE:'Please don't go': Cameron and Co. make desperate plea to Scots to stay in the Union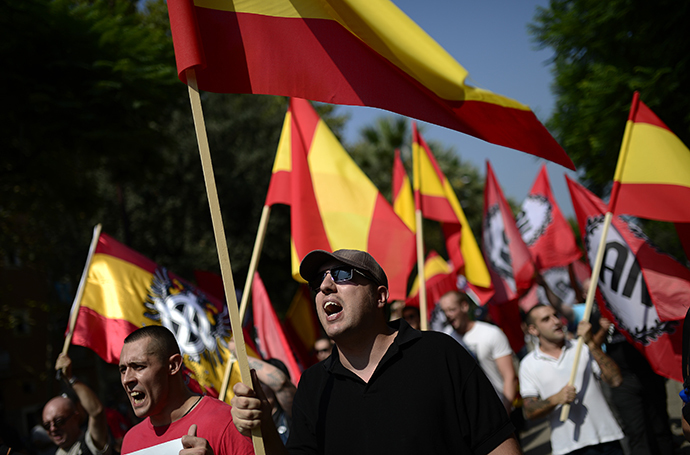 "We want to decide our future. We don't understand why that is constantly denied. We look up to Scotland," Victor Panyella, a 50-year-old professor from Catalonia who was standing in the demonstration, told Reuters.
"They are so lucky to belong to a country that allows that kind of vote. That is a big difference between the two of us, but we are linked by the excitement of deciding our future," he added.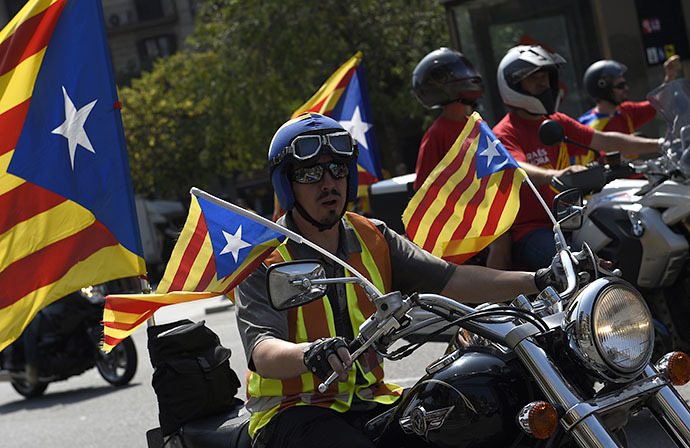 Xavier Trias, the mayor of Barcelona, wrote in an article in The Guardian that if Catalonia becomes independent, "it will be a new kind of state: European, open for trade, cosmopolitan and welcoming and protective of its many diverse inhabitants."
"This is not old-fashioned 'nationalism,' but a new vision of dynamic autonomy, in which a nation and its capital are able to take the right decisions for themselves: democracy on a human scale," he added.
Catalonian independence cakes. pic.twitter.com/DYyr2rUbg1

— Matt (@MattT_RT) September 11, 2014
According to Barcelona's mayor, to oppose the decision of the region to become independent "is wrong and divisive."
Trias added: "We must all evolve, to respond to a changing world but above all to meet the needs of people for economic security and prosperity and the democratic right to govern themselves as they – the people – see fit. Barcelona and Catalonia exemplify this approach."
The Catalan independence movement has grown from strength to strength over the last few years, gathering momentum against the backdrop of the EU financial crisis. The autonomous region of Catalonia has a population of 7.5 million and accounts for almost one-quarter of Spain's GDP.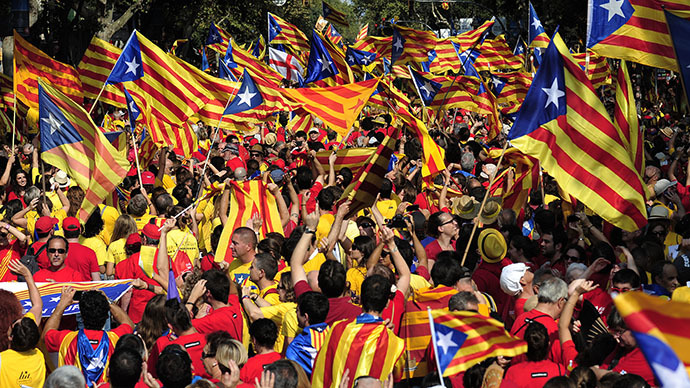 There has been growing resentment in Catalonia that their taxes are being redistributing to other parts of the country and 45 percent of Catalans believe the region would be better off on its own, according to an April poll.
Catalonia has its own language and culture. It was ranked the 64th largest country subdivision by GDP (nominal). Its light industry and heavy industry totals 37 percent, compared to Spain's 29 percent. Its service sector is almost 60percent while the whole Spain has 67 percent. Many banks are based in the region, 10 of the 46 Spanish savings banks have HQ there.Catalonia is not the only region of Spain campaigning for independence. The long-rebellious Basque Country has also called for a referendum to decide on their future in Spain. In late May, Basque lawmakers adopted a declaration of self-determination to follow on the footsteps of Catalonia.
Last month, at least 100,000 Basque citizens formed a human chain measuring 123 kilometers in solidarity with the Basque independence movement.
You can share this story on social media: