Chile on high alert after 3 explosions in 3 days
Published time: 11 Sep, 2014 07:55
Edited time: 11 Sep, 2014 08:19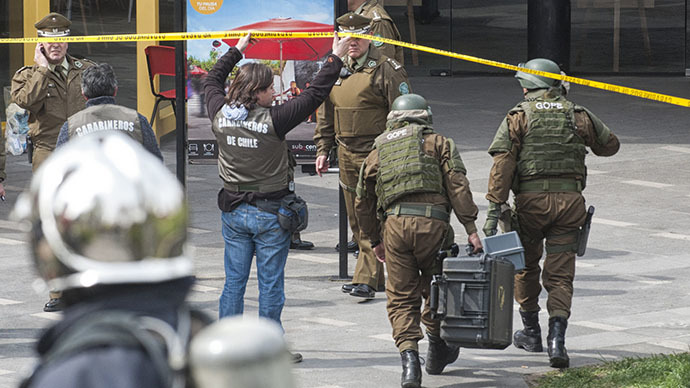 Chilean capital is on high alert after three explosions struck the country, causing injuries. Authorities say they are seeking help from foreign security agencies in identifying those responsible for the blasts.
The latest in a series of explosions was a twin blast in Vina del Mar, a resort city on central Chile's Pacific coast.
A homemade bomb detonated inside a bathroom at the Open Plaza shopping mall in the city on Wednesday, leaving two people with two minor injuries.
"Again a device exploded, this time in the public bathroom. Due to this we sent two people to the hospital for preventive care as they showed symptoms of hearing damage," police official Rodrigo Loyola told Reuters. "No other injuries or damages were reported."
The devices in Vina del Mar were made with a plastic bottle, acid and foil. They did not contain shrapnel and caused only loud bangs, according to police officials.
A similar attack outside the nearby Tottus supermarket on Tuesday night in the city left a 43-year-old woman with trauma to her hearing. She was moving the trash can where the device had been planted.
On Monday saw the worst attack since the country returned to civilian government in 1990, when at least 14 people were injured in a bomb attack next to a fast food restaurant in the capital, Santiago. The restaurant is adjacent to the Escuela Militar subway station.
Two people were seriously injured, while others suffered hearing loss.
No one has claimed responsibility for Santiago attack, which the Chilean government has called a "terrorist attack." However, police say they suspect anarchist groups, who were responsible for some of the previous attacks.
"We're following the line that they are anarchist organizations. Their structure doesn't allow for fast and more precise results on who's behind these attacks," acting National Prosecutor Alberto Ayala said.
Now the country asked several "international agencies" to help probe the blast, Prosecutor Raul Guzman told AP. He didn't reveal which countries have been contacted.
The country's president, Michelle Bachelet, has recently boosted the level of security at subway stations and in places where lots of people gather.
"Those who carry out these acts think they will frighten us, but we're not going to let a small group of terrorists and cowards scare the vast majority who want a peaceful country," Bachelet said after a government meeting to discuss Monday's blast.
"The coordination between police and intelligence organizations will be key to obtaining concrete results in the investigations. Our hand will not tremble with these sorts of acts," she added.
Santiago is considered one of the safest capitals in Latin America. However, over the past year, residents have been shocked by the discovery of at least 29 explosive devices planted across the city. Some devices did not explode, and none of the earlier bombs caused any injuries.