Tear gas and water cannons fired as Chilean mass protest turns violent
Violent clashes erupted in Santiago as tens of thousands marched through the streets demanding education reforms in Chile. Police fired tear gas and water cannons to disperse the crowds.
Over 100 demonstrators were reportedly detained and eight officers injured as massive street protests once again rocked the city. One of the injured officers is said to be in critical condition after being hit by acid.

Some 80,000 protesters took part in the demonstration, authorities said, while organizers – the Student Federation of the University of Chile – put the figure as high as 150,000.

The bulk of the protests did not see any major violent incidents, though small pockets of vandalism caused property damage and some protesters threw Molotov cocktails and rocks at riot police. The organizers complained of excessive use of force by police, who have employed riot control tactics such as water cannons and tear gas.

One AP photographer documenting the protest captured two students clad in leopard print clothing and bright makeup, holding up signs that read, "The state does not regulate the business of prostitution because it is a 'private business.' If education is a private business, what can we expect?"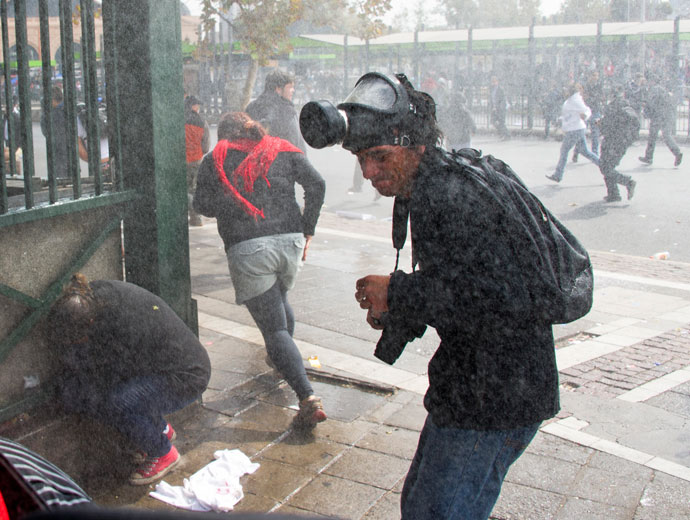 The protests, which have been ongoing in Chile since the 2006-2010 term of former President Michelle Bachelet, have proved to be an even larger political liability for her successor Sebastian Pinera.
Students taking part in the protests are demanding that the Chilean government provide free education, and have complained of inadequate public schools and unaffordable private universities. Though Pinera's administration vowed to allocate a portion of the country's 2013 budget to finance school loans at lower rates, student alliances seem dissatisfied with the government's lack of progress in the two-plus years of his term.
Chile is considered to have one of the best – and most expensive – education systems in Latin America. The country also has one of the world's lowest levels of public funding for higher education, which protesters believe has resulted in poor teaching quality and overall inequality in Chilean society.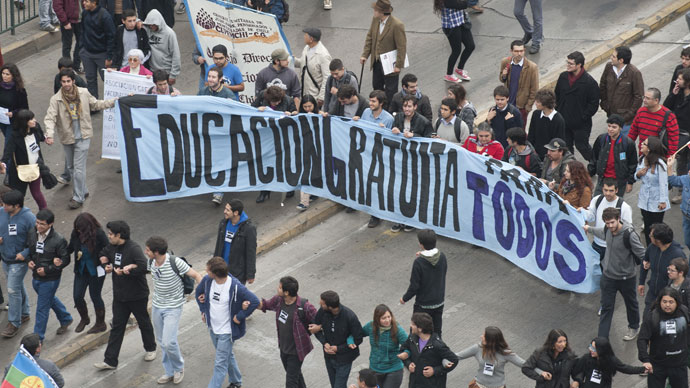 The massive protests are mainly organized by the Confederation of Chilean Student Federations (CONFECH), which has presented a 'Social Agreement for Chilean Education' that proposes increased state support for public higher education leading to free education, the elimination of for-profit universities and the repeal of laws that prohibit student participation in university governance.
The unrest has badly damaged President Pinera's approval ratings, which sank below 30 percent in 2011 and have not made a significant rebound. Though Chile is considered one of the most stable countries in the region, student protests have accounted for the largest civil unrest since the country's return to democracy in 1990, making education reform one of the top issues in the upcoming 2013 presidential elections.