Brazil doctor faces murder charges after allegedly killing patients to open hospital beds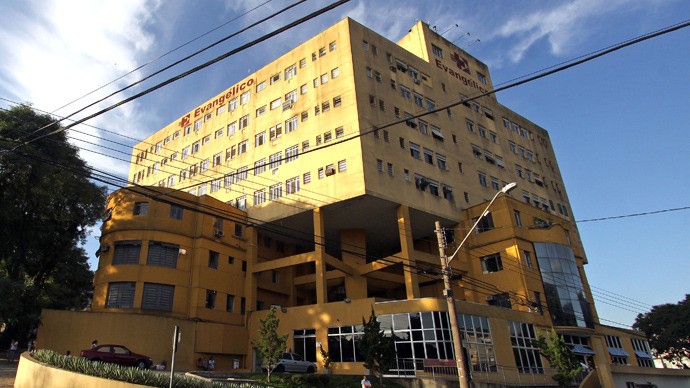 A Brazilian doctor may become famous for one of the world's most sinister cases of serial killings, if prosecutors can show the evidence. She was arrested with three other doctors and a nurse - and charged with killing patients to free up hospital beds.
Prosecutors believe 56-year-old doctor Virginia Soares de Souza and her team routinely administered muscle relaxants and reduced patients' oxygen supply while they were on life support, causing them to die of asphyxia.

The motive behind the chilling practice behind the seven counts of first-degree murder was evidently to free up beds in the intensive care unit at the Evangelical Hospital in the southern Brazilian city of Curitiba. Opening such space would have required no more than a phone call by de Souza to her team.
Highlighting the severity and potential fallout from the case, President Dilma Rousseff's administration is directly intervening in the matter, and plans to reorganize the hospital. Brazil's Ministry of Health has warned that, beyond the 20 cases its investigation team has already looked into, there are 300 more within a total of 1,700 hospital records over the last seven years that may prove to be connected.
The head of the ministry's investigation team, Dr. Mario Lobato, has made a disturbing concession to a local news network regarding the 300 pending records:
"They all have the same modus operandi, the same relationship between the drug and the death, and the timing," The Guardian quotes him as saying.
Meanwhile, police are under fire for having failed to act sooner, waiting almost a year after launching an undercover investigation following anonymous tip-offs.
If more cases can be proved by evidence available to the investigation team, de Souza's case could rival or even surpass that of Harold Shipman, currently the world's worst known serial killer. Shipman was convicted in 2004 over the killing of 15 patients, and was suspected of up to 260 additional deaths carried out over a period of decades.
A Curitiba judge ordered de Souza and her alleged co-conspirators released last week, though prosecutors are currently seeking to have her returned to custody.

You can share this story on social media: