Ebola threatens Liberia's existence - minister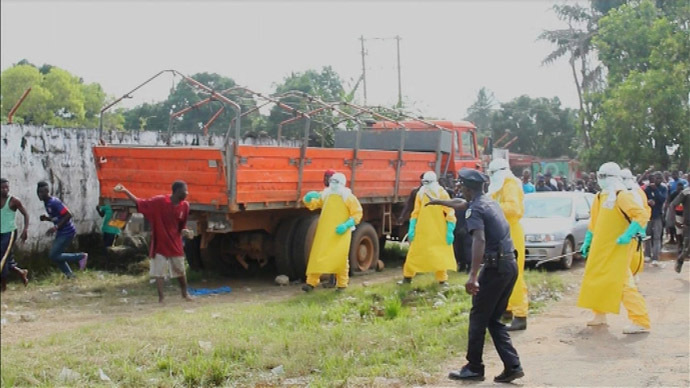 The Ebola epidemic, which has killed at least 1,200 people in the war-torn African state of Liberia, is "spreading like wildfire and devouring everything in its path," the country's defense minister told the UN Security Council.
Saying that the virus exposes the nation's "persistent and profound institutional weaknesses," Defense Minister Brownie Samukai revealed that nine of Liberia's 15 counties are now affected.

"The pandemic has mushroomed into a health emergency exceeding the government's response," he said. "Liberia lacks the infrastructure, logistical capacity, professional expertise and financial resources to effectively address this disease."

The minister highlighted the full impact of the Ebola virus, which he said has caused a "disruption of the normal functioning of our state." Samukai also expressed disappointment at the global community's response to the crisis, calling it "less than robust."

According to new data released Tuesday by the World Health Organization (WHO), the deadly virus, which has a very high mortality rate, has killed at least 2,288 people in the West African countries of Liberia, Guinea and Sierra Leone. In Nigeria, eight people have died out of 21 cases, while one case has been reported in Senegal, with no deaths so far.

The total number of Ebola cases in Liberia, Guinea and Sierra Leone has reached 4,269.
WHO Situation Report on #Ebola response as of 8 September 2014 http://t.co/lIE9ItWt6e

— WHO (@WHO) September 9, 2014
Liberia, which has already experienced over 1,000 deaths from the virus, has been the hardest hit as hospital beds are filling up just as fast as they become available, while many medical workers themselves are succumbing to the illness.

The WHO report detailed the harsh conditions facing both medical workers and those infected with the Ebola virus: "Some 152 health care workers have been infected and 79 have died. When the outbreak began, Liberia had only one doctor to treat nearly 100,000 people in a total population of 4.4 million people. Every infection or death of a doctor or nurse depletes response capacity significantly," the report said.

"As soon as a new Ebola treatment facility is opened, it immediately fills to overflowing with patients, pointing to a large but previously invisible caseload."

WHO Director-General Dr Margaret Chan said last week that global leaders must prepare for an "exponential increase" in Ebola cases with its "unprecedented dimensions of human suffering."

Many thousands of new cases are expected in Liberia over the coming three weeks.
Map of #Ebola cases in #Guinea, #Liberia and #SierraLeone as of 6 September 2014 pic.twitter.com/JCGAgkNfct

— WHO (@WHO) September 9, 2014
The UN envoy to Liberia, Karin Landgren, described conditions in the country as a "latter-day plague" where doctors and nurses were tending to the sick without the necessary protective equipment and training.

"Liberians are facing their gravest threat since their war," Landgren told the UN Security Council on Tuesday.
You can share this story on social media: