Ebola scare as US air marshal attacked with syringe in Lagos Airport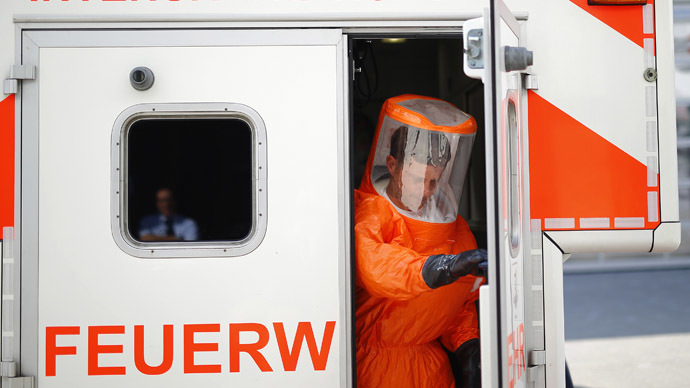 A US air marshal has been forcefully injected with a syringe at Nigeria's Lagos Airport and has been taken to hospital amid fears he might have contracted Ebola.
It wasn't immediately clear what was in the syringe after the incident occurred Sunday. The name of the marshal has not yet been revealed, AFP reported.
Fears the syringe could have been infected with the Ebola virus spread quickly, as Nigeria remains one of the West African countries where the deadly epidemic is currently raging.
Authorities were taking all the necessary precautions, but preliminary tests suggested that the marshal wasn't in any danger, according to the FBI.
"Out of an abundance of caution, the Centers for Disease Control and Prevention conducted an on-scene screening of the victim when United Flight 143 landed in Houston early Monday morning," the FBI said in a statement.
"The victim did not exhibit any signs of illness during the flight and was transported to a hospital upon landing for further testing. None of the testing conducted has indicated a danger to other passengers."
One possibility is that the attackers may not have known the identity of the person injected with the syringe, and it could have simply been an attempted robbery, NBC news reported, citing unknown sources.
"A group of federal agents in plain clothes were about to walk through security at the Lagos airport on Sunday when they were approached by a group of men. Sources say one of them stabbed a needle into an agent's arm and then they all ran away," NBC reported the source as saying.
The FBI agent then took the needle out, and placed it in a safe container before taking his flight to the US with his colleagues. He was administered precautionary medication before the flight.
The needle is now being tested by the FBI.
This year's outbreak of Ebola has killed at least 2,100 people in Guinea, Sierra Leone, Liberia, and Nigeria, and has also spread to Senegal. The World Health Organization (WHO) believes it could take six to nine months to stop the spread of the deadly virus.
You can share this story on social media: