Switzerland 'unlikely to extradite Snowden', if he appears for NSA testimony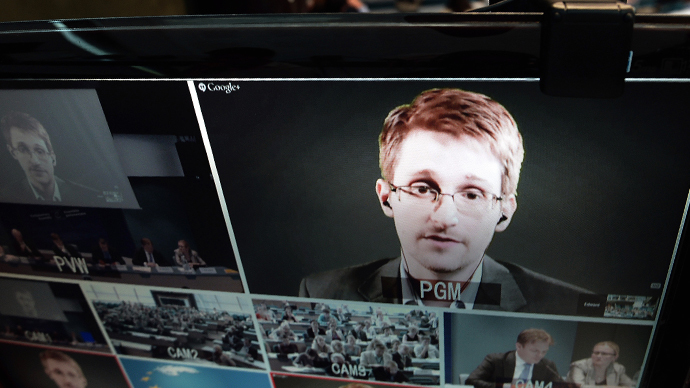 Switzerland will most likely guarantee safety to National Security Agency whistleblower Edward Snowden, if he comes to testify against the NSA's spying activities, Swiss media said.
READ MORE: Snowden leak exposes US plan to spy on foreign businesses for profit
In the document, titled "What rules are to be followed if Edward Snowden is brought to Switzerland and then the United States makes an extradition request," Switzerland's Attorney General stated that Snowden could be guaranteed safety if he arrives in the country to testify, Sonntags Zeitung reported.
In the document, the authority said that Switzerland does not extradite a US citizen, if the individual's "actions constitute a political offense, or if the request has been politically motivated," Swiss ATS news agency reported.

Snowden's safety can thus be guaranteed if it is ruled that the charges against him have a "predominantly political character," the document concluded.

The only obstacle for that could be "higher-level government commitments," the Office of the Attorney General said, adding that it must be verified if such obligations do, in fact, exist.
READ MORE:NSA bot MonsterMind can wage cyberwar on its own – Snowden
The document was reportedly requested last November.

Snowden's Swiss lawyer, Marcel Bosonnet, said he is pleased with the Attorney General's conclusions.

"The legal requirements for safety are met," he assured, adding that Snowden has already showed interest in testifying.

Immigration rights activist Sarah Progin-Theuerkauf hinted that Snowden might even have a shot at Swiss asylum following the proposed testimony.

"There is evidence that Edward Snowden meets the criteria of refugee status under the Geneva Convention and therefore should be granted asylum," she told Sonntags Zeitung.

Swiss politicians meanwhile are calling to welcome Snowden to Switzerland as soon as possible.
READ MORE:Swiss govt tightens computer security amid NSA spying concerns
"We must now move forward, so that Snowden can travel to Switzerland as a witness as soon as possible," SVP National Luzi Stamm said, adding that the Swiss people have the right to know the truth behind the extent of US spying activities.
Snowden arrived to Moscow on the evening of June 24, 2013, flying from Hong Kong. He had intended to catch a connecting flight to Cuba. However, his passport was voided by the US, leaving him effectively stranded in Moscow's Sheremetyevo Airport.

On August 1, 2013, Russia granted him asylum for one year, saying it legally had no other choice. A year later, Snowden has received a residence permit in Russia, which is valid for three years, starting on August 1, 2014.
READ MORE:Snowden granted 3-yr residence permit in Russia - lawyer
Snowden is wanted by the US on charges of espionage and theft of government property after leaking a vast trove of classified material to journalists that lifted the lid of secrecy on a vast range of the National Security Agency's global spying operations.

Over the past year, he has been the recipient of the German 'Whistleblower Prize,' the Sam Adams Award which was presented to him in Moscow, the German 'positive' Big Brother Award, the Ridenhour Truth-Telling Prize, and the Fritz Bauer Prize.

He also joined the board of directors of the Freedom of the Press Foundation, co-founded by Daniel Ellsberg, and was elected in absentia as rector of the University of Glasgow.
You can share this story on social media: