Moscow and Kiev have same approach to resolving Ukraine crisis - Lukashenko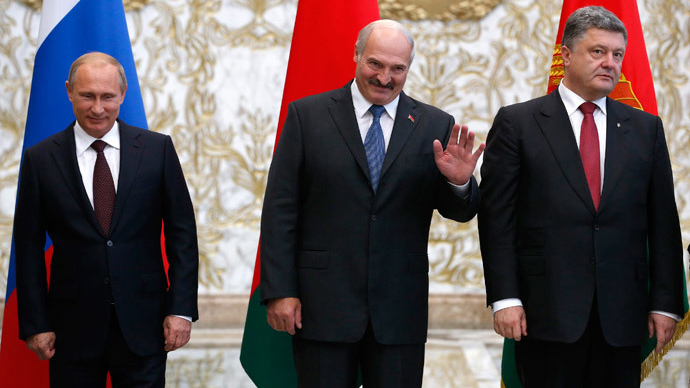 Both Moscow and Kiev have similar thoughts on the resolution of the Ukraine crisis, Belarusian President Aleksandr Lukashenko revealed in an interview with Russian media following the talks between Russian and Ukraine authorities in Minsk.
On August 26, Presidents Putin and Poroshenko shook hands in Minsk, paving way for the contact group on the crisis in Ukraine to start work. On Friday, the Belarusian capital saw the two sides sign a breakthrough ceasefire protocol.
"I was listening to Vladimir Vladimirovich [Putin] and Poroshenko. Russians speak about federalization. [Ukrainians] speak about decentralization," Lukashenko told the Russian channel Vesti on Saturday. "There is no difference! The entire issue now is to stop the slaughter."

Poroshenko thanked Lukashenko for his active role in the work on the settlement of the conflict in eastern Ukraine in a personal call on Saturday, adding that the ceasefire protocol signed in Minsk "will lay the groundwork for further progress in the peaceful settlement of the situation in Ukraine."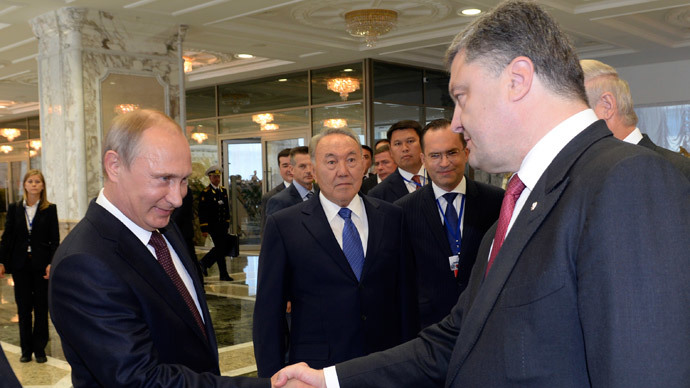 The Belarusian president said that he never wanted to score any political points by hosting peace talks in Minsk – something the opposition has been keen to claim.
According to Lukashenko, the idea of talks was Poroshenko's, and at the same time "without Putin this meeting would never have taken place."

Firing back at the Western media that routinely describes him as a "dictator," Lukashenko jokingly said: "Concerning 'Europe's last dictator', I often tell journalists – rejoice! It is 'the last one,' after all."
The West will never like Lukashenko, nor be friendly with him, the president said.
He reminded that Belarusians, Russians and Ukrainians have lived under one roof for centuries, calling the cultural space of the three a common "home."
"A conflict broke out in our home. We are Slavs… only yesterday we lived in a common home, sometimes in the same apartment," Lukashenko said.
He rejected the existence of a strong west-east divide in Ukraine and Belarus, saying that people in the West might be more "nationalistic" and more "West-oriented," but that does not make them or their neighbors want to live in some other state. They all want to live in their own country, he said.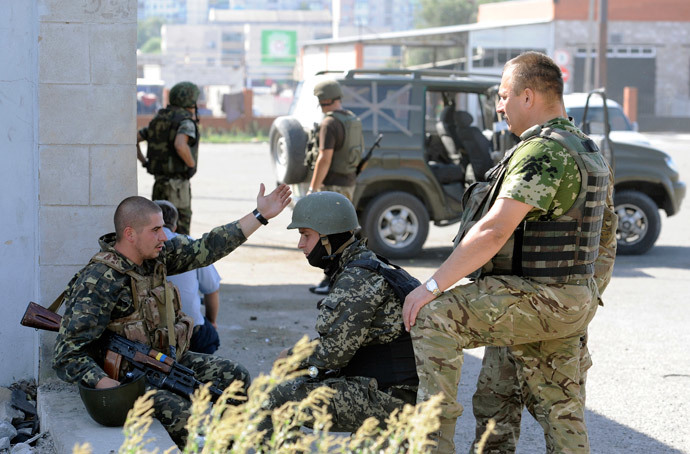 'Ukraine must brace for a cold winter'
Lukashenko's assessment of the situation in Ukraine was that in some aspects his country has not seen anything as dire since World War II. He added that Belarus was "seriously" impacted by the situation, with several thousand refugees fleeing to the neighbor state.

He said that the Ukrainians' mistake is that they refuse to discuss economic problems, citing war in the east of the country.

"However, soon, as the winter comes, all [Ukrainians] will feel another woe – the economic one. When the cities and villages start freezing, while Kiev already has problems," he said.

That is why the ceasefire must immediately be followed by the working out of solutions for economic problems, Lukashenko stressed, adding that all the sides at the talks have agreed on this.

Ukraine's looming EU association is one of those problems, which must be negotiated with the Customs Union, and with Russia in particular, the president said. The gas issue is another important one, he said.
'Uncle Sam's vortex'
The most important thing about the Ukrainian crisis that everyone should understand is that it has been created by the hands of overseas actors, Lukashenko said, comparing the conflict to a man-made "vortex."
"A huge vortex has been created… and both Russia and us are being drawn into it by its currents," the president said.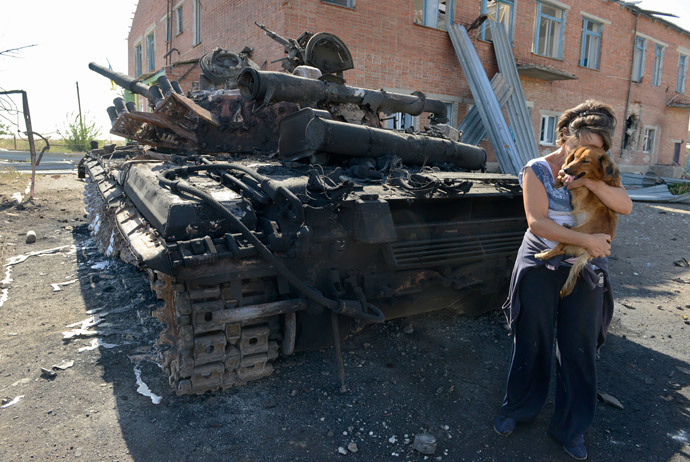 "
In whose interests is this? This is Uncle Sam from across the ocean constantly pushing everyone to this slaughter. And let us be frank – there are many politicians in Ukraine, who are clearly following these orders
," Lukashenko alleged.
"
We must step away from this vortex. The Americans will not fight there [in eastern Ukraine] – they want our people to be destroyed at our own people's hands
," Lukashenko said.
He added he believes that even among the ranks of the so-called Ukrainian National Guard there are young people who have simply been deceived and "
brainwashed
" with a particular ideology – but the Ukrainian army in general does not want to go to war with their own neighbors.
Instead of setting the people against one another, the politicians must step in between the conflict's sides and stop it, Lukashenko stressed.
When asked why he thinks US representatives did not attend the talks in Minsk, Lukashenko said they probably did not need to, "because their [US'] interests are heeded by certain people in Europe, including by [ex-EU foreign policy chief] Catherine Ashton – I don't think she has ever done anything against America's will."

According to Lukashenko, other European countries' leaders, including German Chancellor Angela Merkel and French President Francois Hollande, take the lead from policy-makers in Washington, "which isn't a secret."

The most important thing for now is that "the war must end," Lukashenko concluded.
You can share this story on social media: