​Ceasefire: President Poroshenko trick to regroup troops – Spanish volunteer to RT
Ukrainian President Petro Poroshenko has announced ceasefires before and was always the first to violate them, Spanish volunteer Ramiro Gomez, who fought in eastern Ukraine against the troops of the coup-imposed Kiev government, told RT.
According to the European volunteer, this ceasefire is in effect a part of Poroshenko's strategy: "to reorganize the [Ukrainian] army which is already a large number, before a general counteroffensive by Lugansk and Donetsk [forces]," Ramiro Gomez told RT.
"They [Ukrainian forces] look sort of kicked out to the sidelines of the game," he said, adding he personally has little expectations of a successful ceasefire.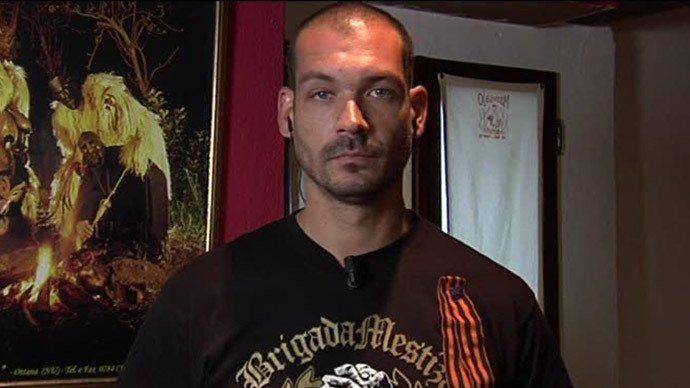 On Friday, September 5, the contact group on Ukraine meeting in Minsk reached an agreement on three key issues: ceasefire, exchange of war prisoners and humanitarian aid access.
Both sides in the Ukrainian conflict have agreed to "all to all" prisoners of war exchange, military hardware withdrawal and humanitarian aid access to the combat zone. Kiev and rebel troops laid down arms as the main ceasefire agreement came into force at 15:00 GMT.
Although RT's journalist Paula Slier reported from Donetsk on Saturday morning that there is no bombardment or shooting in the city, the rebel military said Kiev troops aren't observing the ceasefire in full.
I haven't heard any shelling where I am in #Donetsk since yesterday evening when #ceasefire went into effect #Ukraine

— PaulaSlier_RT (@PaulaSlier_RT) September 6, 2014
Strikes and fighting are continuing in some areas, said Aleksandr Zakharchenko, PM of the Donetsk People's Republic.
"The problem lies in the conditions of truce, because people of Novorossia do not want to be part of Ukraine – and they will stick to this line," Gomez said.
He recalled first coming to the Ukrainian city of Lugansk, already suffering under the shells from the Ukrainian army.
"The situation was really dreadful when I arrived in Lugansk. I entered the city via a completely destroyed road. Everything there, restaurants, schools, hospitals and living quarters, was bombed out," Gomez remembered.
The Spanish volunteer confirmed that for over a month the citizens of Lugansk lived without water, electricity and electric light, with no communications and scarce food supplies – "and all this under unceasing bombardment from the Ukrainian army, which for good measure was saying this was an anti-terrorist operation, while a full-fledged war was underway."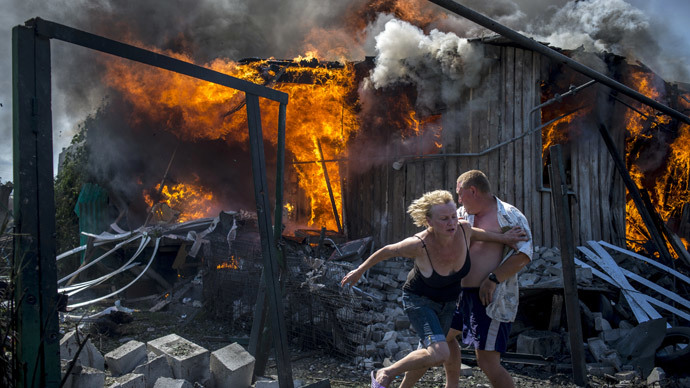 "They [Ukrainian troops] exterminated the civilian population with impunity, they do not stop to annihilate districts where [ordinary] people live, where children and old folks die, many people die," volunteer Gomez said, calling the situation in eastern Ukraine "a catastrophe and a cruel injustice."
When Ramiro Gomez learnt about the developments unraveling in Ukraine, he simply "could not stay idle when such injustice was being committed."
"Because all [Western] mass-media couldn't stop lying and manipulating the events, my idea was to go there [to eastern Ukraine], I couldn't do otherwise," he said.
Ramiro Gomez said he was very sorry to see the faces of the children and a large number of the old ones who got caught in this situation because they have nowhere to go, no place to hide, after Ukrainian troops shelled Lugansk.
"I was deeply impressed by the determination and courage of the people, which is decisive and absolutely motivated to get to their dream to become Novorossia and move over from the illegal fascist government, which got to power through coup in Ukraine," Gomez said.
"They have never sought war, it is the war that found them – and they are going to resist it," he told RT.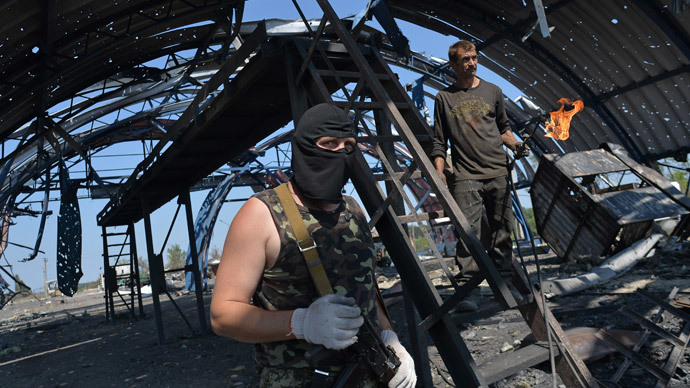 You can share this story on social media: