'Spreading the truth': Spanish volunteers join fight against Kiev in E. Ukraine (VIDEO)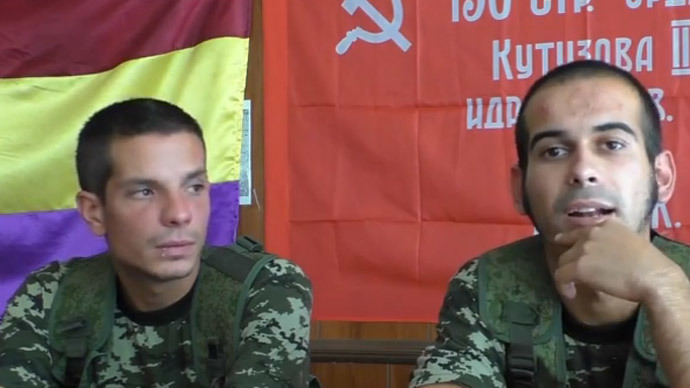 Two Spanish volunteers have joined the fight against Kiev's offensive on eastern Ukraine, speaking out against the actions of the nation's military. They say their main objective is to spread the truth about the conflict.
READ MORE: Ukraine's violent escalation: From Molotov cocktails to ballistic missiles

Anhel Davilla-Rivas, 29, and Rafa Munez, 28, arrived in Donetsk two weeks ago to offer their assistance to the residents of eastern Ukraine.
"What we see in these weeks that we are here is only bombing of the people and the assault of all the fronts from Kiev. They are trying to separate the cities, they are sending mercenaries to kill the journalists and to demoralize any person that can tell the truth about what's happening here," Davilla-Rivas told RT's Ruptly agency on Saturday.
The pair has not engaged in the fighting just yet, stressing that their main goal is to reveal the truth about what is happening on the ground.
Davilla-Rivas noted that Russia has no presence in the area and could do more in terms of humanitarian aid.
"I never see a Russian soldier...volunteers like us, but Russia is not really doing anything. And I think that Russia should do more for these people – not with guns, but helping people with medicine," the Spanish volunteer said.
Davilla-Rivas also called on others around the world to come to eastern Ukraine and help in any way they can.
"More people have to come here. If they don't want not to take the guns but...all people can help in something: in the kitchen, cleaning, telling the truth to countries from here, and watching the situation with their own eyes. It is more important that a lot of people come here and help in what they can, not necessarily only soldiers."
READ MORE: Humanitarian catastrophe: Lugansk, E. Ukraine, left with no water, power
Both arrived by train to eastern Ukraine from Madrid and joined the Vostok battalion of the self-defense forces.
Meanwhile, Kiev forces surrounded the city of Donetsk on Saturday.
The Donetsk region militia said it is ready for a ceasefire to stop the humanitarian catastrophe.
READ MORE: Donetsk militia ready for ceasefire to prevent further humanitarian catastrophe
The statement comes as the UN voiced serious concerns over the situation in eastern Ukraine. "Innocent civilians trapped in the fighting continue to lose their lives," UN Secretary-General Ban Ki-moon said on Friday.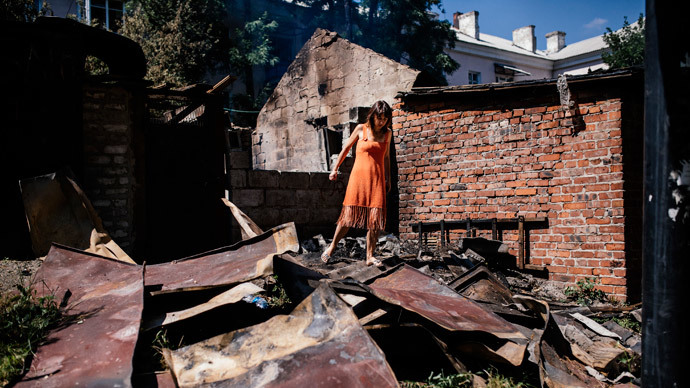 "What we are scared about is the way the military operations are conducted. What will happen if we have intense fighting inside the big urban centers of Lugansk and Donetsk? Fighting in highly intensified urban areas could lead to massive exodus and massive destruction," UN High Commissioner for Refugees Vincent Cochetel stated on Tuesday.
READ MORE: UN: Scared of the way military operations conducted in E. Ukraine
Russia's Ambassador to the UN, Vitaly Churkin, has been calling for an international humanitarian mission to be launched. However, Kiev and some of its Western allies have opposed any humanitarian mission involving Russia. Kiev even accused Moscow of scheming to infiltrate eastern Ukraine with the help of the International Red Cross mission to "provoke a full-scale conflict."
According to Moscow, however, a "full-scale" war is already taking place in the region and it needs to stop.
Late on Saturday, the press service of Ukrainian President Petro Poroshenko said on his official website that the US has been invited to take part in an international humanitarian mission to Lugansk. The mission, presented as Poroshenko's initiative under the auspices of the International Committee of the Red Cross, was mentioned during his phone conversation with US Vice President Joe Biden.
The eastern Ukrainian city of Lugansk declared a state of humanitarian catastrophe on Tuesday, as there are no medical supplies, electricity, or lighting. There is also a lack of mobile and internet communication. Some 250,000 civilians are unable to leave, a statement on the city council website said.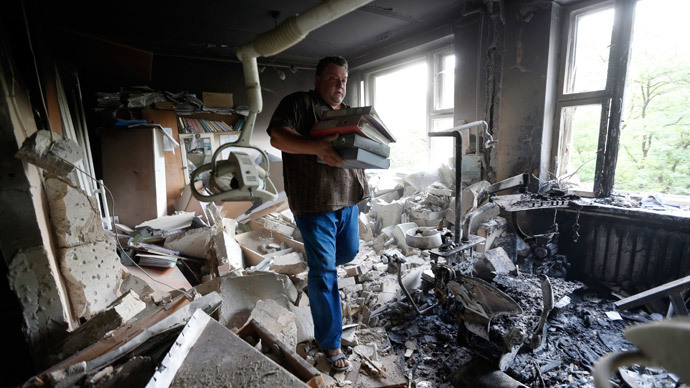 Over 1,100 people have been killed and 3,500 others injured in eastern Ukraine since Kiev's offensive began. Around 100,000 people remain internally displaced and up to 740,000 have crossed the Russian border since January to stay with friends or relatives, or to seek refugee status.
You can share this story on social media: