UK says new Russian sanctions could be lifted if ceasefire holds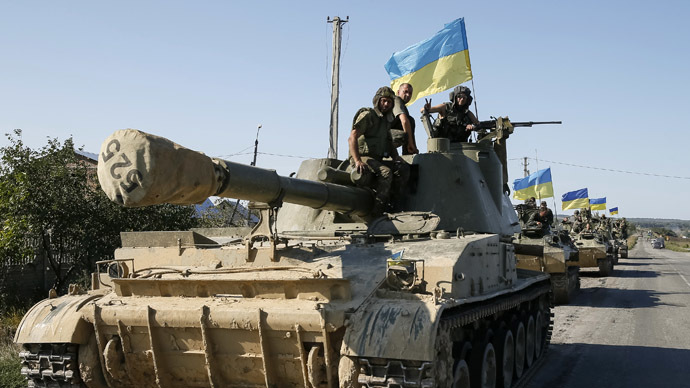 UK PM David Cameron said new sanctions against Russia could be lifted if the warring sides in Ukraine's conflict agree to honor a ceasefire, the details of which have now been finalized. Germany and France echoed the sentiment.
Negotiators from Kiev, eastern Ukraine rebels, Russia and the OSCE are in Minsk, and a ceasefire between the warring sides has been signed as of Friday afternoon. The ceasefire, which will come into force at 6pm, could eliminate additional sanctions being imposed on Russia from the EU.
READ MORE:Kiev, E. Ukraine militia agree on ceasefire starting 1500 GMT Friday
UK Prime Minister David Cameron stated at the NATO summit in Wales on Friday that the ceasefire, while "good news", will have to be backed by a proper peace plan and added that although Russian sanctions will not immediately end, they could should "proper milestones" be reached. French President Francois Hollande stated at that "Russian sanctions will be lifted gradually as we get proof of the implementation of the cease-fire."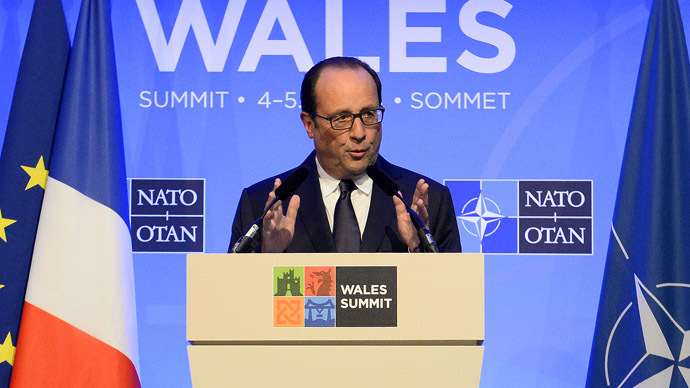 "If there is a ceasefire, if it is signed and if it is then implemented, we can then look at lifting sanctions off but ... there is a great degree of skepticism about whether this action will materialize, whether the ceasefire will be real," Hammond told BBC TV earlier on Friday.
"We can always take the sanctions off afterwards; I don't think we want to be distracted from our determination to impose further sanctions in response to Russia's major military adventure into Ukraine."
German Chancellor Angela Merkel stated that new EU sanctions could be postponed if any ceasefire was adhered to and the crisis deescalated.
President @poroshenko of #Ukraine announces ceasefire agreement from 16:00 BST. #NATOSummitUK. Photo: @Ieuanb123pic.twitter.com/681eu2oCA6

— NATO Wales 2014 (@NATOWales) September 5, 2014

The fresh round was scheduled to be imposed on Friday over what she termed Russia's illegal troop presence in eastern Ukraine.
It is precisely on that point – the West's allegations of Russian interference in the Ukrainian conflict – that may hinder any possible agreement between the two sides.
Moscow has repeatedly demanded that the West provide some material evidence to support the claim that Russia was providing military support to rebel forces in eastern Ukraine, who are working aggressively to throw off the Kiev yoke. To date no such credible evidence has been forthcoming, Moscow says.
NATO demanded on Thursday that Moscow withdraw its troops from Ukraine, and the European Union and the United States are preparing a new round of economic sanctions against Russia in response to its incursion.
"There will be another step up of the pressure today when the EU meets in Brussels to decide on the next round of sanctions," Hammond told Sky News from Wales where NATO leaders are meeting.
"Our economies are fundamentally more robust and resilient than the Russian economy and if Russia ends up in an economic war with the West, Russia will lose."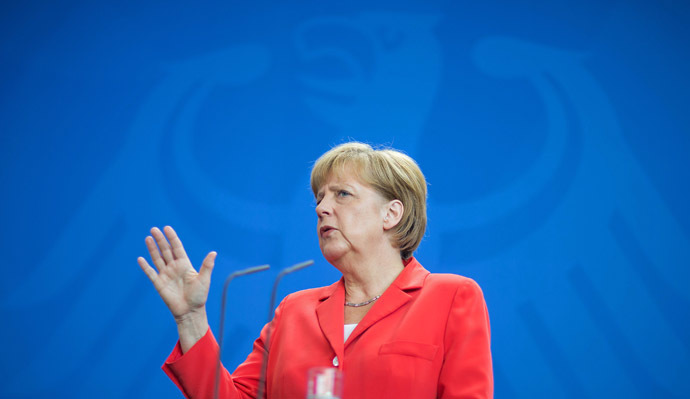 A UK government official, quoted by the BBC on Thursday, said the sanctions would include more restrictions on Russian banking, energy and defense.
However, European and US leaders are beginning to feel the economic pressure that the sanctions are having on their local businesses.
The Association of European Businesses this week urged the governments of the European Union and Russia to protect foreign investors from any "further retaliatory measures."
The Moscow-based lobby group, which represents more than 600 European businesses in Russia, wrote a letter to all 28 heads of state and governments of the EU, as well to the Russian and Ukrainian leadership stressing that among its members "are global companies with businesses in sectors which would be directly affected by any additional sanctions by these measures."
"The introduction of such measures could lead to a serious decline in production and jobs, affecting not only manufacturers, but also suppliers and retailers working in these sectors," the letter, published on Thursday, reads.
"All this would harm not only the business of the companies concerned, but also fiscal revenues through the loss of tax and duty payments."
The ongoing tit-for-tat sanctions over the Ukrainian conflict are dampening business activity in Europe, which has major economic stakes in Russia.
Trade between Russia and the EU amounts to around $440 billion, with thousands of European companies profiting from business partnerships with Russia.