Lavrov: US, EU must demand Kiev stop using heavy artillery, airstrikes against civilians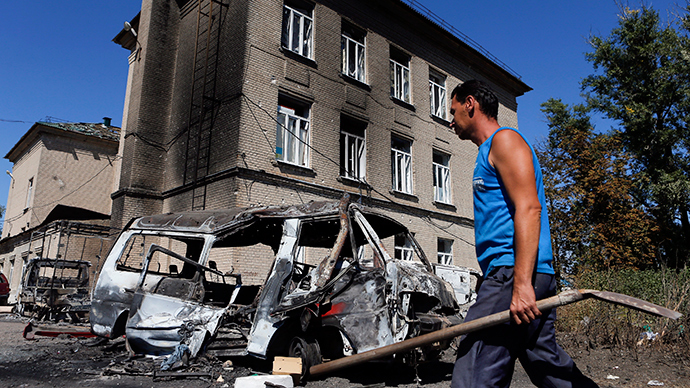 Russia's foreign minister believes that the peace plan offered by the Ukrainian president is "unrealistic" and calls of the US and the EU to persuade Kiev to stop using heavy artillery and airstrikes against the civilian population in the country's east.
"We assume that the most important thing is for Washington and Brussels to demand Kiev do the same thing they demand in any other conflict: stop using heavy artillery, aviation against the cities, against civilians; not to destroy schools, hospitals," Sergey Lavrov said on Monday, addressing students at the Moscow State Institute of International Relations.
#Ukraine army shoots residential areas point blank, Europe prefers not to notice – Putin http://t.co/YtaPqc0umMpic.twitter.com/NWpECshWYT

— RT (@RT_com) September 1, 2014
READ MORE:UN: Ukraine conflict death toll hits 2,600, civilians 'trapped inside conflict zones'
Moscow hopes that the Monday peace talks in Minsk will primarily be devoted to agreeing on "an immediate unconditional ceasefire" in eastern Ukraine.
Lavrov stressed there would be "no military intervention by Russia into the conflict in Ukraine".
The peace plan offered by Ukrainian President Petro Poroshenko is hardly implementable, according to the Russian Foreign Minister.

"They have to sit down and talk, and not insist on unrealistic demands of laying down arms and letting themselves be killed. This whole peace plan by Petro Poroshenko is about that," Lavrov said.
He believes that "pragmatic cooperation" is still possible between Moscow and the West, but it can only be restored if the US and the EU stop using the "language of threats."
READ MORE:EU sets 'deadline': Russia faces sanctions if Ukraine crisis worsens over next week
"We'd like to discuss with our partners things we disagree about. We are counting on them treating us the same way – not just indiscriminately blaming us for all the deadly sins, but sitting down and talking, honestly laying out their accusations. If that doesn't happen then we conclude that criticism is a goal in itself, only justification of further ultimatums and sanctions".
Should the West choose to put more pressure on Russia, imposing new sanctions, Moscow will once again respond, according to Lavrov. The reaction won't be "door smashing," but Russia will try to protect its interests.
Lavrov said Russia is being pushed toward enhancing cooperation with the East.

"It's going to be bitter if Western countries themselves choose the type of policy toward Russia which would see us getting closer with the East at the expense of boosting cooperation with Europe and our Western partners," he said.
Where are MH17 'black boxes' transcripts?
Lavrov said Moscow still had a number of questions to those conducting the investigation into the crash of the Malaysian Boeing.

"What was in the black boxes is most likely deciphered, but is not being made public. There's no information on conversations Ukrainian air traffic controllers had with the planes, including the Malaysian Boeing, that day. Why that's being concealed is not clear," he said.
#Lavrov on #MH17: Odd that black box data still not released http://t.co/dPs8dFA4BI LIVE: http://t.co/YNPUAmwjRFpic.twitter.com/vAG1HgVHdZ

— RT (@RT_com) September 1, 2014
All allegations the plane was downed by anti-government fighters have so far not been confirmed by a single photograph made from space, Lavrov said. All accusations are based on pictures from YouTube, which makes the whole story look "shady."

Lavrov believes that international investigators have to come back to the scene of the crash.

"Why don't they study the fragments which are still there and which journalists keep showing? So, you can film them, but you can't approach them? Why have experts, whose task is to find out the truth, left?"

The foreign minister reiterated that Russia has already presented whatever data it had on the crash.
You can share this story on social media: