EU sets 'deadline': Russia faces sanctions if Ukraine crisis worsens over next week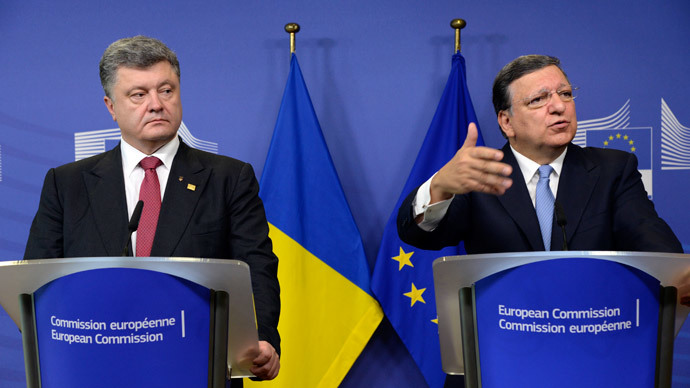 At the EU summit in Brussels European leaders have agreed to finalize within a week the new set of sanctions against Russia and undertake other "preparatory work", promising to impose them if the situation in Ukraine remains the same or worsens.
The Brussels summit has decided to ask the EU's executive Commission and its diplomatic service to "urgently undertake preparatory work," European Council President Herman Van Rompuy said. German Chancellor Angela Merkel meanwhile told reporters that the EU would impose new sanctions if there was no change in the situation in Ukraine or if the situation worsened.
The further steps will depend on the situation in Ukraine, which is getting worse every day, according to Van Rompuy. After Kiev over a week ago began losing ground to militiaprotecting the population of east Ukraine, authorities blamed Russia's alleged "military invasion" for the failures, although even Ukrainians themselves admit to extremely poor handling of the so-called "anti-terrorist operation."
Although van Rompuy expressed concerns over the alleged presence of Russian military in Ukraine, European politicians are not planning to supply Ukraine with weapons, German Chancellor Merkel has confirmed.
In the meantime, Slovakia's PM Robert Fico following the meeting slammed the idea of new sanctions as "meaningless and counterproductive" – as the impact of the previous round of tit-for-tat sanctions is still unknown – and reserved the right "to veto sanctions harming national interests of Slovakia."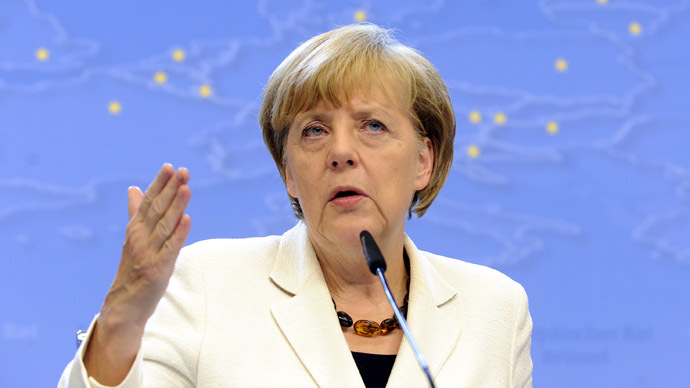 EU 'wants no confrontation'
Earlier on Saturday, following his meeting with Ukrainian President Petro Poroshenko, European Commission President Jose Manuel Barroso said the EU is "ready to take very strong and clear measures but we are keeping our doors open to a political solution."
Speaking about "restrictive measures", Barroso said that the commission had already prepared "some options", but it would be up to the EU member-states to make a decision on tightening the sanctions against Russia.
Barroso said EU officials earlier warned Moscow of further sanctions in case of an escalation of the conflict.
"The situation has worsened considerably. The opening of new fronts and the use of Russian regular forces is not acceptable and represents a grave transgression," the head of the EU executive body told the media conference.
'United Continent': European volunteers fighting Kiev troops in Eastern Ukraine
Barroso said he expected EU states to be ready to take new measures against Russia.
He underlined that sanctions "are not an aim in themselves" but an "instrument" to show the Russian leadership the current situation "is not acceptable and we urge them to come to reason, to work constructively."
In his words, the EU does not want a confrontation with Russia as it would be "detrimental to all of Europe". Strategically, the EU official went on, "it makes no sense to have this kind of conflict or kind of a new Cold War".
The leaders of the 28 EU member states gathered for a summit in Brussels on Saturday. The initial focus of the gathering was to be around the decision on who should replace two EU senior officials: President of the European Council Herman Van Rompuy and EU's foreign policy chief Catherine Ashton.
Polish Prime Minister Donald Tusk was elected as the new president of the Council and Italian Foreign Minister Federica Mogherini was appointed to become new EU High Representative for Foreign Affairs.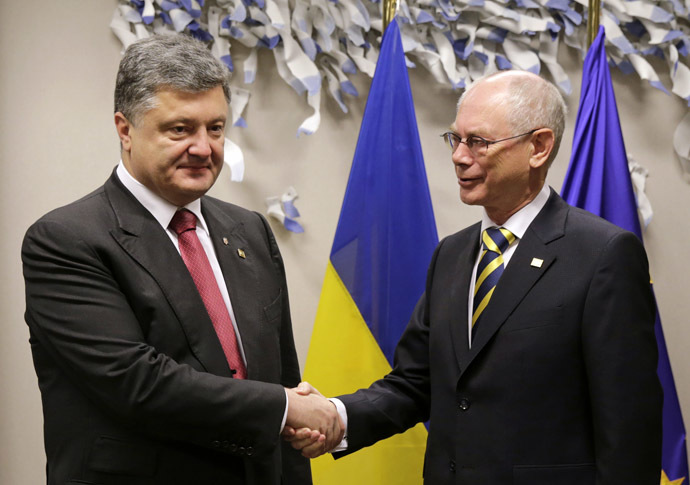 However, it is likely that the ongoing crisis in Ukraine will dominate the summit's agenda, which "demonstrates the severity of the situation and deep concern," European Ambassador to Russia Vygaudas Usackas told RIA Novosti.
Poroshenko, who has accused Russia of deploying its troops in east Ukraine, is pushing for further measures against the country's neighbor. In his words, however, sanctions are aimed at pressuring the Kremlin to start "real negotiations" rather than at harming Russia.
Meanwhile, EU leaders are divided on whether to impose new economic measures against Moscow.
"What's happening in Ukraine is so serious that the European Council will be obliged to react by increasing the level of sanctions if things remain as they are, that is to say with the proven presence of weapons coming from Russia, perhaps more soldiers who are also over the borders, so I think we must act and a request to prepare new sanctions will surely be made to the European Commission," French President Francois Hollande told reporters as he arrived for the summit, Reuters cited.
Earlier, the French president said EU leaders would "without doubt" increase sanctions on Saturday evening.
Finland's stance is slightly milder, with the country saying that no settlement is possible in Ukraine without Russia.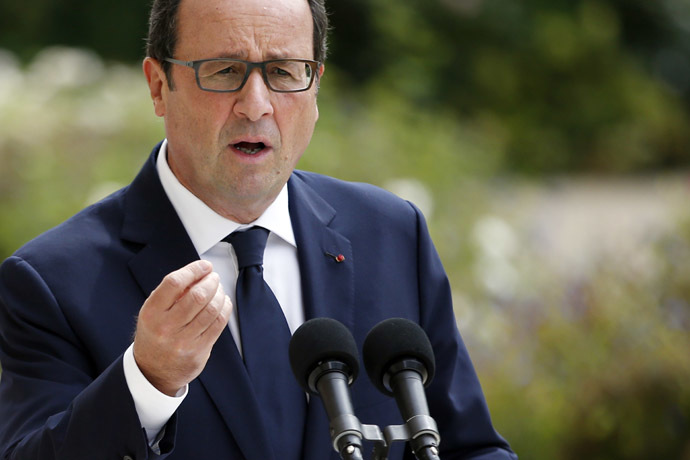 "The EU summit's signal must be clear: if there is no truce, peace plan implementation and full border control, new sanctions will follow," Finnish Prime Minister Alexander Stubb said on Saturday, as quoted by Itar-Tass.
Lavrov: No proof given for Western allegations about Russian troops in Ukraine
Lithuania's President Dalia Grybauskaite calls for more sanctions and, also military aid to Ukraine "that is fighting for the entire Europe".
According to Russia's envoy to the EU, the Russophobic rhetoric that intensified over the past several days was aimed at provoking "strong action" against Russia at the EU gathering and the upcoming NATO summit in Wales next week.The goal was "to remind European and North American countries of the mythical 'Russian threat' and provoke them to take 'strong actions' against Russia," Vladimir Chizhov said Friday, as quoted by RIA Novosti.
Relations between Russia and Western countries have worsened over the situation in Ukraine, with Moscow being accused of escalating the conflict. Russia has repeatedly denied the allegations of its involvement in the fighting.
The EU and the US have already imposed sanctions against dozens of senior Russian officials, companies and banks. Russia in response banned imported agricultural products from the US, EU, Norway, Canada, and Australia. The one-year embargo introduced on August 7 applies to meat, pork, fish, fruits, vegetables and dairy products.