One dead and over 400 injured in clashes as thousands demand Pakistan PM resign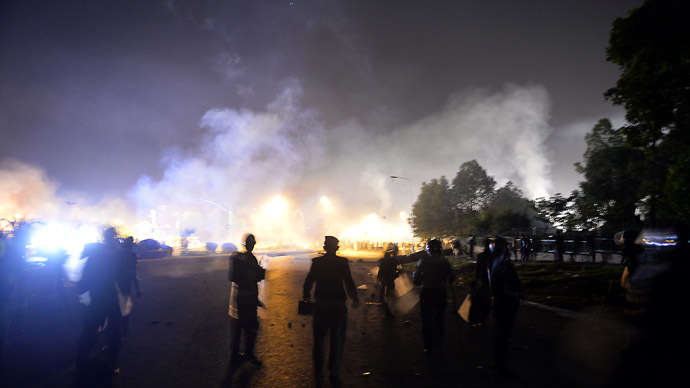 Police in Islamabad, Pakistan's capital, are firing tear gas as at least 25,000 people have gathered in the city center, demanding Prime Minister Nawaz Sharif's resignation. A group of protesters attempted to storm the PM's residence.
One person died and over 400 were wounded in clashes between police and protesters outside Sharif's home and the parliament building, medical sources say.
Wasim Khawaja, a spokesman for the Pakistan Institute of Medical Sciences hospital in Islamabad, told AFP that about 184 people have been taken to the hospital, while the Poly Clinic hospital is treating 130 wounded protesters.
"Condition of two of them was critical. There were more than 20 policemen among the injured," Khawaja said, adding that most of the victims were injured by rubber bullets. At least 17 women were taken to his hospital.
Khurram Ghuman, a spokesman at Islamabad's Poly Clinic hospital, told AFP, "There are 20 women among them and most have been affected by tear gas, but they all are in stable condition."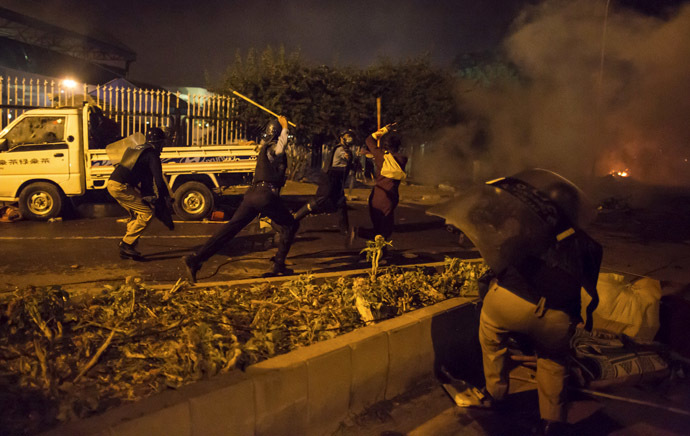 This is the first time the rally came directly to the office of the prime minister.
Thousands of demonstrators, led by former cricket hero Imran Khan and moderate cleric Tahir ul-Qad, have been camped outside the parliament for more than two weeks. They accuse Sharif of huge electoral fraud in parliamentary elections last year, in which his Muslim League won the maximum number of votes.
The PM has refused to step down.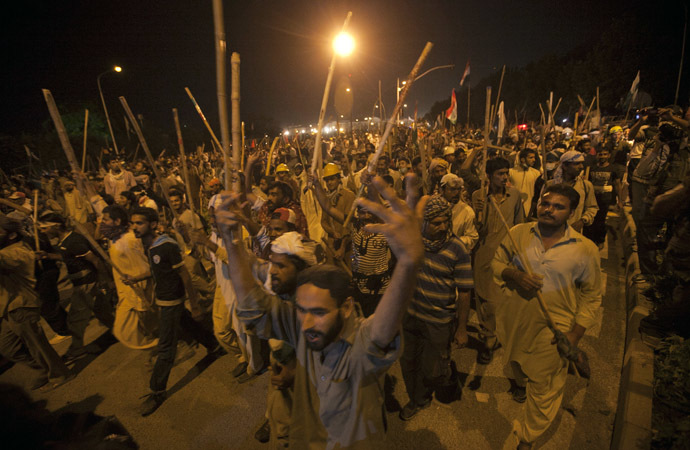 The march kicked off peacefully, Geo-TV reports, and some 20,000 police did not interfere as the protesters were making their way to Sharif's residence removing crowd control barriers.
However, as a group of demonstrators attempted to approach the house itself and remove shipping containers outside it used as barricades, police resorted to tear gas and clashes ensued.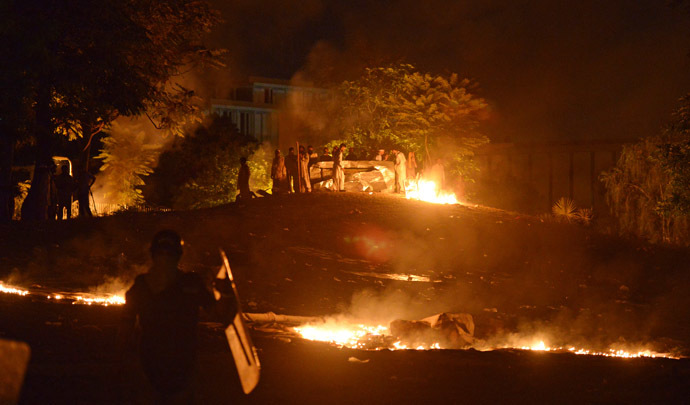 Pakistan's Dawn.com said at least 400 protesters were pelting stones at law enforcers even after the rest were pushed back to their former location in front of the Parliament. Several blazes also broke out as unidentified objects were set on fire.
By midnight Sunday the rally reorganized itself and started storming the heavy police cordon in an effort to reach the premier's residence as police responded with tear gas canisters.
Iron rods, axes and hammers went into play as protesters, including women broke down a fence outside the parliament building, allowing hundreds to enter the lawns of the premises, reports from the scene say.
Defense Minister Khwaja Mohammad Asif said police later managed to clear most of the protesters from the parliament building's parking area and lawns.
`Now only women and children are there, and they can take shelter there as long as they want,'' he said.
On Sunday morning people continued their protest and attempted to regroup again to break the police barricades.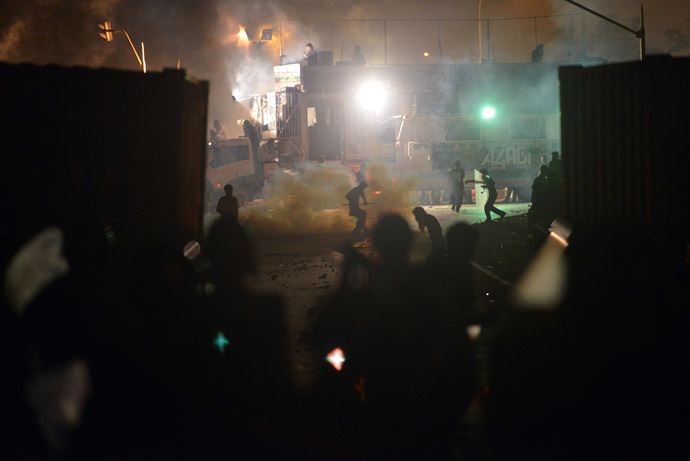 The two opposition leaders have been urging the crowds for the uprising against the elected government.
The situation became even more complicated when Raheel Sharif, the general in charge of Pakistan's 500,000-strong army, had to mediate a stand-off between the opposition and leadership on Thursday.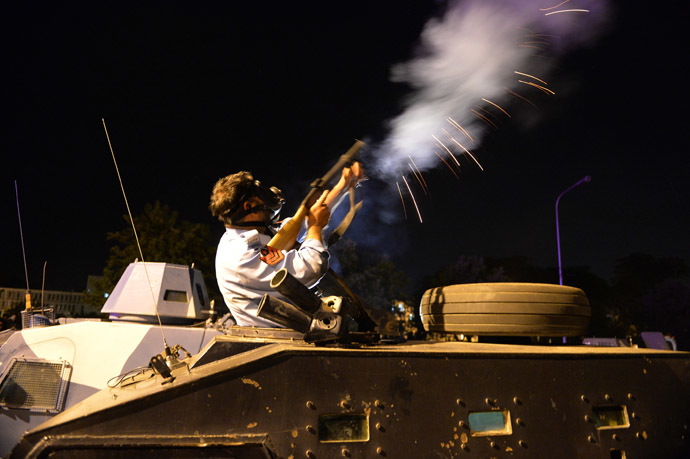 This move was described as a "soft coup" by the army and "a shameful time for all politicians", as veteran politician Javed Hashmi put it.
On Friday, Premier Nawaz Sharif stressed to MPs he hadn't asked for the army's help in resolving the matter.
You can share this story on social media: