Imran Khan leads tens of thousands in march on Pakistan parliament (VIDEO)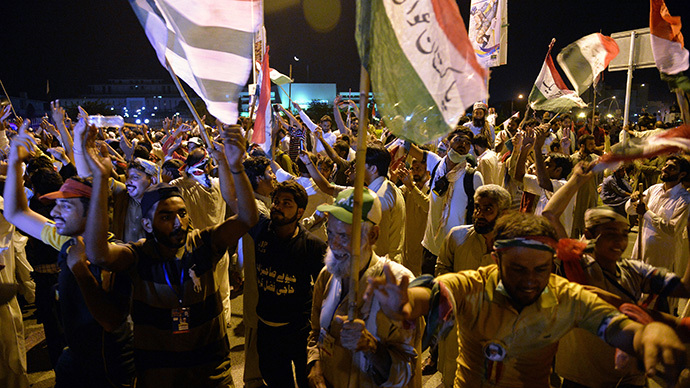 Some 30,000 anti-government protesters led by Pakistani opposition leaders marched through Islamabad's 'Red Zone', surrounding top government buildings. While the army chose not to intervene, the PM is reportedly considering a deal with the military.
Triumphant supporters of Pakistan's protest leader Imran Khan on Tuesday flooded the governmental area of Islamabad, known as the Red Zone, defying barriers set up by law enforcement.

The protesters used a crane and bolt cutters to get past shipping containers, barbed wire and cemented blockades securing the area.

The head of the opposition movement and former cricket star, Khan, and the second protest leader, cleric Tahir ul-Qadri, then rolled into the Red Zone on a huge mobile stage set up on top of a truck. Earlier, the two gave Pakistani Prime Minister Nawaz Sharif until Monday night to step down.
The police and the military peacefully made way for the protesters, as the crowd cheered the officers. Around 700 soldiers and 30,000 security force members tried to seal off the area before the march began, but were ordered not to intervene.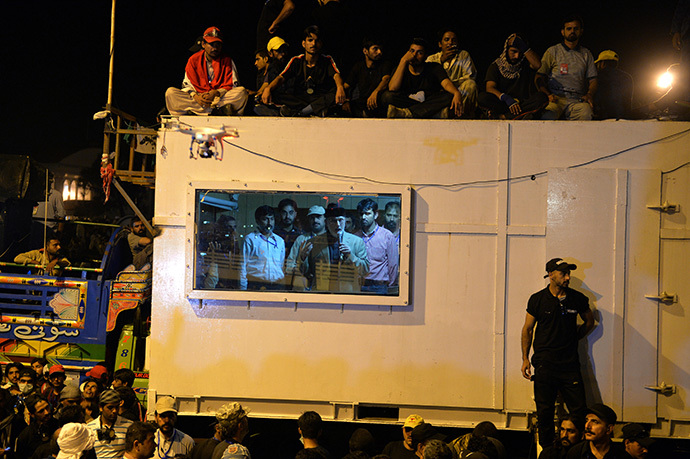 Overall, the march remained peaceful with people chanting and dancing.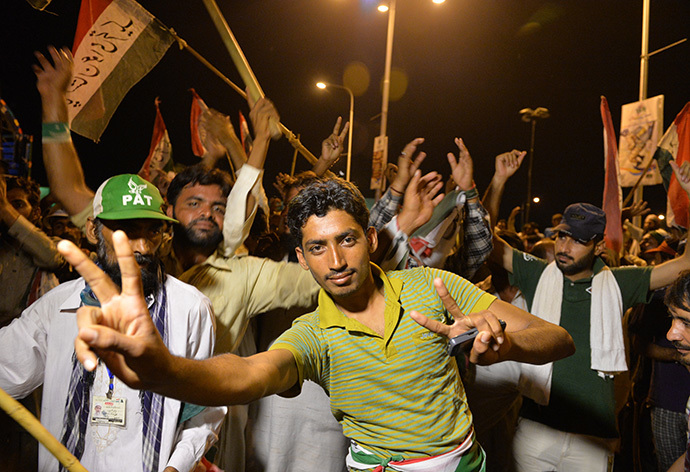 On Sunday, police estimates said that around 55,000 people had occupied two central streets as part of two concurrent protests in the city. While Khan suggested that a kind of "Tahrir Square" would be set up outside the parliament, Qadri insisted protesters promise to "remain peaceful."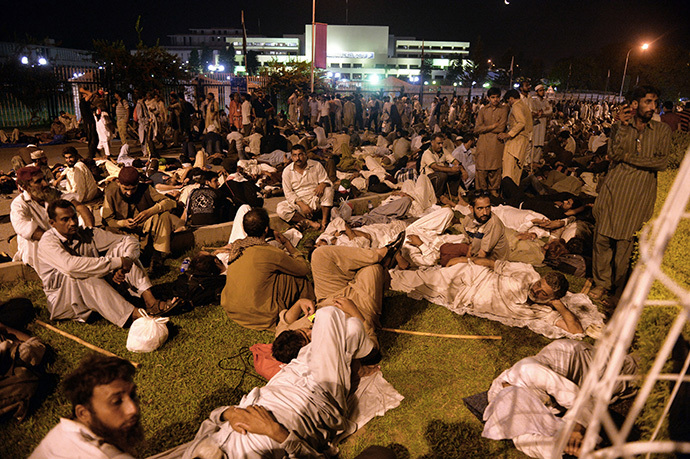 Meanwhile, reports said that Sharif dispatched two emissaries for talks with the army chief, according to Reuters. The goal was reportedly to find out whether the military supported the protest movement and were secretly planning to stage a coup.

Sharif's envoys came back revealing that the army is not planning a coup, but added that in order for the current government to stay in power it will have to "share space with the army," according to a government insider.
The report triggered speculation about the ambitions of the Pakistani military, which has been at odds with Sharif over his reluctance to launch an offensive against Taliban insurgents and his reconciliatory policy towards India. Some have wondered if the situation may end up with a step backwards for the civilian government of the country, where the powerful military has often played a leading role.