Pakistan's Imran Khan calls for tax and bill boycott, demanding resignation of PM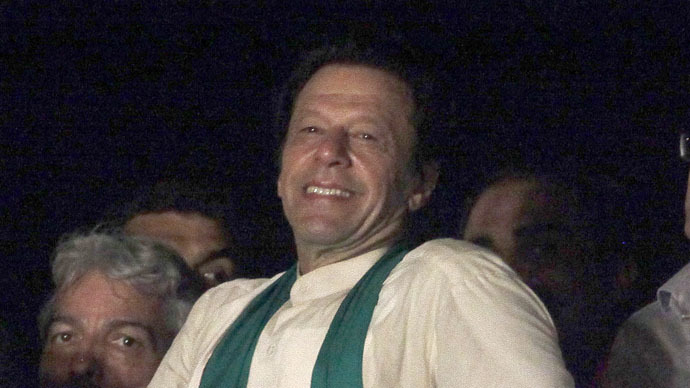 Pakistan opposition leader and former cricket star, Imran Khan, has called for Pakistani residents to stop paying their taxes and utility bills in an anti-government protest aimed at bolstering his efforts to force Pakistan's prime minister to resign.
"After two days ... your time is up," Khan told a thousands-strong rally in the capital, Islamabad, reported Reuters. "We will go for civil disobedience and will not pay taxes or utility bills till the time Nawaz Sharif resigns," he announced.
Police estimates have said that some 55,000 people have occupied two central streets as part of two concurrent protests in the city. Both Khan, and the second protest leader, cleric Tahir ul-Qadri have said they will stay in their positions until Prime Minister Nawaz Sharif steps down.
Sharif has been given until Monday night, after which time Khan has suggested he may not be able to hold protesters back from marching on the top-level government buildings.
Several protesters have stated that they would be prepared to directly confront the lines of riot police protecting the buildings.
"I told my parents, if I am martyred, pray for me," 21-year-old student Muhammed Qasim told Reuters.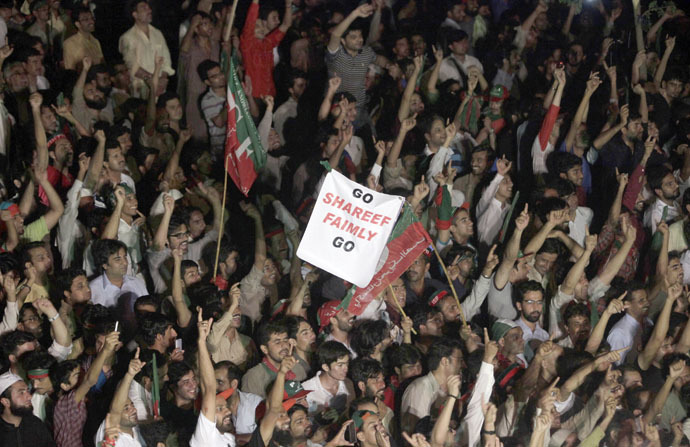 Pakistan's information minister, Pervez Rashid, said that they would not be allowed to enter the government buildings located in an area known as the 'Red Zone'.
"If they go into the Red Zone, the issue will be heard in capitals across the world via their embassies. And there will be alarm bells in the capitals, signaling that Pakistan has turned into an insecure country," he told local television station, Geo.
Khan and Qadri both allege that the prime minister is corrupt in his leadership of a country which is still plagued with power cuts, increasing anti-Western sentiment and a Taliban insurgency.
A major problem is an across-the-board failure to pay income tax with less than one percent of the population paying out. The last prosecution for income tax evasion was at least 25 years ago.
You can share this story on social media: