Corridor: Putin calls on Ukraine militia to let out surrounded Kiev troops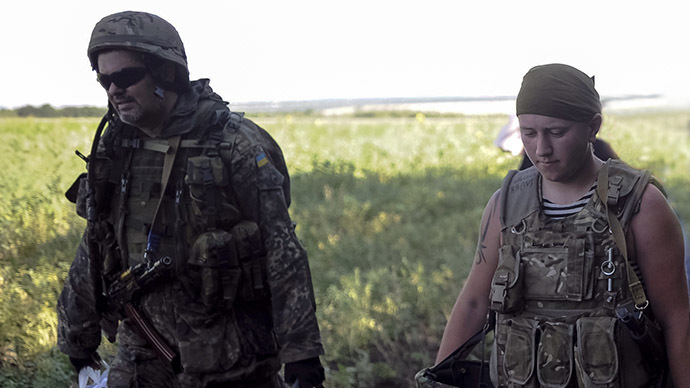 President Putin has called on self-defense militias in Ukraine to provide Kiev's military units blocked in the east of the country with a safe humanitarian corridor to leave the combat area and "reunite with their families."
"It is clear the militia has achieved a major success in intercepting Kiev's military operation, which represents a grave danger to the population of Donbass and which has already led to the loss of many lives among peaceful residents," the Russian leader said in a statement.
As a result of militias' counter-offense, large numbers of Ukrainian troops – many of whom were taking part in Kiev's so-called anti-terrorist operation "against their will" and "just following orders" – have been surrounded, the President added.
"I call on the militia groups to open a humanitarian corridor for Ukrainian service members who have been surrounded, so as to avoid any needless loss of life, giving them the opportunity to leave the combat area unimpeded and reunite with their families, to return them to their mothers, wives and children, and to quickly provide medical assistance to those who were injured in the course of the military operation," Putin said.
READ MORE:Ukraine president blames military failure on deserting commanders
The central headquarters of the anti-Kiev forces has expressed its support for Putin's initiative to open a humanitarian corridor, provided that the troops disarm.
"We support the initiative of Russian President Vladimir Putin to create a humanitarian corridor to create a safe passage for the surrounded armed forces of Ukraine. We are ready to ensure the safety of the Ukrainian troops out of the encirclement under one condition – they have to go through the established corridor without weapons," the anti-Kiev army press service said in a statement.
The prime minister of the self-proclaimed Donetsk People's Republic Aleksandr Zakharchenko elaborated, saying that "Ukrainian forces have to abandon heavy weaponry and ammunition, so they cannot be reused against us [anti-Kiev forces]."
Ukrainian troops have been routinely crossing into Russian territory over the course of the conflict seeking refuge from militia, who were pushing them towards the border, or after negotiating a safe passage from an encirclement. On Wednesday alone over 60 Kiev troops crossed into Russia, bringing the total number of those who fled to safety to over 600 men.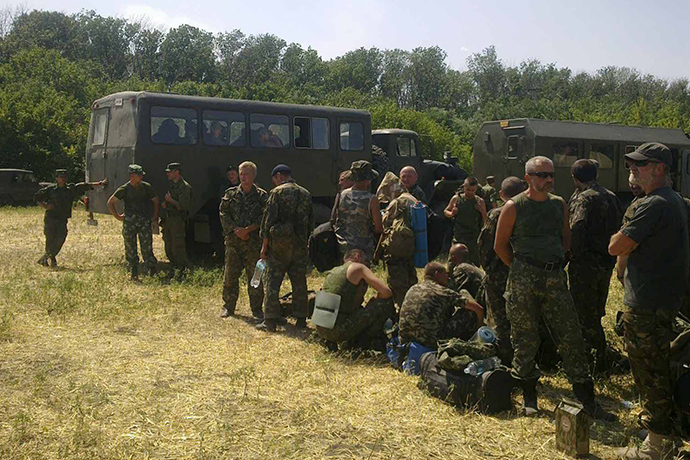 READ MORE:Over 60 Ukrainian troops cross into Russia seeking refuge
After getting medical help, if needed, Kiev's troops were allowed to freely return to Ukraine. Not all of the did, however, fearing prosecution, as the Ukrainian General Prosecutor's office has launched over 1,000 investigations into those men on charges of disobedience, desertion and evasion of military service.
Russia in the meantime is ready and will provide aid to Ukraine's regions suffering from a humanitarian disaster, the Russian leader added.
"I once again call on the Ukrainian authorities to immediately stop military actions, cease fire, sit down at the negotiating table with Donbass representatives and resolve all the accumulated problems exclusively via peaceful means," Putin said according to the Kremlin's press service.
Meanwhile on Thursday, hundreds of people gathered in front of the Ukrainian Defense Ministry in Kiev, demanding resignation of President Petro Poroshenko and the defense minister over the poor handling of the military operation in the southeast. The demonstrators, many of whom were mothers and wives of the soldiers involved in the fighting in the Donetsk and Lugansk Regions, were in despair following the encirclement of large groups of Kiev's troops.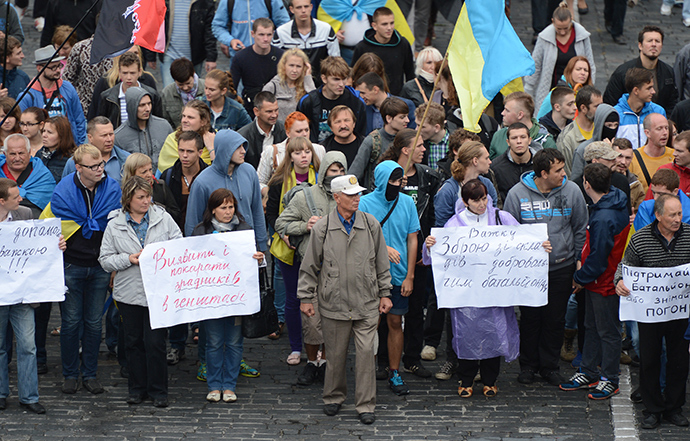 READ MORE:'Kiev, rise up!' Protesters demand ouster of Ukrainian president, defense minister
The Russian president's call for a humanitarian corridor comes hours after the UN Security Council blocked a Russia proposed statement on a mutual ceasefire and peace talks in Ukraine – and just minutes after US President Barack Obama blasted at Russia and threatened it with more sanctions over its purportedly "direct role" in the Ukrainian crisis.
You can share this story on social media: