Three civilians burnt alive in car as Ukrainian army shells center of Donetsk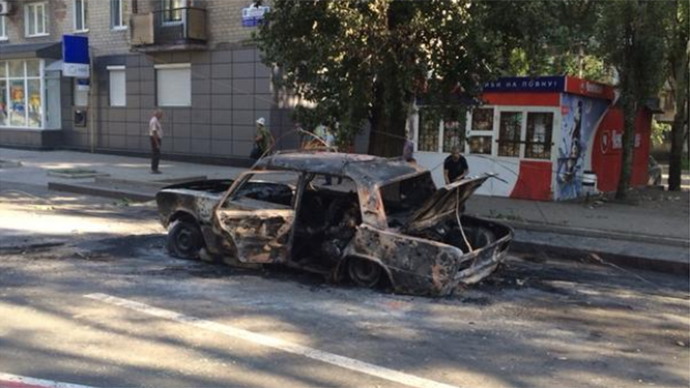 Kiev forces have shelled residential areas in the center of the rebel-held town of Donetsk, killing at least three people and damaging several apartment blocks, a kindergarten and a cultural center.
On Wednesday, Kalininsky District in the center of the city came under artillery fire from the government forces.
RT's Paula Slier arrived on the scene less than half an hour after the shelling when the local residents were "still in shock".
One of the missiles directly hit a passenger car on Shevchenko Boulevard, turning the vehicle into a torch.
"There's a car where three people have died and the bodies are badly burned inside," Slier said.
Another missile hit the roof of the Youth Culture Center as several fire brigades were working to put out the fire caused by the explosion, she added.
According to the City Council, a kindergarten and two apartment blocks were also shelled in the area.
"We're hearing from the militia that there were around six, seven hits at the same time," Slier said.
One of these shells didn't explode and the self-defense forces were waiting for a technician in order for it to be disarmed, she added.
House I visited - destroyed by shelling pic.twitter.com/JbBxHgCsY6

— PaulaSlier_RT (@PaulaSlier_RT) August 27, 2014
Later in the day the Ukrainian military shelled the western outskirts of Donetsk, the City Council said.
"It's turbulent in Donetsk. Mortar explosion are heard in the Petrovsky District," the mayor's office informed on its website.
Deputy head of the city's Voroshilovsky District, Ivan Prikhodko, described the aftermath of the shelling by Kiev forces as "frightening" on his Facebook page.
If you look close you can see three corpses - one hanging out left back door #Kalininskipic.twitter.com/pKKBQo2Sa3

— PaulaSlier_RT (@PaulaSlier_RT) August 27, 2014
Around 22pm local time, Donetsk was shelled again, this time mines exploding in the Leninsky district of the city. Local residents heard "shells whistling and several explosions near the Eternal Flame and the Regional Central Hospital," Interfax reports.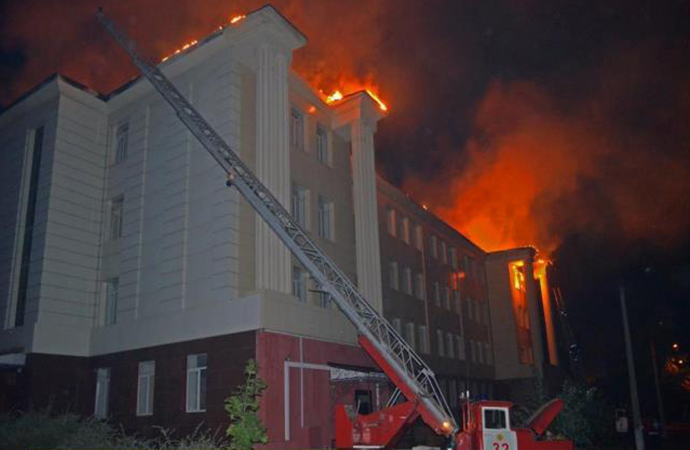 At least two houses were damaged with no immediate information about possible victims of the evening attack.
A school has burnt to the ground after catching fire due to the shelling, according to the press center of Donetsk People's Republic.
Ukraine has been engulfed in a violent internal conflict since April, when Kiev's military began its crackdown on the southeast parts of the country.
Some of the people in the Donetsk and Lugansk regions refused to recognize the new coup-imposed authorities and demanded federalization of the country.
According to United Nations' estimates released Tuesday, over 2,249 people have so far been killed and over 6,033 wounded in the fighting in eastern Ukraine.
The number of internally displaced Ukrainians has reached 190,000, with another 207,000 finding refuge in Russia, the UN said.
You can share this story on social media: