Israel, Palestine agree to long-term ceasefire in Gaza Strip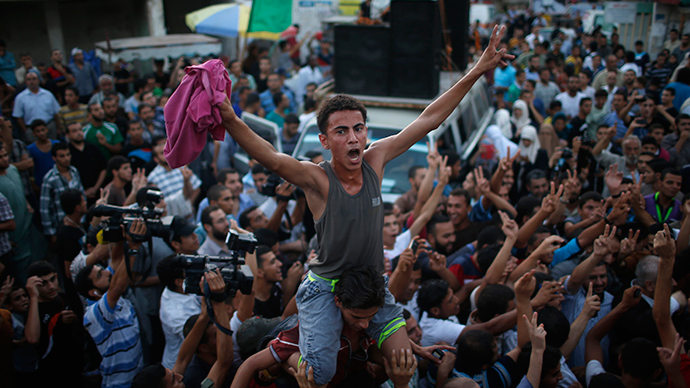 A long-term truce in Gaza has been agreed with Israel, Palestine President Mahmoud Abbas said. The ceasefire announced by Egypt came into effect at 16:00 GMT with almost immediate reports of warning sirens going off in southern Israel.
"We have responded to the Egyptian proposal for a complete and comprehensive cease-fire, which starts at 19:00 Cairo time," Palestinian President, Mahmoud Abbas, stated. "There will be a complete stop in fighting."
A senior Israeli official confirmed to Reuters that Israel had accepted the Egyptian proposal for a "for a complete and unlimited-in-time ceasefire" Gaza ceasefire.
"Israel accepted already the Egyptian proposal on July 15. Israel has always supported an unconditional, open-ended ceasefire," the anonymous official told the agency.
Celebratory gunfire rang through Gaza shortly after 7pm as thousands flocked to the streets in celebration.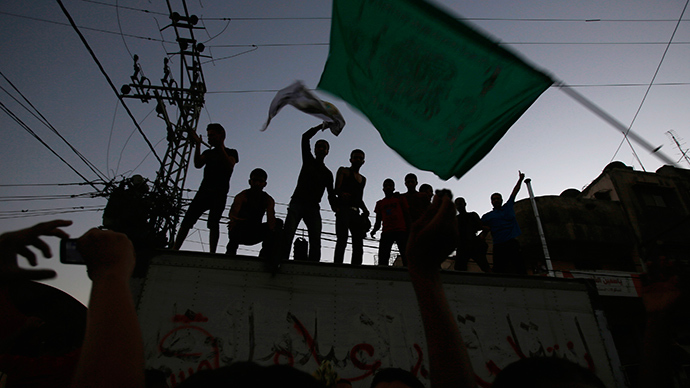 However, shortly after the ceasefire was scheduled to take effect, sirens indicating rocket attacks also continued to be heard in southern Israel.
READ MORE: Holocaust survivors pen open letter condemning Israel's Gaza war
Egypt's Foreign Ministry issued a statement saying that indirect talks are set to continue within the space of a month.
An anonymous Palestinian official also told AFP that the contacts working on the issue in Egypt's capital "agreed a permanent cease-fire, a [deal to] end the blockade and a guarantee that Gaza's demands and needs will be met."
Prior to the ceasefire's announcement, Azzam al-Ahmed, head of the Palestinian delegation had been "shuttling between the leadership of Hamas, Islamic Jihad, all the factions, and Egyptian leaders, travelling between Ramallah, Gaza, Doha overseas," for some 48 hours, according to the official.
Tel Aviv has reportedly agreed to bring its blockade of Gaza to a halt in order to allow relief supplies and construction materials through. Further discussions are expected to center around the potential establishment of a seaport and an airport in the Gaza strip, a senior Hamas official told AP.
The deal reached, however, will not see the opening of Gaza's borders to Israel and Egypt, and did not apparently see any major steps back on the part of Israel despite cries of 'victory'.
Fighting continued right up to the final minute before the ceasefire was declared. Rocket sirens were heard in southern Israel – near the Gaza border, reported Haaretz. Three Israelis were wounded by mortar shell explosion in Eshkol regional Council. The Jerusalem Post reported that at least 116 rockets exploded in the area over the course of the day.
BREAKING: An Israeli civilian was killed and several others were wounded after a mortar fired from Gaza hit Eshkol.

— IDF (@IDFSpokesperson) August 26, 2014
LIVE UPDATES: IDF Operation Protective Edge in Gaza
Monday marked the 50th day since Israel started its campaign in Gaza on July 8 and the death toll has already reached 2,120 people, of which 577 are children, according to the Palestinian Health Ministry.
On Tuesday, 25 people were injured when Israel bombed two Gaza City high-rises containing dozens of homes and shops, according to health officials.
You can share this story on social media: